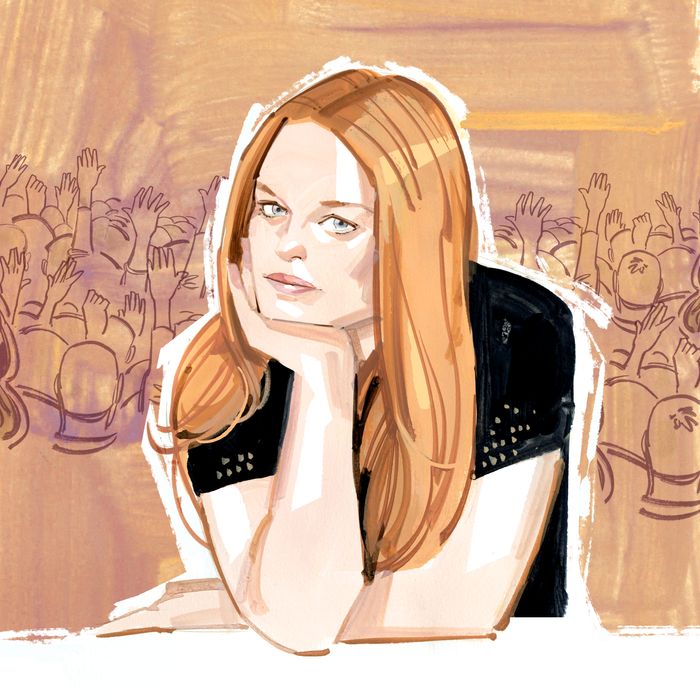 Illustration: Kagan McLeod
Minding Our Business: A series on what it takes to work for yourself.
Anna Meacham started her career working for Beyoncé. At least, that's what she told her mom at 16, when she dropped out of school and started interning at Purple PR in London — a job she found, somehow, by Googling "Beyoncé company London." The agency represented Beyoncé's denim brand, and Meacham joined its fashion division while freelancing and working at a Brixton nightclub to make ends meet. Over the next ten years, she worked her way into the music side of the business, eventually running the agency's global music-and-entertainment arm.
In 2018, Meacham struck out on her own and started a talent agency, Huxley, out of a desire to help multi-hyphenate artists bring their creative dreams to fruition. "During my time working with all different kinds of artists at Purple, I was very drawn to people that didn't expect the ordinary and were always super-ambitious and dynamic and wanted to change the status quo," she says. "When I was thinking about how I want to spend my next ten, 20, or 30 years, it was building around those kinds of businesses and people. Those were the projects that excited me."
Now she represents a roster of musicians, fashion companies, and artists working across disciplines — including Charli XCX, Paloma Elsesser, Megan Thee Stallion, and Björk — whom she describes as "polymaths." "We're not so bound by what you do," Meacham continues. "When we take someone on, we sit down and look at all the things they want to achieve. We think about, How can we start that journey? We'll go on that with them and put them in rooms with people they might not normally be in rooms with." Here's what her own journey looked like.
On taking the plunge:
It's a big jump to start your own agency, and you don't know if you're going to be supported in the industry or by your clients. I spoke to a number of people I've known for years about, just, "Am I crazy? Can I make this work?" I felt very supported. Some of my clients decided to continue working with me, so when I put my pen down on Friday night at a company I'd worked at for a very long time, I was ready Monday morning and had lots to do. It all came together in a way I feel very lucky about.
On building her staff:
There was never an ambition to be the biggest company in the world. We grew very slowly and that was intentional. When we hire, we want to think about, How can someone bring their own point of view and their own perspective? It should be dynamic and challenging in a good way. I'm so proud when we see someone who started with us as an intern, like, running the show at Paris Fashion Week with one of our artists.
On the first time she felt like the head of a company:
I always felt a huge responsibility to the clients, even when it was just me. It's such a responsibility to be someone's spokesperson or do deals on their behalf. I don't take that lightly. But when I started to grow the team and bring people to the company and actually develop other people's careers, I really felt like a leader. That was a mind-set shift, making sure you're looking after people's well being, livelihoods, wanting everyone to be really happy and fulfilled and successful.
On putting feelings first:
When you're representing people and brands, it really does take a lot of empathy. And I mean empathy toward the general public, in terms of what brand partners might need, what journalists might be looking for, what your clients want from it. I do this very genuinely. I love sports, I love fashion, I love music, I love politics. And that helps me understand how the world is on a given day in a given moment, what the general mood is, and go from there.
On problem-solving:
One of the really important things that I've tried to adopt in my life and in work is to never be looking for problems. I'm very much in the mind-set of I don't want to know the problem, I just want to make the solution happen. We're not a product business; we're in service to the people we work with. There's a challenge to overcome every day. You think you're gonna nail something and then someone says, "No, that's not gonna happen," or "We don't want to do that." It takes strength to push through those moments and get it done really well while making sure everyone's super-happy and on board. I don't think anything is impossible if someone we're working with has an incredible idea and wants to realize something. We're there to get it done.