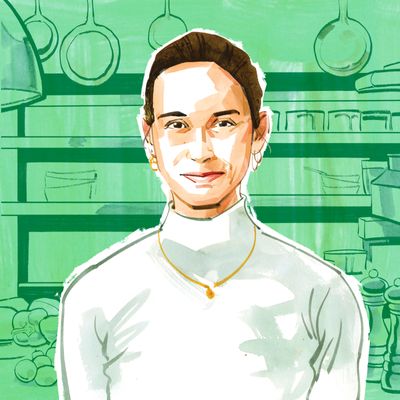 Illustration: Kagan McLeod. Photo reference: Nico Schinco.
"Minding Our Business": A series on what it takes to work for yourself.
Growing up, Nicole Centeno loved helping her mom take care of the family's backyard garden. She describes herself as "an avid backyard kid," a force of energy and curiosity who was constantly taking things apart and putting them back together. "I was always eager to do the frog dissection in school," she says. These were the signs that entrepreneurship was her future calling, she says, but she didn't always know exactly what she wanted to do when she grew up. After taking a circuitous route — she studied biology in college, worked in sales at Condé Nast, then ended up in culinary school, taking night classes at the French Culinary Institute while working and running a food stand at Smorgasburg — she ended up back in the proverbial garden as the founder and co-CEO of the plant-based meal-delivery service Splendid Spoon.
Food has always been a force of connection in Centeno's life and the lens through which she understands the world; on her mom's side, the family lineage can be traced back nearly to the Mayflower, and her father's side is Filipino. "From a very young age, I saw that the place where people come together and explore and are curious and are themselves is at the table," she says. "It was a medium that I really felt very free to be curious about all different parts of my family."
As part of her college lab work, she studied diet therapies such as intermittent fasting and the ketogenic diet, and she says seeing the evidence that simple food choices can have major impacts on health outcomes had a powerful impact on her — in particular, she was impressed by the health outcomes of a plant-based diet. When she moved to New York, she reconnected with the cultural side of food and made trying new restaurants her primary hobby. "What we do at the end of the day to celebrate or to relax and unwind is so often marked by a beautiful meal," she says. After culinary school, she started a small catering business and ran a food stand, but it wasn't until she became pregnant with her first child, Grover, in 2012 that she brought together her passion for nutrition and food culture in the idea for Splendid Spoon. For her, pregnancy brought clarity: "I was like, I'm going to be a working parent. What does that mean for me? And what are the things that I'm going to need extra help with?" But as much as pregnancy brought clarity, it also brought stress, uncertainty, and fear — especially when she became unexpectedly pregnant with her second child just when her business needed her most.
What was your career goal when you were starting out?
Honestly, I just wanted to find a way to be paid for being curious. Creating a business was what I saw as the only way to achieve that. My goal was really to take this toothpicklike structure that I'd started to create with my booth and my customers and form it into something more solid that one could actually call a business and continue to use that as a platform to grow and build a deeper understanding of humans and their experience with food and helping them to improve their lives through food.
I had no concept at that time of, like, creating milestones for scale. I had no I'm gonna be an X dollar-a-year top-line revenue. It was just like, Can I form something of value? I wanted to deliver something of real value to human beings.
What was your biggest setback along the way?
Every pregnancy that I have had, I have felt very, very afraid that it was going to be a setback, which is super-challenging to say out loud, honestly. In my first pregnancy, it was that fear that actually gave me the courage to start the business, which is amazing, right? A massive fear of not being able to balance work and parenting. And then my second pregnancy happened just as those toothpicks were coming together to form something. I had raised a seed round and started to hire a team. My second pregnancy was unplanned, and my marriage was falling apart, and certain people who were very, very close to me said things around, like, "Well, you're choosing your career over your family." And the most recent one — my third pregnancy — she was born on March 13, 2020, just as COVID hit.
I got divorced after my second pregnancy and then met someone, and we got pregnant. It wasn't totally unplanned, but it was not the sequence that I had thought it would be. I had that moment again where I was like, What am I going to do? Like, How are my investors going to respond to this? I haven't prepped people, like, "I'm trying to get pregnant, and I'm going to be off for maternity leave." From the business side, I looked at it as a setback. And I felt sad for my family and myself that I was going to have another situation where I was working constantly even though I had a newborn. It was very, very challenging for me to navigate emotionally.
After getting through the emotional turmoil, I just accepted it: This is what it is, and I'm going to create a plan, and we're going to just navigate through this like we always do. I put together a plan with my COO at the time. I was going to take a full three months of maternity leave. And there were going to be different ways that I was involved and able to be checked in, but the expectations were not that I was going to be fully operating in the way that I would normally do. We were raising our series-B funding, so I was determined to close that by the time I went out on maternity leave. In January, I created a big event for investors who were interested and pitched them pregnant and really felt like I had figured it out. I was going to squeeze out as much as I could and get to the finish line, and then things would be groovy. But of course, the universe was like, No, like, that is not how it works. I'll never forget, on March 12, my now-husband came into the room, and he was like, "So Bernie Sanders has dropped out of the race, the NBA has shut down, and Tom Hanks has COVID." I was like, Fuck. And then on March 13, I went into school — my kids had a report — and that was the last day they went to school, and then, that night, Charlotte was born. In the end, I chose to keep working, after all.
But I also chose to give up some of my power and transform the relationship that I had with my COO into a co-CEO dynamic. Now you could not pay me to change the dynamic because it's the most amazing dynamic for both of us. I wouldn't have gotten there if it wasn't for those setbacks. They brought clarity: I've gotta lead differently. I'm erasing my mind of what executive leadership is supposed to be. I'm just working with what I have, and this is how we're going to do it.
How did you deal with it personally and professionally? 
I think in every situation, as I've matured, I've realized that, like, that moment of hitting a setback — or hitting something that is not what you had expected that feels like a setback — it's actually pretty subjective. It's horrible to say that about a pregnancy, but I just want to be very real: It feels like you are getting pushed back. Something that's part of your identity, that you absolutely love, is no longer going to be your No. 1. That is how I have felt with every single one of my pregnancies, if I'm being really honest. I think that there are lots of other entrepreneurs who would say the same thing. I think grappling with the guilt of that feeling is actually the most debilitating part of it. Because then I was like, Who's guilty here? Why am I telling myself I should feel guilty for this feeling? I've built something that I care about, that's a beautiful thing, and being a parent is a shit ton of work. That is not subjective. That is a hard fact. Someone's got to do the work. And it feels like it's going to be me having to do the work.
That's where I started to break through. There's a spectrum of panic to solution. Then you start to get into productive questions: Okay, well, what does success look like in each of those scenarios? Yes, it does mean relinquishing some power, whether it's relinquishing a little bit of my mom power to a nanny or relinquishing a little bit of my executive-decision-making to a co-CEO. Then it starts to feel like, Okay, I can do that.
I have found that the approach to things at home can also help the approach in working relationships. Working with a life partner is different than working with a work partner. But at the core, we're talking about building trust.
Did you ever consider giving up?
Oh, yeah. Totally. The way that I have gone about building my business was very "lady in the wilderness with spear," you know? In the beginning, I didn't have any of the skill sets to build a team or understand financial modeling. I learn through experience, and it's hard. It's really, really hard. And I think that's part of why, for me, each of my pregnancies has been fraught with lots of different questions around whether I'm cut out to multiply my parenting capacity yet again. I didn't see a lot of analogs in my peers of like, Here's how it's happening! I saw people either not spending time with their family and outsourcing all of their child care or leaving what I think is the curiosity side of the business, leaving that and taking time off for their family. I really have no judgment for those things. I just was like, That's not how I want to do it. I want to outsource some of my child care, not all of it. And I want to continue chipping away with my curiosity at the executive level. And it was like, Okay, I gotta do it differently.
How do you feel about these setbacks now?
Part of living a really full and ambitious life is letting go of some of your power. It's not a bad thing. There's this false narrative, especially for women and definitely for female leaders, that we have to do it all. Now what I strive to do with Splendid Spoon is say, "You don't have to be the only one."