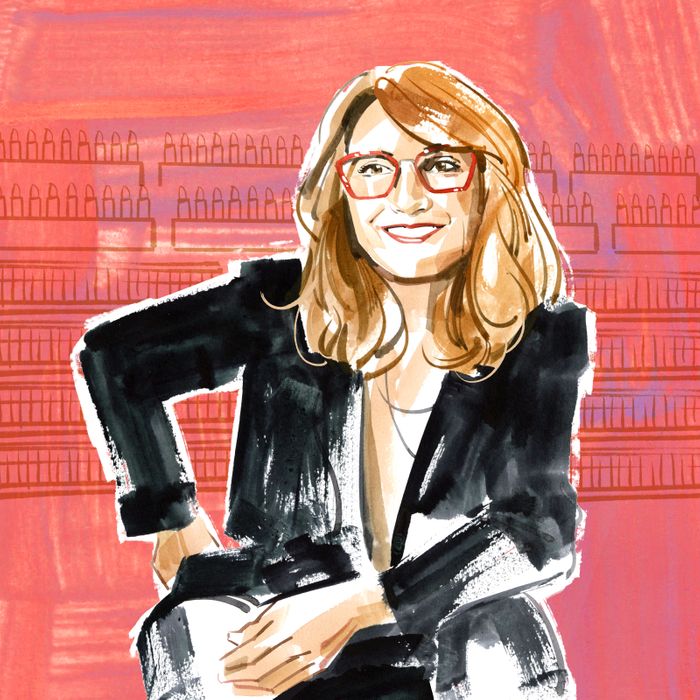 Illustration: Kagan McLeod
Minding Our Business: A series on what it takes to work for yourself.
Margarita Arriagada had no desire to create a brand, as a self-proclaimed introvert who's always been fine being on the mentorship, behind-the-scenes side of things in the industry. For over a decade, she was Sephora's chief merchant where she ushered new talent into the beauty industry, from indie brands to big-name merchandising teams. "I thought my calling in life was to continue to help other people and be in the back seat," says the Peruvian native. But then another calling, well, came calling: Valdé Beauty, a refillable lipstick collection.
Sustainability isn't just a marketing buzzword to Arriagada: "Seventy percent of what you pay in a beauty product, or 80 percent in the case of perfume is in the packaging and the primary and in the secondary packaging, which is not what you use, you use the goop. How does that make sense?" she says. She remembers mentoring brands about refillable cases before it was a thing, and no one listened so she listened to herself. The creamy lipsticks that come in nude shades and bold pinks and reds live in refillable hourglass cases, crafted to reflect a woman's torso. The cases are like armor: hand polished, custom molded, and have detailed metalwork.
But Valdé is more than just a brand for Arriagada, though, it's her mom's legacy, a dedication to the woman who has always been her inspiration. She was still working at Sephora in 2014 when her mom passed away from dementia, and she vividly remembers her mom's last days where she wouldn't remember her daughter, Arriagada, but whenever a lipstick was taken out, she would perk up. "She would flutter her eyelashes, she'd get ready and puck her lips up for application, and then she would look in the mirror and not realize she was seeing herself in the reflection, and she would kiss the mirror because she saw a beautiful woman," Arriagada remembers. There was something she felt in that moment, and she wrote it down but thought nothing of it, but the spark kept growing and wouldn't leave her alone, and when she told a friend, they said, "Well, of course you're going to create a brand for her, right?"
Eventually, she gave in after realizing that there was no lip product on the market that felt special or personal enough that she could buy and wear in honor of her mother. She wanted something that celebrated strength, inner strength, and resilience for women, everything that represented her mom so she made it her duty to create a brand that felt "worthy and significant."
On over a decade at Sephora:
It taught me the gifts I had. I learned that my talent lies in the ability to humanize the business aspect of the brand. I was a good partner to brands because I understood their stories in a very empathetic way, and I've always been empathetic because I started out my career on the retail selling floor being in front of the customer. For as long as I was at Sephora, I was in stores every single weekend. To this day, I'm in stores every single weekend. I have empathy for customers' hard-earned dollars, and I understand what it's like to build meaningful value. I also learned perspective — I looked at what the customer needs first and how you can make their life better through beauty.
On the importance of value in a saturated market:
There's a ton of beauty products. Nobody needs another new formula, and nobody needs another new shade. There's probably the perfect shade for you already out there, yet every single brand goes out and creates new shades in new formulas when we really don't need them. I think my perspective on beauty is what helps me succeed. My artistic vessels start at $150 — that's higher than Chris Louboutin and Gucci and that's crazy to have launched a concept in the middle of the worst economic time in history. But I feel that if you add value, it works. I have never had a return from a customer, and I primarily sell online. They're not touching it, and they're not feeling it; they experience the value first. I'm not a tone-deaf person; I just feel so passionate that there is a need to create important, significant value. I'm not a celebrity who just has an audience I can monetize; it's important to still go the distance to be valuable in beauty.
On where she got the money to start:
I didn't ask for funding, because I know better. I work with a lot of investors, and I know that investors have a point of view. Do they want to support brands that have vision and purpose? Yes, but to the extent that there is a short lifeline that they know they can scale quickly. But I'm trying to disrupt — there's an opportunity to create meaningful products that mean a lot more and somebody has to take that risk, so I'm self-funded. I fund myself through consulting and advisory work.
On when she realized she was successful:
For someone who was a timid, intimidated, and very insecure little girl who feared most things, this is success. I was always strong in my [corporate] roles because I had purpose, but the little introverted girl inside knew I had something to offer — I think I've always known. To still be helping people, but doing it in my own ways, is success. I feel successful because I have such clarity of vision, and I know where my North Star is. That is just so important, right? I know exactly what I want to do.
On what she had to let go of:
I had to be naïve and allow myself the opportunity to say, Why not? Conventional thinking and ego got in my way. This ego said, "Oh my God, you had an incredible role at Sephora, and all eyes are going to be on you. You're going to be judged, and they're going to check to see how successful you are." And the reality is I had to be prepared to fail. I had to get really comfortable with being uncomfortable and let go of the ego and realize that I could potentially fail. But know that on my way to failing, I'm going to do something that's significant; I'm going to learn, and I'm going to thrive.