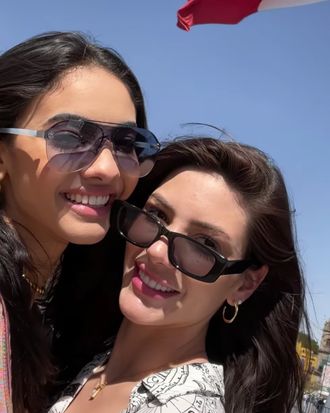 Photo: @fabiolavalentinpr, @marianajvarela/Instagram
In a twist that would delight Hallmark viewers and make Miss Congeniality proud, former beauty queens Miss Puerto Rico and Miss Argentina got married almost two years after competing against each other at the Miss Grand International pageant. Fabiola Valentín and Mariana Varela surprised fans this week, not only confirming their two-year relationship but also announcing that they tied the knot.
The couple shared the news in a joint Instagram Reel featuring glimpses of their relationship, including beach dates and scenes from the proposal — with "MARRY ME" written out in gold and silver balloons. "After deciding to keep our relationship private, we opened the doors to them on a special day," they wrote (per Instagram translation), adding the date of their wedding, October 28.
The beauty queens reportedly first met at the 2020 Miss Grand International pageant — which actually took place in March of 2021 — with Valera representing Argentina and Valentín representing Puerto Rico. Both women, who now work as models, made it to the top ten. Who knew true love could be found at a beauty pageant in between swimsuit rounds and talent portions?
It's unclear when, exactly, their relationship started, but the two have been consistent presences on each other's Instagrams over the past year. In April of 2021, Valentín shared a carousel of photos of the two frolicking the ocean, calling Varela's friendship "one of the great gifts in this experience." In December, Valera shared a Reel of their airport reunion, and, based on other posts, it looks like they spent the holidays together in Puerto Rico.
A day after they announced their marriage, Varela took to Instagram comments to thank fans for their support, writing in part (via Instagram translation), "We are very happy and blessed. I wish you that the love you are giving us is multiplied!"