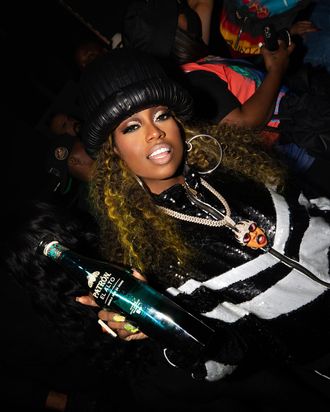 It's Saturday night in Las Vegas and Missy Elliott has just finished her first performance in years. For the occasion, she has purple box braids and long neon-green acrylic nails. She's no stranger to making a statement with her looks — who could forget her oversize trash-bag outfit from 1998? Tonight, she's remembering those times in the early aughts as she reminisces about the visionaries, like stylist June Ambrose and producer Hype Williams, who helped make them happen.
"The finger waves were that whole era," she says, laughing. "I wore that Pro Styl gel out. I know I kept their building lights on. My black lipstick, too. During that era, people weren't rocking black lipstick. They were like, 'This girl is crazy.'"
Elliott is celebrating the 20th anniversary of her second studio album, Under Construction, and tonight she performed hits from it, like "Work It," at Las Vegas's Zouk Nightclub. Wearing a sequined Prada bucket hat and a black-and-white sequined tracksuit, Missy walked through the crowd and hugged fans, which is "probably not the safest thing," she says, but she likes to "love on people" and let them know she appreciates them and all the times they've supported her.
Later tonight, she has a celebratory dinner, joined by close friends and family including Lil Wayne. She's also here promoting the new Patrón tequila, El Alto — the drink of the weekend and what prompted Elliott to go live on Instagram … six times.
It's been 20 years since your second studio album, Under Construction. Let's time-travel: What was life like 20 years ago today? 
We had just come from L.A. from doing the So Addictive album. I moved to Miami, and I begged Timbaland to come, too. I was convincing him, like, It's so beautiful, look at the palm trees, I'm telling you you're going to love it. He finally gave in, and the day he came, it was hurricane season. We spent two weeks just sitting in the studio looking at each other. I was like, "What do we do next?" I thought, Let's go to a mom-and-pop store and get some old records. I remember listening to Run-D.M.C.'s "Peter Piper." I was like, "Man, this is what we need to do. Let's just grab some old breakbeats, mix it with what's happening now." I was telling him it's going to work; the people from that generation are going to love it because it'll be nostalgic for them, and people from our generation are going to think it's a new sound. So we'll get both sides. We ended up sampling "Double Dutch Bus" on "Gossip Folks." We mixed it in and created a whole new sound.
What do you still channel from that time?
We were so fearless because there was no expectation. It wasn't like we had some kind of sound before. If it worked, it worked, and if it didn't, it didn't. It just so happened that it worked through the grace of God. It was a fun time, though.
Your shows are always so physical. Who do you remember watching perform and feeling a connection with?
Salt-N-Pepa. It's so funny because now me and Pep are such good friends. I always say the tongue is so powerful because everything that I said happened. I would be in my room acting like I'm at the award show thanking people, and I had never met any of them. I would say, "I'd like to thank Janet Jackson, I'd like to thank Salt-N-Pepa, I'd like to thank Michael." Every last one of those people I got a chance to meet and work with with the exception of Michael; I met him, but I didn't get a chance to work with him. But the power of the tongue is very strong.
We have to talk about your beauty moments because you're aging backward. 
My knees say differently, but it's all right.
So really, what do you do for your skin?
First of all, I drink mad water, but I also get a lot of facials. The other day, my esthetician did a mask on me that was so hard it was like a hockey mask. I was like, What is going on? I'm becoming claustrophobic. But when she took it off, I was like, Oh, that's cute, my face is glowing. She does different methods every time. I go every other week because I'm always getting my makeup done when I have stuff to do, so I have to make sure I get everything out of my pores.
Even through the partying this weekend in Vegas and being away from your daily hiking routine, the skin is still glowing. Did you have fun?
You would've thought it was the late '80s and early '90s this weekend. Last night, I went to karaoke and we were just singing, drinking tequila, and having a good time. The El Alto tequila is nice and smooth, but it does creep up. I know what all my fans have been saying while I've been on live is "She must be tore up."