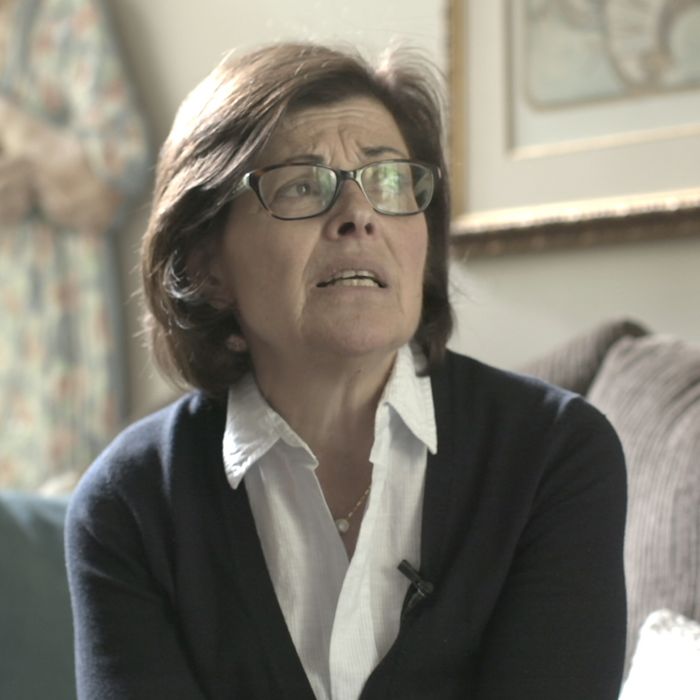 Get ready. The Vow, HBO's unsettling documentary about the infamous self-help turned sex cult NXIVM, is back for part two. When the series first aired in 2020, it chronicled the rise of the group's founder, MLM con man and sex offender Keith Raniere, detailing how he'd established influence over Seagram's heiresses and Hollywood actors alike. After a 2017 New York Times exposé revealed that Raniere had founded a secret inner sanctum of women called D.O.S., or Dominus Obsequious Sororium — Latin for "Master Over Slave Women" — who were allegedly forced to have sex with him, treated as slaves, and branded with his initials above their pelvic areas, a Justice Department investigation ensued, leading to his arrest (he is currently serving a 120-year prison sentence) and to NXIVM's downfall.
Part two of The Vow explores that downfall, opening with Raniere's capture and trial. It offers a closer look at NXIVM's inner circle, specifically Nancy Salzman, the organization's co-founder and Raniere's right-hand woman. A nurse who pivoted to the self-help world, Salzman started NXIVM together with Raniere in the '90s; as the public face and a "prefect" of the organization, she turned Raniere's musings into profitable courses and manipulative therapy-speak. Although former NXIVM members have called Salzman an enabler of Raniere's abuse and her daughter, Lauren Salzman, was a D.O.S. "master" who admitted to keeping a woman as a slave, Salzman has repeatedly denied knowing about the sex-cult aspect of NXIVM. She pleaded guilty to a single count of racketeering conspiracy in 2019 and distanced herself from Raniere, whom her lawyers called an "egotistical, self-important sex fiend" who "fooled, controlled, and ultimately led" Salzman "to engage in criminal conduct."
Salzman was sentenced to 42 months in prison in 2021; The Vow, part two, includes firsthand interviews with Salzman, who sometimes appears with her hairless cat, Mouse, and a sculpture of what seems to be someone's grandma. "The world is left with this view of you that you know isn't you," she tells the camera in the first episode while wearing an ankle monitor in her home. "Or how could it have been?" Below, everything we learned from The Vow's second season.
D.O.S. member Nicki Clyne denies D.O.S. was a sex cult.
NXIVM member, continuing Raniere supporter, and former Brooklyn bar manager Nicki Clyne, who was previously married to D.O.S. "master" and Smallville actor Allison Mack, recalls the day authorities came to her apartment to arrest Mack, who is currently serving three years in prison on charges related to manipulating women into becoming Raniere's sex slaves. "I thought I was going to see her later that day," says Clyne. "I don't even think I gave her a hug." Clyne, who had a ten-year relationship with Raniere and has previously said sexual encounters between him and D.O.S. members were consensual, says she's having a "very isolating experience" without Raniere and Mack. She denied that D.O.S. is a sex cult, adding that she "helped create" the "misunderstood" organization. "Sex was not the focus of anything," says Clyne. "It was also a walking group. It was also a go-for-coffee group." Adding that she believes Raniere is "making the world a better place," Clyne says she is "proud" of her decisions. "I stand by them," she says. "And I know how hard that must be for people to understand." (In an emailed statement from her representative, Clyne says that the docuseries' clips of her are "out of context," adding that she believes "everyone involved" in NXIVM "made their own choices." She says, "It was only when they didn't like the consequences of their choices … that they decided to throw people under the bus to save themselves.")
Michele Hatchette, another D.O.S. member who says she was recruited by Mack, still supports Raniere and the cult and says she gave Mack "permission to push me" and takes issue with people who assume D.O.S. members are "brainwashed bitches" doing Raniere's bidding. "We're fighting with you," she tells Raniere over the phone. Later, Hatchette tells the camera that it's "no one's business" what she "chose to put on my body" in reference to the D.O.S. brands. Former NXIVM member Eduardo Asúnsolo says he "flew to Albany" to investigate D.O.S. after hearing about the pelvic branding only to become a supporter: "I found a sorority … things that were not only not criminal but maybe even good," says Asúnsolo, adding that his life "has been amazingly bettered" by the teachings of Raniere and Salzman.
Marc Elliot, a former NXIVM member who claims Raniere and Salzman helped cure his Tourette's syndrome, says he struggles in moving forward with his life, because he continues to support the organization. "Because everything is equated to a sex cult, anything I do … they're going to attack me," Elliot says. "Because I'm unwilling to disavow my friend Keith Raniere, I will always be a hated figure."
Multiple NXIVM members believe Nancy Salzman knew about D.O.S. despite her denial.
Former NXIVM member Karen Unterreiner says she and other higher-up members used a spreadsheet to keep track of "who's in, who's out, and who we don't know" in the organization — information she says they would then report back to Raniere. Unterreiner alleges that an acquaintance once confided in her, saying she'd been approached by D.O.S. and notified Salzman about the recruiting attempt. "So Nancy had some idea of something," Unterreiner says. Other former members, like NXIVM whistleblower Mark Vicente, believe "Nancy knew all of it." Unterreiner is unsure: "Keith gave her some 'Oh, it's just some girls doing things' explanation," she says. " I don't think she questioned things as much as some of us did. For her, he was a mentor. And a god in some ways."
Nancy Salzman says she was "so angry" at the women of D.O.S. and that she only learned about the group in 2017.
Salzman maintains that she didn't know D.O.S. existed until her birthday party in 2017, when a close friend approached her about it. "I had no idea what she was talking about," claims Salzman, who says she later overheard an argument between her daughter Lauren and a NXIVM member about pelvic branding. At that point, Salzman says Lauren took her aside and explained D.O.S. to her, calling it a "sorority" and a "secret organization" run by the women of the group. "I went to Keith and said, 'You're running this, aren't you?' And he said, 'No, no, no, no, no.' He said it was the women's idea," says Salzman. "I was so angry at these women."
Salzman says she believed Keith when he denied his D.O.S. involvement in front of the whole organization, and she expressed frustration that the whole company went down with the D.O.S. ship: "There were bad things that happened, but it doesn't mean everybody who's getting blamed for the bad things actually did the bad things. The sex cult … was Keith's thing. My company didn't need to be destroyed. But it was." Salzman says she pleaded guilty and convinced Lauren to follow suit after her lawyers informed her anyone standing trial with Raniere would likely go to jail.
Reviewing photos of sex toys shown in court from Raniere's proposed BDSM-themed dungeon, Salzman zooms in on an image of a butt plug. "This was in court?" she asks producers before asking what BDSM is. "I'm not a good sex-cult leader, it's true, because I don't even know what these things are," she says. "I'm kind of horrified. But also interested, because I've never even seen things like this before."
Nancy Salzman claims Raniere got "more controlling" with her as time went on.
Describing her devolving relationship with Raniere, Salzman claims her co-founder was "kind" to her in the beginning but got "more and more and more controlling" as time progressed. "I don't ever think I thought about leaving," Salzman says. "I just thought he was difficult." Salzman, who tells the documentary producers that she had a difficult relationship with her mother and constantly sought her validation, believes Raniere used that insecurity to manipulate her. "I wanted approval," Salzman says to the camera. "I believed Keith knew I always needed approval, and therefore, he always withheld approval … the more he withheld approval, the harder I worked," she says, adding that Raniere told her she was breaching her ethics or "wasn't strong" if she didn't behave as he wanted her to. "That's how Keith got me to do everything he wanted me to do." Recalling an incident in which she allegedly witnessed Raniere doing something "completely inappropriate" with a woman, Salzman tells the camera he threatened never to speak to her again if she continued to bring it up.
Nancy Salzman says everything she did "was damage control about Keith's sex life" and that multiple NXIVM women fought over who would have his "special babies."
Salzman tells producers she believes Raniere created D.O.S. to ensure that women would "never leave him" and controlled them through polyamorous romantic relationships — including one with Salzman's daughter Lauren that lasted for years. "He wanted the women that he was in relationships with to get to the point where they didn't have reactions anymore," Salzman explains. "If they had a reaction to him with another woman, he would hold that over their head and say, 'You have an attachment. You shouldn't care.'" Salzman claims she didn't know about Lauren and Raniere's relationship until it was five years in.
Per Salzman — who tells the camera that Raniere had her and Lauren "manage" women who caused problems in the organization and that she subsequently "resented" the fact that "everything I did was damage control about Keith's sex life" — the women of NXIVM fought over who would get Raniere's "special babies," and those he had promised children thought up names for their imaginary kids. "They really believed they existed," Salzman says, adding that several women ended up not having children at all, "because Keith made them believe they could have babies anytime … in their 40s and 50s" before promising the "next generation" of NXIVM children.
Salzman's younger daughter, Michelle, tells producers that Raniere attempted to have a sexual relationship with her when she was 18. At the time, he was in his 40s and dating her sister, Lauren. "He stole her childbearing years," Salzman says of Lauren, crying in bed with her shoes on and Mouse at her feet. "He enjoyed hurting us … he really affected my family badly. And I let that happen. I didn't see it."
It was an open secret that Daniela, a former NXIVM member, was confined in a room for two years to "heal" her "ethical breach" against Raniere.
Salzman tells the camera she feels "sad" for Daniela, a former NXIVM member from Mexico who has alleged that as a teenager she was groomed into a sexual relationship with Raniere and that she was later coerced into staying in an empty room with blacked-out windows for over two years as punishment for kissing another man, all while she was undocumented and could not retaliate. (Lauren Salzman is accused of "coaching" and controlling Daniela during her imprisonment.) "He told me Dani was brilliant," Salzman tells producers, explaining how the then-16-year-old's parents trusted Raniere as a "guru" and signed her up for a so-called intensive in the States. Salzman also tells producers how Raniere made Daniela his camerawoman to document his innocence: "Keith was always saying, 'If anybody ever scrutinizes us, they'll see the videos and they'll know we didn't do anything wrong.'"
While Salzman does not comment on her daughter's involvement in Daniela's imprisonment, she claims Raniere initially "caused" her "not to like" Daniela — who was not paid for her NXIVM work — after she stole and later returned $6,000 to the organization's admin office. She also tells producers Raniere "got Dani into the room" by "enrolling" those closest to her in the belief that she was a problem. "It feels like he went after the whole family, which is similar to what he did to my family … I feel horrible for all of them," Salzman tells the camera, adding that she also feels "really sad" for Camila, Daniela's younger sister, whom Keith allegedly also groomed into a sexual relationship while she was a teenager. Per Salzman, she initially believed in Raniere's innocence, but reading texts between him and Camila, which she calls "the beginning of D.O.S.," convinced her Raniere "had done some very bad things," adding, "I remember calling my attorney and telling him that I was wrong."
Salzman believes prominent D.O.S members are both victims and perpetrators, and that anyone still loyal to Raniere is having an "internal struggle."
Speaking to producers about the pattern of manipulation Raniere deployed with several prominent D.O.S. members, Salzman says she believes Raniere took advantage of Allison Mack's sexual "insecurities" and used them to get her to recruit more women for him — ultimately becoming a perpetrator herself. "Allison truly believed Keith was going to dedicate himself to helping her through her sexual issues … and then he convinced her to find other women who could do the program," says Salzman, adding that Mack was "very jealous" of Raniere's relationships with other women and that he made her feel like she was "overcoming" her jealousy by bringing him more partners. "Allison is a victim who was sent out to do something she believed was good, because she believed Keith was good," Salzman explains. Watching videos of Nicki Clyne pledging her continued allegiance to Raniere after his trial, Salzman tells producers she thinks Clyne is "in a battle with her own mind," adding, "I think all of the people who are still loyal to him are having an internal struggle."
"I didn't know what was right and wrong anymore," Salzman admits, saying she feels "so guilty."
Looking back at a 2005 video of her and Raniere teaching a "thought experiment" about the definition of abuse, Salzman tells producers she feels "remorse" and claims she didn't know Raniere was sexually abusing 15-year-old Camila at the time, later turning her into a blueprint for a D.O.S victim. "When we came down to the age of consent, it just seemed like another thought experiment to me," Salzman tells the camera. "It never occurred to me that he was having a relationship with Camila. It is abuse to ask a child to make a decision they can't possibly make."
Both Raniere and Salzman are now in prison.
In the season finale, Salzman expresses her conflicted feelings about the legacy of NXIVM, crying as she watches videos of victim-impact statements about Raniere's abuses. "It's the weirdest feeling, because at times I want to defend the good that [Raniere] did," she says. "But he couldn't have done the evil if he hadn't done the good. So did he do the good so he could do the evil? I don't know." Video-chatting with a psychological manipulation expert while eating Chinese takeout with Mouse, Salzman also tells the camera she "feels resistant" to the expert's suggestion that ESP was used to control people, saying it would "really break my heart if that's true."
Later, Salzman sobs, telling the producers she should go to jail for enabling Raniere: "I don't know if I did good things or bad things," she says. "I don't know anymore … I feel so guilty because of what I did." The series ends with the note that Salzman began serving her three-and-a-half-year-long federal prison sentence at a West Virginia facility earlier this year.
This post has been updated.