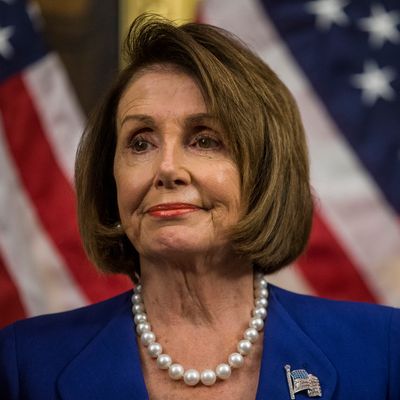 Photo: Zach Gibson/Getty Images
Nancy Pelosi's historic tenure as the Democratic Party's longest-serving House leader is coming to an end. The 82-year-old California Democrat, who became the first female Speaker of the House in 2007 and has since served on and off in that position, announced on Thursday that she won't seek reelection to Democratic leadership in the next Congress.
"For me, the hour's come for a new generation to lead the Democratic caucus that I so deeply respect," she said in a speech. "And I am grateful that so many are ready and willing to shoulder this awesome responsibility."
Pelosi will remain in Congress, likely serving as a guide for the new crop of lawmakers who'll join the party's leadership. In 2018, she had said she'd limit her tenure as Speaker to four additional years. Her announcement comes shortly after Republicans narrowly won control of the House in the midterm election, ending her latest two-term run as Speaker.
Pelosi had also said last month that the brutal attack on her husband, Paul, would play a role in her political future. He is facing "a long-haul" recovery process after an intruder hit him in the head with a hammer in their San Francisco home on October 28. Authorities said the alleged assailant was looking to kidnap and attack Pelosi herself.
Representative Steny Hoyer of Maryland, the No. 2 Democrat, also announced Thursday that he wouldn't be seeking reelection to a leadership role. Some of the members who'd been waiting in the wings for the top leadership posts include New York Representative Hakeem Jeffries, Massachusetts Representative Katherine Clark, and California Representative Pete Aguilar.
In a statement, President Joe Biden said Pelosi would be remembered as "the most consequential speaker of the House of Representatives in our history."
"There are countless examples of how she embodies the obligation of elected officials to uphold their oath to God and country to ensure our democracy delivers and remains a beacon to the world," he added. "In everything she does, she reflects a dignity in her actions and a dignity she sees in the lives of the people of this nation."