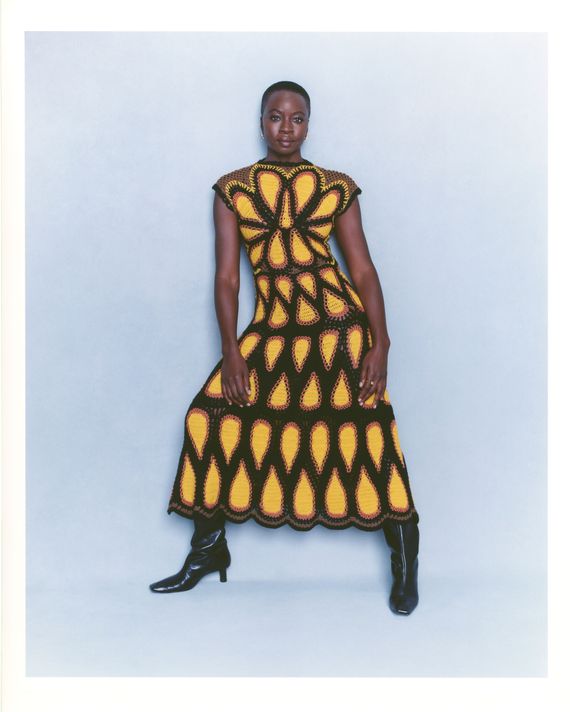 Gabriela Hearst
Aidy Dress,
available at gabrielahearst.com.
Tory Burch
Tubo Knee Boot,
available at toryburch.com.
Tabayer
Oera Hoop Earrings,
available at modaoperandi.com.
Khiry
Khartoum II Ring,
available at khiry.com.
Photo: Davey Adésida
Danai Gurira doesn't give in to anyone. Whether she's in an executive boardroom pitching one of the many television series she's currently developing or appearing as General Okoye, in red-and-gold armor with spear in hand, in Black Panther: Wakanda Forever, everything Gurira does is an extension of her inner creative urges and is deeply connected with her passion to spotlight Black voices. "Our job is to tell our truth," the actress and playwright tells the Cut from her Brooklyn apartment. "I always think if I haven't made an audience uncomfortable, I haven't done my job."
Gurira's work, which includes several award-winning plays and her character Michonne on The Walking Dead, has been thematically focused on strong Black women. "That's something you don't often get to see onscreen: African female characters having continual, complex narratives," she says. As a writer, actor, and producer, the Zimbabwean American star makes sure to highlight both African and Black stories, depicting the conflicts, growth, and even humor present in those experiences. "I get to do that as a part of the Black Panther franchise," Gurira adds. "We were always looking at the African perspective when we're telling that story because that's where the characters are from."
Wakanda Forever holds tightly to the spirit of its first installment, even while the kingdom of Wakanda must mourn the loss of its king. The cast was also grieving in real time the loss of lead actor Chadwick Boseman, who died of colon cancer in August 2020. For Gurira, her castmates, and the director, Ryan Coogler, the team already felt like family, but the immeasurable loss of Boseman required them to cling to one another in the production of an extremely emotional project. "It was a very intense time for us, making this without Chadwick," Gurira says. But despite the pain, she and the cast were able to produce a striking follow-up to the original film. "The beauty of how Chadwick led us was that we all knew what we were there to do," she says.
In the events of the sequel, grief is ever-present. It is the great challenge Wakanda must come to terms with, and the threat of succumbing to anger in the face of loss could put the entire kingdom at risk. Without our spoiling too much, there is a moment in which General Okoye appears shell-shocked by the way things have gone. She fought so hard to keep things the same and protect the royal family — Princess Shuri (Letitia Wright) and Queen Ramonda (Angela Bassett) — but everything has undeniably changed. The audience sees Okoye grapple with uncertainty and loss, and wonders if she'll waver under the pressure. If you know anything about Gurira, you can probably guess the answer.
Making this film was very emotional for you and the cast after the passing of Chadwick Boseman. Despite those challenges, what was your favorite part of the process this time around?
Oh, there's so many challenges — the world we're in and just all the components that go into being safe and all of that. We did stop shooting for a while because there was an accident on set. There were challenges that were very literal and then, of course, emotional challenges. You didn't know how and when the grief would hit you. Walking into the tribal-council room — a room from the first movie where the throne is and all the counselors sit around it — was very emotional for me, and I didn't expect it to be. You just can't anticipate those sorts of things because the last time we were there, it had been with him.
It was really exciting, too, to come to set when it wasn't my scene or day to shoot and see a fellow castmate break into a really amazing way to tell the story. I was actually watching it as a cheerleader for the aspects of this story that I think are so important and vital and could be very resonant for folks in the culture. That was one of my favorite experiences. And also the vice versa of that, knowing that they're taking care of me when I'm going through an experience that's very intense for my character.
The new installment of the franchise brought new castmates — Michaela Coel and Dominique Thorne, especially. Tell me about working with them.
It was really fun to watch other new characters come to life. I had a great time watching Michaela and Dominique work. They're really astounding women and were very sensitive to what they were stepping into. They were supportive of our journey in really amazing ways and were also really, really fun to work with. When I was working with Dominique, the camera would come on me and I'd be cracking up. They're really great, strong characters in a world where we were already established; I'm sure that's not the easiest thing to do, but they just came in and killed it. So that was really exciting to see and to embrace them in the family.
And director Ryan Coogler?
I mean, Ryan is like family. We've been through so much together now. The beauty of how Chadwick led us was that we all knew what we were there to do. Everything is for the storytelling, and Ryan's amazing that way, in the sense that he has impeccable taste and he's very collaborative at the same time. He wants to see the character come to life in you.
He's not going to micromanage you, but he has a clear vision, which is the ideal director. At this point, he's just my brother. That was a great comfort as we sometimes went through the roller coaster of emotions that came with doing this without Chadwick.
Is there an aspect or characteristic of Okoye that you specifically identify with or that resonates with you a lot?
One of my plays is called The Convert. Letitia Wright performed it in London, I think, in early 2020. It's based in Africa in the 1890s; I'm Zimbabwean, so it's based in what was then Rhodesia. When I researched it to create it, it was crucial for me because even though I was raised in Zimbabwe and I did the British system A-level history, which is a lot of history, let's just say there still wasn't a lot of exposure to my own history. I had to research my own history for this play many, many years after high school, and I was like, How astounding. We don't know all this stuff about how we walked the earth back then. And that was specifically when Zimbabwe was turning into a colony, when the Brits were clamping it down and saying, "This is ours," and clamping down any uprisings of "the natives."
As Africans, the thing that messes with us sometimes is that we will never know what we could have been had we not been colonized. That process was obstructed, and it was destroyed. We didn't get our process. So that trauma is something we now have to navigate through to find all that we could be. That really hit me: We'll never know. I love that Okoye is preserving what they did know. Wakanda got to do that and came to be this powerful place. I think that's what resonates a lot with me and with a lot of Africans about Wakanda: It's mythical, but at the same time it resonates with the idea of who we are. We have all this genius in us, but it was so obstructed and our process of our own development was also obstructed.
Okoye protects that legacy, and that, to me, was so easy to connect to. I was like, I get her. If I had something like that to protect, I would do it with everything I had. I would give my life for it. It would not be a question. The idea that that's her role and her duty, and the passion she has for her people and her nation, just made total sense to me because really researching the onslaught of colonization and living through the aftermath of it, if there was an alternative world that I could protect? I would give it my all too.
In your playwriting, you try to tell and preserve African stories. Your play Eclipsed was nominated for a Tony, and many of your other plays have received critical acclaim. Has that acknowledgment changed the way you think about your playwriting career and your work, and are there any plays you're working on right now?
No, no, no, no, no. It didn't change anything. My last play is called Familiar. It was Off Broadway at the same time, and that is a play I've been adapting. Immigrant stories are very exciting to me. I've been very focused on TV and film and putting those voices out there. I'll always be a playwright, but getting things to the screen is just a process I've had my focus on more recently.
You're also set to reprise your Walking Dead role for a limited series with Andrew Lincoln. 
It's basically a spinoff of my and Andy's characters, Rick and Michonne. It was going to be a film and then it evolved into a limited series. Andy and Scott Gimple and I have been co-creating it over the last year or so. Those guys are true family to me. I mean, Gimple is literally a sibling. Our ability to work together has been very fruitful, and we really have the exact same taste and push the exact same mind-set around what makes sense and what doesn't for us, and our ethics are very similar.
It sounds like you juggle a lot of projects at one time. Do you have any advice for other creatives — specifically Black creatives — who are looking to do a lot at once?
The key thing that we hear in the industry, and that I've heard a lot too, is the idea of fulfilling some taste of the hour around how to tell our stories. So it's like, They're really into this right now, or you should really tell the story from this perspective or make one of them white. You know what I mean? You get all this advice about how to make it more marketable, and I really reject that concept. Black creatives come to me and ask about this sort of thing. They say, "They're telling me I should write it from this angle. Should I do it?" And I'm like, "Who is they?"
For me, it has got to come from your own passion. It's too hard to do things any other way, and you're creating something that ultimately you might regret. You might look back at it and go, That wasn't me. That was me trying to make people happy, and I don't think creatives should ever do that. The whole point of being creative is that you're tapping into a time of reflecting society back to itself that it might not even be aware that it needs yet. That's what the artist's gift is. We can see the storm brewing, and we write to that because it's caught our soul. That's something you can never, ever compromise on. I think you might not have a ton of people who jump in with you, and that's okay. I always say, "Go where you're loved." It might be very surprising where you're loved.
Were you ever almost persuaded to create for someone else rather than yourself?
My first play, which was a two-hander that I co-created and co-performed, snowballed into this hit. But this was back in 2005, and initially the theaters we wanted were like, Ha ha ha. Oh no. Okay. And we could have given up and been like, Oh, let's change it to make them happy. But there were so many people who did love it that some of those people brought other people to see it, who then gave us our shot. They weren't the people we were expecting or imagining or daydreaming about. But sometimes it's, like, go where you're loved. Go where you can keep your voice pure because no one can tell the story you can tell.
People shop their stuff for years. It takes ten years to make something that's then got ten Oscars. You have to really trust your gut before anything and anyone else. So that's my key thing for us because our stuff is constantly being subject to attempts to compromise its true integrity, which is what comes from us. Stuff that comes from us can make people uncomfortable, but that's okay because our job is not to make people comfortable; our job is to tell our truth. I always think if I haven't made an audience uncomfortable, I haven't done my job.
That's a good way to look at it.
I mean, look at Atlanta! I love that show! I think Donald Glover is in his own realm, and he found a place that says, Let's let him do his thing, and we get to see that. I know people have various opinions about it, but there are things in there that are just so on the money to me in terms of stories we never, ever really see told. I find it very, very exciting. This last season of Ramy is another example of something that's wow. I'm glad he got to tell those stories and let us live with those characters. So that's what you've got to push for, getting to do your thing, where it's like, I've never seen that before. That's coming from that person of color's gut.
If you could live in any television universe, which would you choose and why?
Maybe Abbott Elementary because it just seems so sweet, and it's a fun group of good people trying to do good and they're all fascinating. I'd find them all quite funny to be around. I get a lot of laughs out of that show, it's fantastic. It's one of those examples where you can see that Quinta Brunson did what she wanted to do. It's uncompromising.
What are you obsessed with lately?
That's a strong word. I didn't break the bank over it, I held back, but I really did love the Adidas Gucci collab. I just thought it looked very African retro. It just felt like really cool Africa in the '60s, some of their cuts, and the rompers and coats, and the colors, the shirts for the dudes, and some of the bags. There's another one coming from the Gucci side. That was from the Adidas side, but I thought that was a very interesting collab in terms of fashion stuff.
What else am I obsessed with — "obsessed with"? Fries. I do try to avoid fries, but I love fries. That desperate love. You know what's really awesome to me right now? A food chain in Brooklyn called Slutty Vegan. We had it on our first read-through of Black Panther 2. I found out this young Black woman founded it, and now there's a line down the block every time I come near it and they're going up in Harlem. I'm just really excited for her. She's really young and just awesome. Her burgers are amazing. But I feel a little less guilty because it's all plant-based stuff.
What's something you're good at and take pride in that's not work-related?
"Take pride in" — I don't know about the pride part. "Enjoy?"
Sure.
I love to swim. I used to swim competitively when I was pretty little. As I'm sure you've seen in the previews, there's a little bit of water in this movie. So when I heard that, I hadn't read the script, but I went and found this Olympic-trainer swimming coach. I was like, "Teach me everything." It wasn't really necessary to go in like that, but I went all in. It was really fun to really work at improving my stroke and to see improvement and transformation in my technique and in my speed. I sent a little video to Ryan, and he was in shock. He was like, "What the hell?"
I'm getting into this aspect of the fact that there's an issue with Black kids and swimming. I saw the stat that a Black child is five times more likely to drown than a white child, and that got me. I just got more interested in trying to bring awareness to it, and I'll be looking into that more. There's a lot that goes into the fact that we as Black folks don't often get that skill, but it is a very important skill and people lose their lives around it when they don't have to. I tried to help a couple of my friends learn to swim — grown-ass women like me. It's interesting. There's sometimes a panic around water. It takes effort. For a lot of people, if their family doesn't do it, they end up not doing it. It's a whole thing. That stat really hit me hard.
Are you on TikTok at all?
Not yet. You never know. It could happen.
Do you believe in manifesting? 
I definitely believe that if you work very hard toward something, it's possible it'll come to pass. My phone screensaver says, "Whatever you vividly imagine, ardently desire, sincerely believe, and enthusiastically act upon must inevitably come to pass."
I don't know if it will inevitably come to pass. Sometimes it might not, but at least you gave it your all and I think a lot of the time it does. I'm a woman of faith, but I don't think anything happens without your full effort. I think we've been given the ability to put in our full effort, so it must be a part of it. I'm a child of academics. I believe in rigor, and I respect rigor when I see it. Excellence is undeniable. I believe in that.
What are you prioritizing in your life right now?
More family time and spending time meditatively in prayer. I've spent so much time not doing that in my life that sometimes I'm like, What am I doing?, because I know how much better I am when I do it.
It seems wretchedly cliché, but I really actually am trying to live more fully from a place of love, and that really means with everything. I think it's really easy just to judge first, you know what I mean? But I'm trying to switch my lens to a love lens before a judgment lens, in most cases, and then seeing it might still land on judgment. At least I know I started from a place where I'm looking at people with love before anything else. I'm trying to put my love lens on with a more sharp focus, and it's interestingly not always that easy to do.