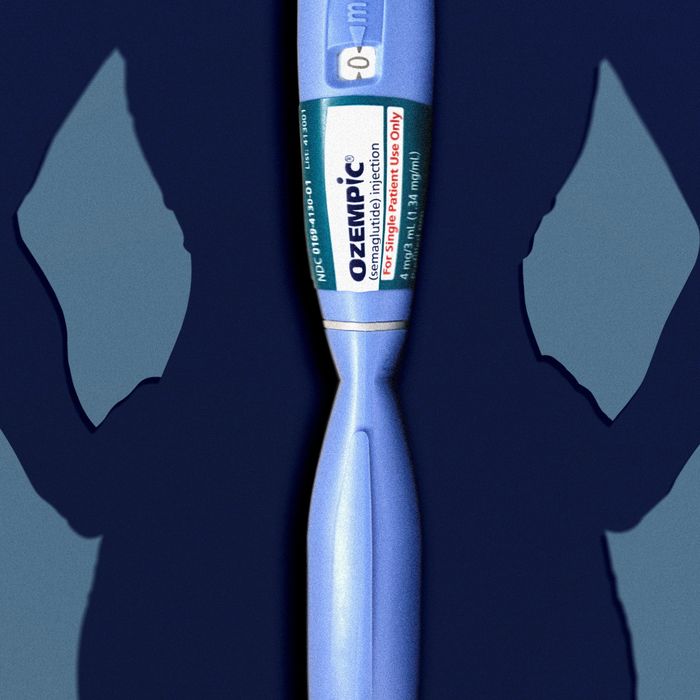 Photo-Illustration: The Cut; Photos: Getty, Ozempic
This article was featured in One Great Story, New York's reading recommendation newsletter. Sign up here to get it nightly.
You might love this so-called miracle drug. After a month or two on .25 milligrams, the typical starter dose for Ozempic, you may notice that your jeans fit better. You may notice everything in your closet fits better, and the scale says so, too: You're losing weight. Your doctor ramps up your dosage and the pounds keep dropping. Friends ask what you're doing. Even your mother-in-law wants to know. A year on Ozempic, and you might not recognize yourself.
A lot of people say they've lost weight on it — and a lot of people seem to be taking it. Ozempic is an injectable diabetes drug made of semaglutide, which can lower blood sugar and spur insulin production. It also slows digestion and makes you feel fuller for longer, which means weight loss is a common side effect. Though the drug's manufacturer, Novo Nordisk, cautions that "Ozempic is not approved for chronic weight management," doctors are increasingly prescribing it off-label, which is what Kim Kardashian is rumored to have done to fit into her Marilyn Monroe gown at the 2022 Met Gala.
Since its U.S. rollout in early 2018, Ozempic has become a coveted accessory in Hollywood, but even with its high out-of-pocket cost ($950 or more per month), plenty of normies are on it for weight loss too. It's being marketed to everyday people with catchy ads on Instagram, TikTok, and cable TV networks, where "Oh! Oh! Oh! Ozempic!" is played to the tune of the 1975 song "Magic." There are weight-loss specific Ozempic Facebook groups with tens of thousands of members who post before-and-after photos and trade tips on things like where to do the injections (some say the arm or leg versus the stomach can help avoid nausea). On TikTok, the hashtag #ozempic has nearly 250 million views and climbing.
"It's the most common medication that I get asked about," says Dr. Sudeep Singh, medical director at Apprize Medical, a concierge medical practice in Miami. "Everybody knows. Everyone's asking about it. My mom's asking. My neighbors are asking about it. The news is out." And it often does lead to weight loss, provided you can tolerate the side effects.
But when you take the nausea, constipation, diarrhea, and other possible issues into account, Ozempic isn't always the panacea it's made out to be. Multiple women I spoke with experienced incessant vomiting; another said she had heart-rate spikes so strong they woke her up at night. Yet the even perceived benefit can be short-lived: You'll most likely gain the weight back after going off the medication.
Anna Toonk, a 42-year-old podcaster in New York, was an ideal candidate for Ozempic. Since she's diabetic, the drug can lower her blood sugar and help her pancreas produce insulin. Laser-focused on these goals as well as losing weight (which can also put type-two diabetes in remission), she visited a well-known endocrinologist in Manhattan and asked about Ozempic after reading about it in the New York Times. "He warned me it wouldn't be fun," she says.
Hell ensued. Toonk started on weekly injections of .25 milligrams with intentions to build up to one milligram, which is when most patients, according to the doctors I spoke with, see more significant weight loss. Within a week, "I had no energy, constant nausea, and what I call power-puking," she told me. (A friend of hers described it as "the kind of puking that's so bad you have to look away.")
Instead of stopping Ozempic, Toonk asked her doctor to go up to .50 milligrams. "I wanted to keep my eye on the prize: my health, and that post-Ozempic body," she says. Her doctor obliged, and that's when things went "truly haywire." She was so sick all the time that on her 42nd birthday, she only felt comfortable seeing her mom. That night, Toonk vomited again, and her mother told her, "You can't live like this."
Toonks's doctor was hesitant to prescribe a cocktail of drugs to alleviate her symptoms. "I'd share how I was doing and he'd say, 'Yeah, this class of drugs comes with bad side effects,' which felt like, Well, you got yourself fat. So yeah, it might suck to be on this drug."
As a September trip to Italy approached, Toonk had a breakthrough. "I realized that there are worse things than being fat," she says. "The worst thing you can be is wanting to barf all the time." She weaned herself off Ozempic and went to Italy without it. "I think it takes about five weeks for it to get out of your system, and I could feel it leaving my body," she says. "My periods had been weird, and as soon as I hit that five-week mark, I had the monster period of my life."
There's a chance Toonk could've found some relief through the recommendations of others who've been on the drug, but if you want to join an active, private group like Ozempic® Weight Loss Support Group for T2D and Other Issues — USA, you have to agree to the rules. This includes No. 5: Posting about Negative Side Effects. "Most people taking this medication DO NOT have negative side effects. In fact, over 80 percent of people taking Ozempic have mild or no side effects at all. It only seems like there are so many since the people who have them, or are afraid of having them, post about it. No reason to expect it will happen to you. Due to a constant daily barrage of this type of post, we will filter most of these unless you have a specific issue."
Dr. Singh says about half his patients experience these gastrointestinal side effects, especially at first. In those cases, unlike Toonk's doctor, he will prescribe additional meds like an anti-nausea pill or antacid.
That didn't cut it for Lauren Williams, a psychotherapist in New York, who after starting on .25 milligrams of Ozempic this summer had nausea, nonstop vomiting, and "unbearable pain" that landed her in the hospital with gastritis. But she didn't quit the drug entirely. Now her doctor has her on a much lower dosage to see if she can still lose weight on it, since Williams's husband lost 32 pounds with Ozempic in three months. "He had high blood pressure and this saved his life," Williams says.
For others, the gastrointestinal side effects weren't even the main issue. Mila Clarke, 32, who has latent autoimmune (LADA) diabetes and runs a well-known blog in the diabetes community, chronicled taking Ozempic for her 30,000 YouTube subscribers last year. She tells me she lost weight quickly, but it actually frightened her how little she wanted to eat. "Sometimes I would drink a glass of water and I would be full for the entire day," she says. She got over other side effects, like nausea and acid reflux, in a month. But within a week of starting the drug, she kept getting the same Apple Watch notification telling her that her heart rate was high. She says she brought it up with her doctor, who initially said it was probably anxiety, because he thought heart palpitations weren't a documented side effect of Ozempic. A couple months later, she quit the medication. "I could feel my heart beating out of my chest," she said. "It was hard to breathe. I was woken up in the middle of the night from these heart palpitations. And I just could not take it anymore." Afterward, she heard from other people experiencing these symptoms, too. "I'm grateful I made that choice and that my doctor supported that choice because my mom recently passed away from a heart attack," Clarke says. (According to Novo Nordisk, the drug's manufacturer, Ozempic can result in a slightly increased heart rate. Those who experienced this in clinical trials amounted to "less than or equal to one percent of patients," a Novo Nordisk spokesperson said in an email, adding that the increase in heart rate "has not been associated with a negative impact on cardiovascular outcomes.")
In all of the support groups and social-media comments, one question seems almost taboo: What happens if you stop taking Ozempic? Dr. Singh says only 25 percent of his patients are able to sustain their weight loss after going off semaglutides. "The ones that are doing the dietary changes, regularly exercising, and taking their medications and doing what they're supposed to, they're able to stay out of it," he says. "A lot of patients are having to cycle back onto the medication."
Other weight loss methods may be more effective long term. "Surgery and interventional radiology/needle procedures are more likely to lead to greater sustained weight losses," says Dr. David Prologo, an associate professor and director of Interventional Radiology Services at Emory Johns Creek Hospital in Atlanta. These include metabolic surgeries and minimally invasive procedures, like bariatric arterial embolization, that are "onetime interventions versus long-term medications or injections with side effects."
Even if you're not fazed by those obstacles, good luck getting a starter dose at this point. The drug is now so popular that there's literally not enough to go around. Both Ozempic and Wegovy, another semaglutide that debuted this summer and is FDA-approved for adults with chronic obesity, are currently in shortage.
That probably won't stop the online chatter about Ozempic anytime soon. "If you get on Reddit, people are talking about it like it's a goddamn miracle," says Toonk. "Everybody is whispering to each other: 'Take this injection, and it may suck, but you'll lose weight.' It is insane to me."