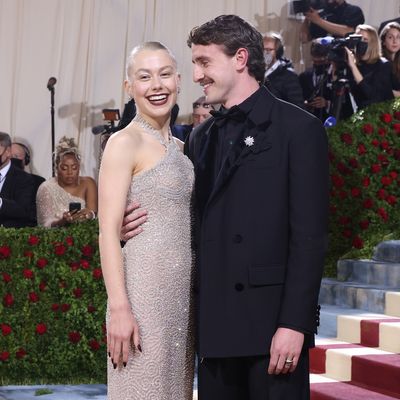 Photo: Taylor Hill/Getty Images
For a few hours on Sunday, news that Paul Mescal and Phoebe Bridgers were reportedly engaged took over Twitter. A fitting setting considering the relationship began on the social-media site in 2020. The rumor was prompted by a profile on the Normal People actor in The Guardian, which casually asserted that they "are now engaged." However, the profile has since been updated to read "are reported to be engaged." Hmmm … interesting.
In the interview itself, Mescal did not appear to address any engagement directly in his quotes. In fact, he didn't seem to mention his relationship at all. The claim was originally written after he spoke about his decision to get off of social media. "I just don't think it's particularly useful for people to see, like, literally you," he said. "I thought it's either get off the bus now or stay on it, and I wanted to get off. In ten years I might rue the day I threw out social media, but look, it just is what it is." The profile continued with a parenthetical, which originally read, "(Mescal did, however, stay on long enough to exchange charged messages on Twitter and Instagram with musician Phoebe Bridgers; the pair are now engaged.)" This sentence has since been edited to state that they "are reported to be engaged." But, the news had already gone viral.
Mescal and Bridgers's relationship has always been pretty low-key. Though it began on social media — a Twitter exchange spawned by the musician's love of Normal People, and a joint Instagram Live in summer of 2020 — their relationship has been mostly absent from social-media timelines. Later that year, Mescal starred in her "Savior Complex" music video, but they didn't become Instagram official until December of 2021. And since then he's only appeared on her page once.
While they haven't made a point to publicize their relationship, they've walked a few red carpets together, including this year's Met Gala, and Mescal has been a regular on Bridgers's tour, often seen caring for their dog, Maxine. "I really, really enjoy being around her and her band and her friends," he recently told Bustle of traveling the country with the musician. They've also been rumored to be engaged before, and, based on Sunday's Twitter excitement, they'll probably be rumored to be engaged again. Such is the life of a celebrity couple.
This post has been updated.