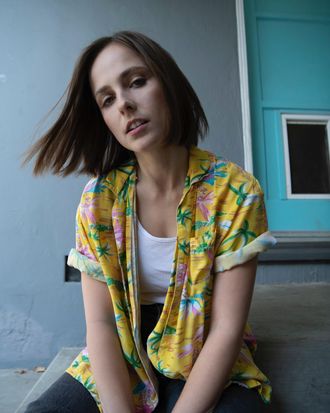 In the new season of Mindy Kaling and Justin Noble's raunchy-yet-wholesome collegiate sitcom, The Sex Lives of College Girls, our favorite Essex freshmen are back from Thanksgiving break just a smidgen — and really, just a smidgen — wiser than before. But while everyone returns to undergraduate high jinks and hookups, 18-year-old Kimberly (Pauline Chalamet) stresses about how she'll pay for her prestigious education without weighing herself down with exorbitant student debt. Season-one viewers will remember that Kimberly, the show's only low-income protagonist, fell behind in classes after getting "addicted to Nico's dick" (Gavin Leatherwood) and ensnaring herself in a frat-house cheating scandal that ultimately led to the revocation of her scholarship. Now, Nico and his dick have been shipped off to Cornell purgatory, while Kimberly tries everything from closed-captioning Australian reality TV to looking for loan co-signers before landing on another lucrative possibility: donating her eggs.
"For Kimberly to be faced with that predicament felt like a very grounding aspect of the show," Chalamet tells the Cut. "It's a 30-minute comedy and it's joke after joke after joke, but I find Kimberly's story did have something rooted in reality." It doesn't get realer than injecting yourself with hormones in the bathroom during a frat party, and while Chalamet, who has more than a decade on her character, understands the egg-donation route might have psychological ramifications down the line, she's happy to see Kimberly taking charge of her situation and getting out of the financial weeds without having to rely on anyone but herself — all of which the show handles with its signature light and buzzy touch.
We left off last season with Kimberly losing her scholarship, and this season she tries out every manner of getting money until she decides to donate her eggs. What was it like navigating that story line?
The financial reality of being 18 years old and going to a private elite institution was not lost on me. Nor is it lost on the majority of Americans. Even being able to go to college is such a privilege. It felt like a very grounding aspect of the show, and I was interested in seeing how we'd come out of this pickle. When you're in that situation and facing the stress that comes with it, of not knowing how you're going to stay in school and come up with that much money — years' worth of the average American salary for a household — I knew it wouldn't be fulfilling to get it all resolved in one episode.
The egg-donation idea was particularly smart. At 18 years old, it's a quick fix in a way: You get paid a lot of money, and you're the perfect age to do it. Kimberly's able to find some autonomy because she doesn't have to involve her parents. So it's a real taste of adulthood but it also leaves the door open for reckoning with that later in life. When you're 18, you don't have the wherewithal or foresight to think to yourself that what you're doing at this very moment may have consequences later on. Not physical consequences, but psychological ones. If you get to a point in life where you're thinking about having kids, about your eggs and your ovaries, and you're thinking, Maybe there's a kid out there who has my genes, that's a real question you'll probably go through. So not only was it an inventive solution Kimberly came to on her own, but it also leaves the door open for future reflection about what she did.
Will Kimberly be dealing with the egg donation and its ramifications all season long? 
I'm happy and grateful for the fact that once Kimberly figures out a solution, we leave that story line behind. Kimberly has the money. It'll constantly be a thing for her — you never escape how you grew up. It's a big deal to be 18 and pay for college in a way that's adultlike, to make such a big investment in yourself. But afterward, we see Kimberly blossom into herself and ground herself into the things that matter to her. She continues to make mistakes, figure out life, and maybe feel like a small fish in a big pond, but she's figuring out other aspects of college life that have meaning for her and that bring the worry of the financial predicament she's in away from the spotlight. She comes into herself with a certain maturity I think a lot of scholarship students feel. It bleeds into her life outside of money. Things get messy in her interpersonal relationships. But that's part of growing up, making mistakes and learning from them.
You went to La Guardia High School, a performing-arts school, as a teen. Did you always want to become an actor? 
I've always loved acting, but something clicked in my sophomore year of high school. I was working on a scene from Antigone. I played Ismene and thought, This is fun. I had this amazing teacher and when my scene partner and I presented what we'd been working on he tore it to shreds. I felt so bad; my ego really took a hit. But the day we showed the scene, I was so prepared. We'd really worked, and it was the first time I understood what the work was of bringing a scene and a character to life. It also happened at this point in my life where I thought I'd become a ballet dancer — I'd leave high school to take classes at the American School of Ballet. So I always enjoyed acting but didn't put all my energy into it until relatively recently, when I was living full time in Paris. I was starting to write and direct shorts with friends and went to an acting conservatory, which was the first time I did acting and scene classes since La Guardia.
You live in both Paris and New York. Do you find yourself getting recognized more in the wake of the breakout success of Sex Lives in either city? 
It hasn't come out in Paris yet! So it's a really nice little bubble over there. My friends are like, We don't see you anymore and we can't even see what you're working on, so is it a scam? It's set to come out in France soon. I think I sometimes get recognized! People have said they love the show and my character, but nothing's really changed. It makes me happy when people come up and say they like it and that they're able to relate to certain moments.
I've been learning about this world of television and 30-minute comedies, which always go back to Friends, The Office, 30 Rock, and Parks and Rec, shows I know by heart. But I never imagined myself in a comedy like this that's so driven by the writing. I'm grateful for the experience, and it's pretty cool to be on a set where you're trying to make people laugh.
Speaking of recognition, does your mom watch the show? 
My mom watches the show, 100 percent. She loves it. She's a huge fan — I think she's watched it multiple times. It's wild to have the experience of having her feed back the lines to me. She's so supportive of everything ever since I started making little movies and shorts. I don't take that for granted. I know that explaining to relatives that you want to pursue a career in the arts is one of the ladder ranks people have to go through to pursue this path.
Does Timothée watch? Is he a fan? 
I think so, yeah.
Are you anything like Kimberly, or were you anything like her when you were her age? 
I think so! I can have a tendency to word vomit that I think I've grown out of a little. But I can definitely relate to Kimberly on that. I also relate to her need to overcompensate and assert herself through the knowledge that she has. I take such pleasure in imagining her. She's from this small town in Gilbert, Arizona, which is so not the upbringing I had. There's a naïveness to Kimberly that I think is much different than me. I'm gullible, but I wouldn't categorize myself as naïve. That's been a fun thing to explore: the sincerity that naïvete can be, or is.
What was your college experience like?
I became a good student in college. In high school, I'd been a student who was able to do the bare minimum and get by with relatively good grades. When I got to college, I realized how expensive each class was. One day I calculated the price of each class, and I was like, Oh my god, it's $450 if I don't go to class today. So I forced myself to double major. I was like, You need to make the most of your time here. I started to use my brain in a different way. For that I'm really grateful. But four years is a very long time to be doing that, and there are so many mixed messages while you're there. In your freshman year, you hear that you don't need to know what you want to do, but after that, it's like, you're soon going to major! It's a difficult place to be a young adult. That's the experience I had. I'm grateful for what I got from it but look back on it as some of the most stressful times in my life. It's a weird thing.
Tell me your most embarrassing memory from your college years. Who had a more embarrassing go of it — Kimberly or Pauline? 
I think my most embarrassing memory from college would have to be the time that a bunch of theater kids managed to throw a party at the gym's pool one night and it very quickly turned into a naked pool party. One by one people were jumping off the diving board fully naked, and I wanted to give it a shot, so I climbed out of the pool and, while walking to the diving board, slipped and fell and gashed my knee. I was trying to play it off, but there was blood gushing, and people seemed more concerned with getting me away from the pool so that my blood wouldn't drip into the water than with helping me stop the bleeding. But it was still fun. A guy then threw a live lobster into the pool that night, causing everyone to run out and also to get very mad at the guy since the lobster obviously died in the chlorinated pool, but my story quickly faded from headlines, which I was relieved about.
But I'd say Kimberly has it rougher in terms of embarrassing stories. I fall a lot and lose things a lot, but Kimberly digs herself deep into holes.