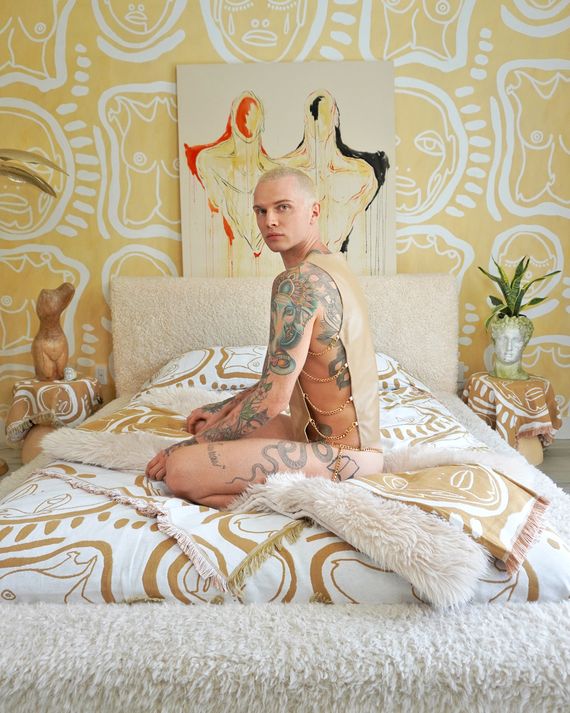 Patrick Church in his Brooklyn home.
Photo: Patrick Church
Everyone has to get their inspiration from somewhere, even the tastemakers we often turn to for inspiration ourselves. Patrick Church is no exception. A paragon of creative expression, Church has spent the last few years bridging the gap between art and fashion, using his expressive illustrations to establish himself in both worlds. The UK-born multimedia artist is, to put it plainly, as cool as it gets, so asking his advice on how to be a better holiday gifter (and giftee) was a no-brainer. His secret: Pinterest.
Pinterest is where we go to plan and manifest ideas — both big and small — but it's so much more than a treasure trove of inspiration. Turns out, it's a cheat sheet for perfect gift ideas. And as a Capricorn whose birthday is just two days after Christmas, Church knows a thing or two about gifting flops ("I hate it when people assume that one gift will do").
The holiday season is all about giving (and, let's be real, getting), so who are we to not be prepared. Luckily, Church has it under control. Ahead, the artist's masterclass in finding — and asking for — the perfect gift.
On being direct
Church says to be brave enough to ask what someone is hoping for as a gift. Better still, ask for their Pinterest board. If your sister just bought a house and is excited about having a massive kitchen to fill with her interior design ideas, there's a strong chance she's created a board filled with every detail (odds are, some "yes, chef!" paraphernalia will be hiding there, too). Bottom line: Your search just got a whole lot easier.
On curating the perfect Pinterest board
If you're the giftee, we recommend creating a board with a careful curation — the more specific, the better. "It's really easy to have 50 different boards around inspiration, but the more you curate each board the easier it will be when it comes time to reference," Church says. If your style is eclectic, create sections within your boards for all your unique tastes: Baroque aesthetics, cottagecore bedrooms, minimalist mudrooms, etc. And while you can totally share a board with whoever is getting you a gift, we wouldn't judge you for borrowing, let's say, your partner's phone and leaving your board open in a new tab for them to find later (consider it a green flag if they already have the app).
On getting specific with your search
Whether you know a lot or a little about your giftee, the Pinterest search tool can help you find a gift fast. Pinterest searches don't need to be specific; if you know someone enjoys music, a simple search for "cool music gifts" will get you far. If you happen to know more, add descriptors. "For instance, it would be best if my husband types in 'emerald jewelry' and then, for the added description, 'extravagant,'" Church says. (We hope you're reading, Adriel!)
Church's favorite search feature: The shop filter. While searching for gifts, try using the shop filter (the shopping bag icon below the search bar) to populate shoppable product pins. It'll make the checkout process even easier; just tap the pin and you'll be directed to the merchant's site. In other words, have your credit card ready.
On his gifting golden rule
Gift unto others as you would want gifted unto you, or something like that. Church isn't here for perfunctory gifts. "I think gifts should always pack a punch and be either unexpected or larger than life," he says. "I would never give a gift I wouldn't give myself, which is why very often I end up buying two." Just try not to like the gift too much or else you may be the person giving the "I-want-this-for-myself" gift.
On his perfect Pinterest wish list
When Church is shopping for others, fragrance is usually his go-to because of its universal appeal. For himself, he's currently eyeing Frederic Malle's Portrait of a Lady. Similarly, accessories (jewelry, sunglasses, etc.) are also safe bets. "I always tend to shop for accessories from someone's favorite brand — you don't have to worry about sizing and most brands will even take care of the gift wrapping for you," he says. Candles are good, too. His pick: The Diptyque Orange Amber Candle, which smells like a warm $100 hug.
Some other shoppable finds from Church include metallic Moon Boots, a moss agate tower (perfect for any crystal lover in your life), and nag-champa incense. For his husband (Adriel, stop reading!), Church plans on getting a pair of vintage Justin boots from the '80s. And just in case you're looking for the ultimate splurge, allow Church to present the best gift ever: An emerald Birkin bag. A mic drop, if you will.
Looking for more tips? Check out Pinterest's guide to good gifting.
This advertising content was produced in collaboration between Vox Creative and our sponsor, without involvement from Vox Media editorial staff.