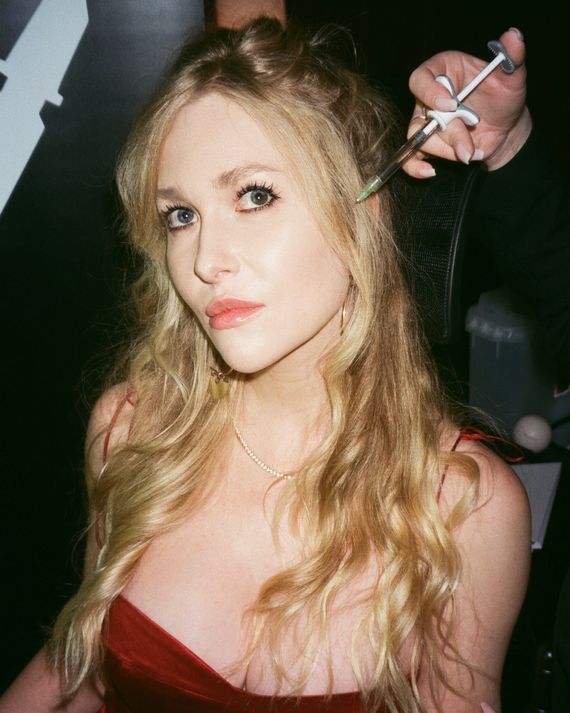 Allie Rowbottom with
@nycinjector
at the release party for her new novel,
Aesthetica.
Photo: Matt Weinberger
"I'm not going to give you an itemized list of what I've done," says Allie Rowbottom, when I, as politely as possible, attempt to ask her about her face — plump and tight and pretty, even in the unforgiving light of the cosmetics section at Saks. "What I will say is that some of what I've done has been really empowering. And some of it hasn't been."
Rowbottom, 36, and I are walking around this heavily perfumed land of charge-card self-actualization — past a golden sign surrounded by white roses and orchids, advertising an upcoming "BOTOX Cosmetics Day" — discussing her new novel, Aesthetica, a tragic tale about clout-chasing your way off a cliff in the Instagram era, and, in a way, trying to find your authentic self again after faking highly filtered, brand-sponsored "authenticity" for so long. We're eyeing expensive Celine handbags and McQueen dresses because this, she tells me, was an early tagged location in her own social-media feed. When she was an undergrad at NYU, she'd come here with her girlfriends after one of them got dumped. "We would try on dresses and take photos of ourselves and post them, as sort of a 'Look how hot we are, look what you're missing' type of thing. It felt sort of radical at the time." Nothing very bad could happen to you here, right?
Of course, by now most of us have learned that what you see online isn't always real, which the narrator of Aesthetica, @annawrey, learns the hard way. Anna is a washed-up influencer whose fall from Instagram fame (or at least 100,000 followers) leads her to a life-threatening procedure, called Aesthetica, to undo all of the cosmetic surgeries she'd undergone in an effort to "gain followers, get sponsors, make money." It's a bit nostalgic — there's a Me Too plotline, but it's just that: "for the plot," to quote one real influencer's tagline — but it's nostalgic in the same glossy, grimy vein as Lana Del Rey. "The Stories feature was less than a year old, but already it had changed the way I shit," Anna laments. She needs to be saved from herself, if not her filler and her filters.
Rowbottom could pass for an influencer herself, given the occasional bikini pic and bottle-blonde hair on her grid, but she only has 6,930 followers and says she barely uses TikTok. Last summer, she and her husband, the wiry-cute writer Jon Lindsey, visited the city often from their home in Malibu and started throwing salons with the Dimes Square crowd at a "posh brownstone" (as her DM invites noted) they were crashing in on the Upper West Side. When I saw them together, always somewhere like Clandestino, she struck me as a type of aspirational character — the hot girl writer, part Eve Babitz, part Dawn Powell — that is again in vogue.
Except Rowbottom not only can write well, in theory, but actually does, in practice. Her first book, Jell-O Girls, published in 2018, tells her family history, starting in 1899 when her great-great-great-uncle bought the patent for Jell-O gelatin for $450, later selling it for millions and setting his family up for generations. One of the ways the book succeeded was connecting the family business's aura of feminine domesticity (Jell-O was marketed as an easy-to-make dessert for housewives and later a diet food for the same women before becoming a frat-house staple) to the personal troubles facing herself, not to mention her mother and her grandmother, who both inherited what Rowbottom calls the "Jell-O curse," struggling to find happiness chasing some progressive feminist ideal and dying early (many of the men ended up self-destructing). The New York Times described the memoir as "dark and astringent, a cutting rebuke to its delicate, candy-colored namesake."
The first time I met Rowbottom was at Sean Thor Conroe's Fuccboi release party last November, where she was in the bathroom donating her literal blood to the poet Rachel Rabbit White, for some kind of séance, I assume, before running out the door with Caroline Calloway to another party. When Lindsey's novel, Body High, came out last year, she interviewed him while indulging in "tequila, several grams of cocaine, and a generous ketamine nightcap" and published the conversation online. One scene from her new book, she told me, is inspired by trying to get high on a DMT pen in a shitty hotel room in Orlando, and she's also published poems with titles like "Obligatory Orgy Poem" and short stories about getting trashed and hooking up with one of the Chainsmokers at Marquee back in the aughts. The cool-kid rag Forever Magazine just named her in its kind of ironic "Chinatown 30 Pushing 30 List." So you can see what I mean by Babitz.
Shortly after her mother's death, Rowbottom, while pursuing a Ph.D. in literature and creative writing at the University of Houston, says she started obsessing over the model Alexis Ren, ten years younger than her with over 16 million followers. "I was having a tough time. My mom had just died and, yeah, I'd sold a book, but that doesn't fix everything, you know," she says. "This girl just looked like she had it all made, as is her job. If I were young and getting all this instant validation for my body and my looks, what would that have done to me on this scale?"
It's a weighty question — fraught with generational differences around beauty culture and feminism — but it resulted in Aesthetica. Both of Rowbottom's books share a similar preoccupation with maintaining your image (i.e., your youth) and a desire to be looked at … and on the reverse end of that feeling, the desire to disappear from it all.
For the most part, though, the book resists tired takeaways about our digital lives, and so Calloway has declared it "the only book about the internet that doesn't make the author sound like a thousand-year-old vampire," which is a testament to both its literary quality and the fact that Calloway never published her own Instabook (it was advertised that she would read an excerpt of it at Rowbottom's release party, but that was mostly an empty promise). Meanwhile, Caitlin Flanagan, who is 61 — which might as well make her a thousand-year-old vampire from the perspective of anybody who has abandoned IG for TikTok — tweeted that Aesthetica is the "true inheritor of Play It As It Lays," presumably because the Joan Didion novel is also preoccupied with bad men, glamour ennui, and feminine brooding in California. It's hard to imagine Didion getting any of the work done that either Anna or (presumably) Rowbottom has, but Aesthetica is packed with evocative L.A. references, like Black Dahlia and El Coyote, along with more up-to-date ones, like weed spon-con and selfie walls.
But for someone who's written so knowingly about the self-absorbed specifics of influencing, one could never imagine Rowbottom stooping to those basic levels. Her release party this month also featured on-site injections in the club (from the brand Dysport, not Botox, because "I heard Botox is funding pro-life") and, when guests arrived, Lana's "Young and Beautiful" played on repeat. She says she's not exactly a moralist about any of these things she's written about, though. It's a novel, not a crusade. "I feel very neutral on the topic of plastic surgery. Do it or don't do it. Either way, there's a cost," she tells me, sitting at lunch back at Saks. After all, "There have been things I've done that have really helped me feel affirmed as a self, as a soul."
One senses Rowbottom is hoping this book will contribute to her own rebrand — from party-girl "Jell-O heiress" to serious writer. "I got into writing because I didn't want to have to rely on youth and beauty," she told me. At the next table, two shiny young things snapped a selfie with their food.