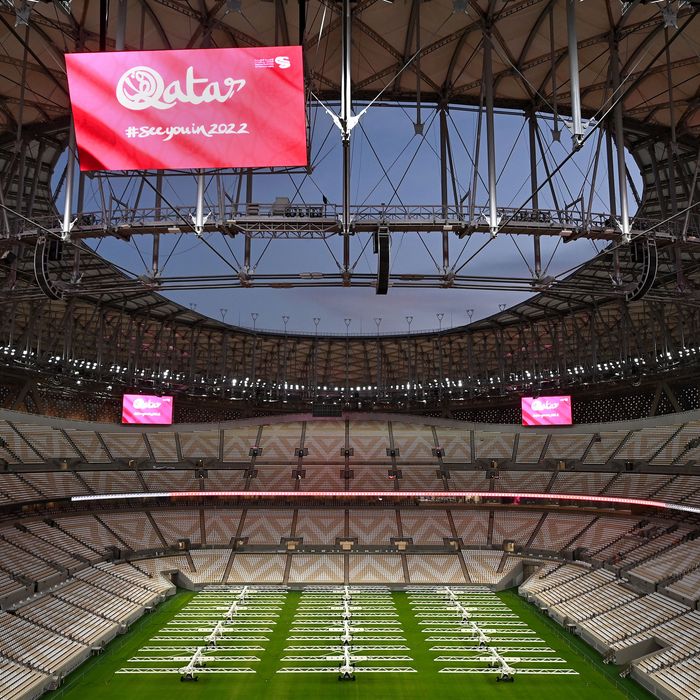 Photo: Shaun Botterill/Getty Images
For a lot of fans, part of the fun of going to a live sports game is being able to eat stadium snacks and grab a beer. Unfortunately for most fans attending the FIFA World Cup in Doha, that won't be the case. Just two days before the tournament is set to begin, Qatari officials announced that the only beverages people will be allowed to buy in stadiums during the games will be nonalcoholic.
"Following discussions between host country authorities and FIFA, a decision has been made to focus the sale of alcoholic beverages on the FIFA Fan Festival, other fan destinations and licensed venues, removing sales points of beer from Qatar's FIFA World Cup 2022 stadium perimeters," FIFA confirmed in a statement on Friday.
Although alcohol is strictly controlled in the Muslim country, Qatar agreed to permit beer sales when it won the bid to host the Cup in 2010. Now, it sounds like FIFA officials and wealthy guests in suites will still be allowed to have beer and other beverages, including wine and an official FIFA Champagne — everyone else will have to get their booze at FIFA's fan-festival area and at specific other licensed venues outside the games, the New York Times reports.
In addition to muddling FIFA's relationship with Budweiser, which has sponsored the Cup since 1986, the reversal has fans up in arms. Many are angry about the hypocrisy of allowing the wealthiest fans to drink in their suites. Others are upset that the decision came at the last minute, adding to the litany of frustrations fans have been dealing with, including high costs, tight restrictions, and other inconveniences in the lead-up to the tournament.
The alcohol ban is only the latest controversy surrounding the Qatar World Cup. For years, fans and experts have criticized FIFA for choosing Qatar as a host nation because of its history of human-rights abuses. Even though Qatari officials have said that all fans are welcome to attend the games, homosexuality is illegal and people in same-sex relationships can be sentenced to prison for up to seven years. The nation is also known to stifle criticism by citizens, migrant workers, and journalists, bringing issues of press freedom into question. Since being awarded the bid to host the tournament, Qatar's abuse of migrant workers, which includes wage theft, forced labor, and other exploitation, has also come to the fore and led to calls by human-rights organizations, politicians, and celebrities for a different country to host.
Singer Rod Stewart told the London Times that he was offered millions to perform at the tournament but declined "because I don't think it's right to go to a country with those ideas and values." As recently as this week, fans were speculating that Dua Lipa would perform, but she cleared things up when she posted to her Instagram story earlier this week that she was never in negotiations to perform and is looking "forward to visiting Qatar when it has fulfilled all the human rights pledges it made."
The tournament kicks off (sorry) on Sunday at 11 a.m. ET. The U.S. men's team will play its first match at 2 p.m. on Sunday against Wales.