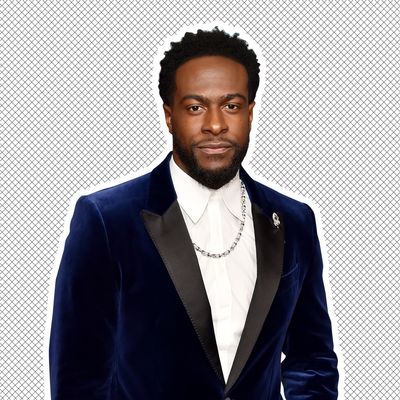 Photo-Illustration: by The Cut; Photo: Getty Images/Frank Micelotta for Hulu
As a teenager, Quentin Plair, a college football player who wanted to major in business and loved watching Sister Act with his family, didn't think he'd ever be a performer, let alone one who takes his clothes off in front of the camera. In fact, he tells the Cut, until Welcome to Chippendales, "I never would've thought I'd be a stripper." Then again, he's not actually a stripper in real life. He just plays one on TV.
Plair stars in Hulu's fictionalized interpretation of the iconic striptease troupe's creation by Somen "Steve" Banerjee (Kumail Nanjiani), and the multimillionaire club owner's eventual downfall. He plays Otis, the club's only Black dancer — and the most popular — who forms a bond with Banerjee. At first, Otis sees his boss as "a brown-skinned brother" and possible business mentor, but their relationship quickly deteriorates as Otis realizes that Banerjee won't let him advance due to his race. The role required Plair to be the best dancer in the room — he spent about two months in a "dance boot camp" to prepare — but also to tackle challenging themes of white supremacy, betrayal, and objectification. "Everybody knows what it feels like to be passed over, to be looked over, to think you have something to show others and being ignored," he says, adding that he didn't base his character on a real Chippendales dancer, but on the authenticity of Otis's experience. "I wanted to be truthful to that."
Plair's revealing performance is sure to get him noticed, but don't expect to see quite as much skin in his next project, where he'll play Kathryn Hahn's husband in Hulu's adaptation of Cheryl Strayed's book, Tiny Beautiful Things. "It was exciting to act with my clothes on — primarily," he teased. I guess we'll have to wait and see.
What was the scariest part of performing the dance routines on set?
The scariest part was doing it in front of a hundred women that were there to be entertained. Obviously, as background performers, everyone was there to work, but … My other big fear was that I had to be aware of where Otis was as a character. Every time I'm dancing, I'm really going through so much — being the only Black dancer in the club — and on top of all of that, I've gotta get this dance, I've gotta do it confidently. I gotta make it look like I am the best dancer in this club, while every other dancer is a professional. And then I've got to take my clothes off.
The first day I was extremely nervous, but then I came to love it. I was so excited for the dance days and to be on the stage and have people yelling. It got addictive.
What was it like that first time on set?
On the first day, I had a solo dance — dancing 11 hours straight with a one-hour lunch in between. And from the beginning of the day all the way 'til the end, the energy in the room was the exact same. They were through the roof the entire time.
My first dance on set, there was a scene at the same time between Juliette Lewis and Murray Bartlett. So, when the music drops, the background actors are supposed to get quiet. And this is the first time we're doing it, the music's gone, and I go to take my pants down, and the entire building just erupts. Juliette and Murray are trying to do their scene and everybody's yelling. The director is yelling over a loudspeaker, "Cut, cut!" We couldn't hear it. Once we got the scene, they turned the music on and told the background, "All right, now this one's for you all." It was explosive.
Was it empowering to put yourself out there like that?
Absolutely. I never would've thought I'd be a stripper. That's not who I am, I'm not an exhibitionist. But it really upped my confidence in a physical and sexual sense. I walked different and felt different, and I will definitely take that level of confidence with me.
In some of the rehearsals, I got to the point where I was in tears because I like being good at things, and I was not good at this. And just conquering something that I had to do in front of so many people, it was a confidence boost. Once I got to my next job, I was like, "Oh, I don't even have to dance or take my clothes off? All I gotta do is act now?"
Otis both enjoys being objectified at first, but then comes to resent the commodification of his body. Is that a struggle that you've struggled with?
With Otis's experience being the only Black man in that space, while being the most popular dancer in the club and not being advertised outside of the club, it was so clear and evident that he was being fetishized for his body. As a Black male, that's something that's been felt for a very long time, all the way back to slavery. Knowing that this was a big crux of what the character was going through, I really wanted to make sure I honored the truth of that experience. I've absolutely felt that, just from being an athlete and someone who cares about my body. There was a point in time when I was very skinny and then quickly got muscular, and I felt the difference in how people treated me. I related to Otis's struggle.
Our society is so visual; how you look dictates so much of how you're treated by others. The most important thing that I wanted to highlight was the idea of being the forbidden fruit, being fetishized, as a Black male in society. While this can be a positive — someone desiring you, building up the ego, feeling good, looking good — I wanted to make sure that underneath, the guttural feeling of being fetishized came through.
What kind of projects can fans expect to see you in next?
I want to continue to make decisions that excite me. And usually I'm excited by a challenge, by something that scares me. There were a lot of aspects of Welcome to Chippendales that scared me. Usually, when a project does those three things — challenges me, excites me, and scares me — that's usually why it's impactful, because it means something and someone can get something out of it. I just want to leave something positive.
I just saw Wakanda Forever, and even when I got home, I felt changed. And a part of the reason for that was because I aspire to be in movies like that, but I also just feel different when taking in this art form. So many little things in films affect me, and if I could ever do that for someone else, or even for myself … That's what I strive for.