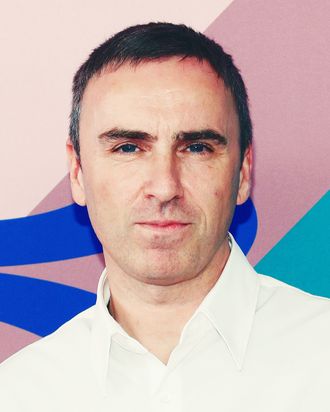 Photo: Taylor Hill/FilmMagic
Raf Simons, whose small menswear business in Antwerp influenced fashion around the globe, announced Monday that he is closing the brand after 27 years. His spring 2023 collection will be the final Raf Simons line.
In a brief statement, Simons said, "I lack the words to share how proud I am of all that we have achieved. I am grateful for the incredible support from my team, from my collaborators, from the press and buyers, from my friends and family, and from our devoted fans and loyal followers. Thank you all, for believing in our vision and for believing in me."
Simons staged his last runway in October in London, a show delayed by Queen Elizabeth's funeral. The decision to close is something of a shocker given Simons's influence over the years. He is also the co–creative director, with Miuccia Prada, of Prada, and their collections have not only lifted the fortunes of the Milan-based luxury giant but also helped to set the tone for the industry. He will remain in that position.
Many small and independent labels have faced severe economic headwinds, indeed a changed world, in the past decade. And while it's not known if that was a factor — Simons was unavailable for further comment Monday — it may have been a consideration. I've followed Simons's career since the late-'90s, including his years at Jil Sander, Dior, and Calvin Klein, and I'll have more to say tomorrow in a post about the label that everyone in fashion paid close attention to and what its closing might mean.