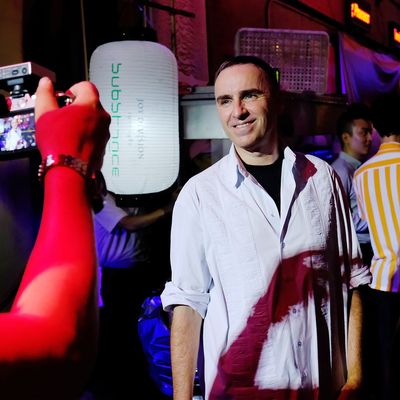 Photo: Nicholas Hunt/Getty Images
Perhaps the most surprising thing an important designer can do is to stop making fashion. Both Helmut Lang and Martin Margiela quit around the age of 50, after selling their businesses some years earlier. Both have since become artists, though Margiela was deeply involved in a 2018 museum retrospective of his designs and also a documentary. This week, Raf Simons announced he will end his label after 27 years; his spring 2023 collection will be the last. Simons, who is 55, is hardly leaving fashion — he is still co–creative director of Prada. Because the announcement, on Instagram, did not give a reason, speculation has focused on financial troubles and/or the possibility that Miuccia Prada will soon retire.
This is just guessing, of course. Simons's Antwerp-based business, though small, has shown no signs of weakness. And anyone who has talked to Prada in the last year or so knows she likes collaborating with Simons. If anything, they have redefined what a creative partnership at the highest level can be. Knowing Simons for nearly two decades, I have no doubt that the decision to close was a heartache for him, that he thought about it a great deal. But, finally, it's a positive move, a chance to devote his time and passions and intellectual interests to other things.
Still, the news produced all kinds of reactions. As I write, the number of comments on his brand's Instagram — where all previous posts have been erased since the announcement — is up to 6,893. They express a mixture of love and consternation ("BRO WHAT THE FUCK") and even the odd crank ("FINALLY!!!!!"). Quite a few people called it "the end of an era." In the broadest sense, that is true. Since the 1980s, the industry has seen a winnowing of independent and original talent as big luxury groups dominate. And their strategy is to use the stuff that surrounds a runway show — the theatrics, the marketing, the celebrities — to promote a sense of newness when little is actually new or special. The same vanishing act occurs in other creative fields, as the obituary in the Times for the great art director George Lois, who died last week, noted.
Simons in the mid-'90s was also a visionary, though his scope was narrower — trained on a group of skinny and isolated-looking young men in Antwerp, his adopted city. It took me a long while to understand what made his vision so particular. I started covering his collections in 1999, when I joined the New York Times, so I missed the key early shows like "Black Palms" and "Kinetic Youth," which highlighted his distinctive slim dark tailoring and his preference for street casting. Although I had covered women's fashion for years, the Paris men's shows were new to me, and I sort of dived in headfirst.
Hedi Slimane was then at Yves Saint Laurent, and I recall snagging a djellaba in lightweight gray wool from the YSL boutique in Saint-Sulpice during a shopping run with André Leon Talley. Junya Watanabe was doing clever things; Jean Paul Gaultier was still up to tricks. It was an exciting time, and then Slimane moved to Dior Homme. I wrote about Simons, but in a way I failed to see what was behind his expression, like the menacing and heavily layered look with face coverings and a sweatshirt with the word "Kollaps," that he showed shortly before 9/11. Or the woebegone hippie collection, "Siddhartha," that he presented in a park in 2004. More to the point, I didn't bother to investigate.
Then in 2004, a friend of mine, the journalist Richard Buckley, told me, "Go and look at Raf's early collections." I think he was dismayed by the naïveté of my men's coverage but was too nice to say so. Anyway, by then, I had decided to write a profile of Simons, following his astonishing show in July 2004, staged on a pair of escalators, that projected men's fashion into the near future in a believable way. I asked his publicist, a man named Kuki de Salvertes, to send me the tapes, and one day a box of VHS cassettes arrived at my house.
I remember sitting in the kitchen as I watched Simons's second collection, an 8-mm. movie shot in a friend's house with the help of his pal, the stylist Olivier Rizzo (he held the light), and featuring another close friend, the up-and-coming designer Veronique Branquinho, in a sleek black pantsuit. The scene was a party. I remember thinking it was one of the most glamorous and real expressions of modern dressing I had ever seen, and I still think it. Just as captivating was the video he shot called "16, 17, How to Talk to Your Teen," which showed a bunch of young people in cool clothes running out of school and playing on skateboards. At the time, very few designers were experimenting with that medium, or conceiving a particular world based on something real and frankly modest. They were usually on flights of fantasy.
"He did everything before anyone else, and everybody has copied him," the stylist Marie-Amélie Sauvé told me in the Times profile, published in 2005, around the time Simons became the creative director at Jil Sander. In the long run, it doesn't matter who does what first. What matters is how closely you observe things, or feel them, and have the nerve to act on them—ignoring the consensus. One such collection is the spring of 2009. It's probably my all-time favorite Simons show, a master class in extreme tailoring and guys in pared-down black T-shirts and biker shorts. The look was certainly ahead of its time — it prophesied the stylistically elevated T-shirts of Demna at Balenciaga, a monochromatic collection that J.W. Anderson did in 2013, also with slim shorts, and the general shift toward exposing more of the body.
Of the many things that have remained consistent about Simons over the years, one is that ability to look at things closely and analyze them. He's not distracted or impressed by much, and he still believes that what matters is the fashion and not the stuff surrounding it. So while I'm a bit sad that Raf Simons will soon be history, I know that the ideas that the brand embodied will go on. How could they not?