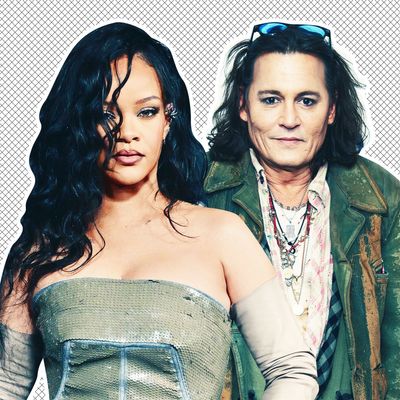 Why this man?
Photo-Illustration: by The Cut; Photos: Getty Images
A few months ago, actor Johnny Depp won a defamation lawsuit against his ex-wife Amber Heard on grounds that a few lines in an op-ed she'd written — one that never mentioned him by name — destroyed his career and ruined his reputation. To me, that claim felt tenuous, particularly when juxtaposed with the scores of fans screaming outside the courthouse and the legions more screaming online. And yet Depp has only become more visible since then. Before the trial even wrapped, he was back onstage enjoying standing ovations in the U.K. In August, he popped up in a spacesuit as the VMA moonman. And now, he makes an appearance in Rihanna's Savage x Fenty Vol. 4 runway show — a "'star' moment," per TMZ's original report, that comes just under 20 minutes into the show. The camera cuts to Depp, wearing a soul patch, a chin beard, and an open shirt over his mesh bodysuit. Unlike many other performers in the video, Depp doesn't dance or really do anything; he just walks across the clearing, mostly maintaining eye contact while OutKast's "So Fresh, So Clean" plays in the background. His 30 seconds conclude with the gentle cuddle of a tree.
It's a weird vibe, but according to TMZ, "Rihanna and her team invited Johnny to be a part of it, and both sides were super-excited to make it happen." I'm sure he is, but Rihanna? Really?
The Cut has reached out to Fenty reps for comment and will update if we hear back. As Depp's nightmare trial made inescapably clear, though, many, many people — famous and not — never bought Heard's account of the relationship, though she brought a lot of evidence to the table. The court reviewed cruel, violent text messages from Depp to his friends in which he ranted about burning and raping Heard's corpse. Jurors saw photos of her bruises and heard from a witness who remembered having to cover them up; other witnesses testified to Depp's allegedly explosive temper and corroborated the idea, previously advanced by multiple publications Depp didn't sue, that the actor's substance use and "unprofessional behavior" helped tank his career. Depp himself told the court how, after one blowout fight with Heard, he used the stump of his severed finger to scrawl threatening "little reminders of our past" on the walls in blood.
Listening to all of this, and then watching celebrities like his post-trial victory statement on Instagram, I wondered how so many people came to see Depp as the good guy. Weeks later, while reading through previously sealed court documents — which Depp's fans paid to make public — I revisited the question. Over thousands of pages, the filings show that Depp's attorneys sought to introduce Heard's nudes into evidence, a legal tactic that bears a gross resemblance to revenge porn. They argued (successfully) against the inclusion of texts in which Depp's assistant acknowledged that his boss had "kicked" Heard on a 2014 flight. Some of the information contained in the cache of documents (Depp's texts, for example) had already come out in the course of his unsuccessful U.K. libel suit, but suffice it to say the release did not cast Depp in a positive light — not that it seems to matter much. While a handful of celebrities quietly revoked their likes, the effort to rehabilitate Depp's image plowed ahead, earning him a "cool and chic" (to quote TMZ) cameo in a marquee Rihanna production.
My central question remains the same, though. Whether or not you believe Heard's version of events, surely there are other artists out there who aren't texting their friends grisly "jokes" about drowning and immolating their exes. Why are so many people intent on bringing this one back? Why, Rihanna? Why this guy?
This article has been updated.