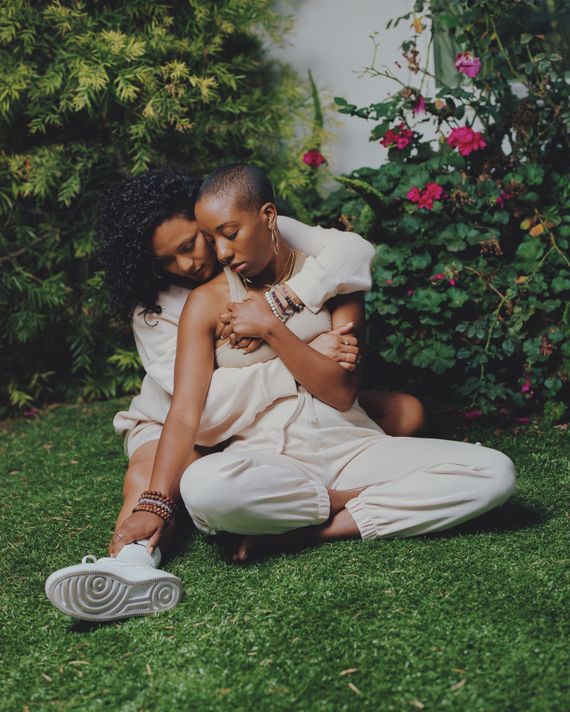 In the United States, LGBTQ rights are being targeted and suppressed right before our eyes. It's a jarring time, so much so that even a glimpse of queer love can feel like a radical balm. Los Angeles–based photographer Ryan Pfluger aims to provide that salve with his new book, Holding Space: Life and Love Through a Queer Lens. The monograph showcases 100 tender stories and images of queer interracial couples across the U.S. as they navigate power dynamics, difficult conversations, and joy in their relationships. By leaning in to the vulnerability of intimacy, Pfluger suggests, we can fortify ourselves for the fights for justice to come.
The idea for this photo book percolated in Pfluger's mind for over a decade. Since he pivoted from studying art history to photography in college, his commissioned work has been published seemingly everywhere: on the cover of The Hollywood Reporter and in the New York Times, capturing gentle moments with the likes of Barack Obama, Lady Gaga, and the cast of Yellowjackets. During the pandemic, Pfluger returned to the roots of his photography practice by embarking on self-funded road trips across the U.S., mapping queer America and turning his lens to interracial, noncelebrity couples. "I like that there's a slight sense of self-consciousness when it comes to real people who aren't models that allow barriers to be broken down," he tells the Cut over Zoom.
Holding Space is a truly collaborative work. Pfluger says the book allowed him to "release the power structure of the photographer" and placed him in the position of facilitator rather than director. Each couple decided where they would be photographed and shared their intimate stories, which are printed alongside the final images in the book. Even the monograph's alphabetical order decenters the photographer as curator, placing power back in the hands of his collaborators. Think Humans of New York without the trauma porn, "allowing the people I was photographing to have the majority control of their narrative, which is really rare, especially in marginalized communities," Pfluger explains.
The photographer's focus on interracial couples comes out of his own experience with relationships, but was further contextualized during the racial discourse bubbling to the surface in the summer of 2020. "I knew it was prime time for these kinds of conversations to start happening," says Pfluger. Over 145 couples were originally photographed for the project, but as the date of publication approached, couples broke up and withdrew their participation. "It's one thing to love another person; it's another thing to be able to deeply connect with them," he says. "On some things you'll never be able to connect. I was really interested in what that looked like and how couples navigate that, especially within private and public spheres."
Scroll below for some excerpted images and quotes from Holding Space, as well as Pfluger's exploration of the process of selecting nine of the couples included in the book.