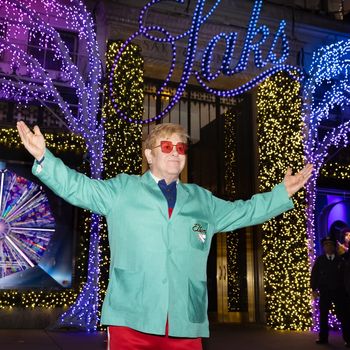 To block off Fifth Avenue to traffic during one of the busiest times of the year, the occasion had better be a big one, and last night certainly fit the bill. Saks Fifth Avenue hosted its annual holiday-window unveiling, and it was one of the most spirited to take place at the flagship in my personal recent memory. Designers Nell Diamond, Prabal Gurung, and Laura Kim were all there to see this year's special guest: none other than Sir Elton John, who came whipping out of the store's front door in an illuminated golf cart to the surprise of the crowd standing in the street as well, hot off his farewell-tour shows in Los Angeles.
"I'm excited to collaborate with an iconic brand like Saks," wrote Sir Elton John in a release afterward. The department store made a $1 million donation to the Elton John AIDS Foundation's Rocket Fund and will be hosting other activations with the organization throughout the holiday season. "While it's the happiest time of the year for many, we mustn't forget about the billions of people around the world for whom safety, respect, and dignity are not guaranteed. Saks' generous support of the Elton John AIDS Foundation's Rocket Fund will help fuel our programs to bring an end to the stigma and discrimination that prevent so many people from accessing compassionate and life-saving HIV care," John added.
Of course, it wouldn't have been an Elton John performance without a piano, and with the snap of a finger, one was wheeled out onto Fifth Avenue, which was suddenly empty. John performed "Your Song" as his husband, David Furnish, and their two children watched from the bleachers nearby. John wore red velvet Gucci x Adidas sneakers and his signature star-shaped glasses — pairs of which were also provided to every member of the audience. As he played, the store's window display lit up behind him, and later, fireworks were lit off, briefly masking the sound of honking horns.
Then, just as quickly as it came together, the barricades were removed and the street opened up to traffic again. John waved a cheerful good-bye to the crowd and slipped away into the store, while the rest of Fifth Avenue rushed to see the window displays, which light up and move and are sure to stop any hurried passerby this season in their tracks.