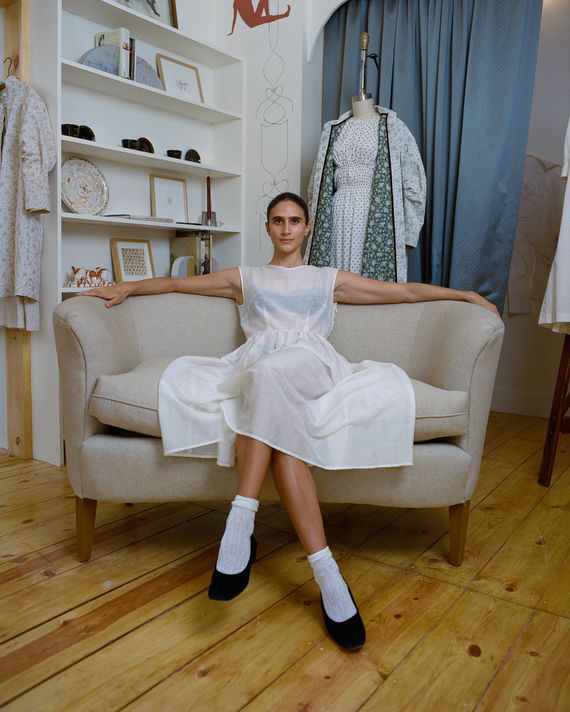 On a recent Monday morning, Sandeep Salter walked quickly down Henry Street, rounded onto Atlantic Avenue, and pushed open the door to her shop Salter House. We wound past the marble café tables and the rows of horsehair brooms and frilly checked pillows and into the recent addition: a cozy extension to the store, opening November 11, out of which Salter will sell the clothes she designs. "I want this to feel like a bedroom," she said, showing me where hanging racks will line one wall, stocked with loose cotton dresses and floral corsets and coats that fasten with a bow. She sat down on a sofa (parabolic, taupe, antique, French), lifted her feet (white socks, lace) out of her loafers (brown, suede, low heel), crossed her legs under her, and flashed a big smile.
In the four years since she and her husband, Carson, opened this 700-square-foot store — which adjoins her gallery and shop Picture Room, where she sells artists' editions and originals and puts on exhibitions — Salter House has become a surprisingly persuasive argument for Salter's specific aesthetic. To enter is to imagine plastic was never invented; the home products are made of wood, straw, metal, cotton, and linen. The clothes are roomy, shirred, puff-sleeved, ruffle-hemmed, and more often than not modeled by Salter's artist-slash-model friends — Hailey Benton Gates, Maia Ruth Lee, Coco Baudelle — if not by Salter herself. Actor Bobbi Salvör Menuez worked the café counter for a while. Someone, inevitably, has a ribbon in their hair.
Salter grew up in a Georgian house in the London neighborhood of Primrose Hill. Both her parents are dancers: her father, Punjabi and Sikh and from Leeds; her mother, born to a bourgeois banking family in St. Louis. Her sister, Sita Bhuller, is an acrobat with Cirque du Soleil. Salter moved to New York for college, studying painting and performance art. A few years later, she was working at McNally Jackson as an art- and architecture-book buyer when her boss, Sarah McNally, asked her if she wanted to help open a stationery store. At the time, she was 24, engaged to Carson, and pregnant. "Our friends were thrown sideways," she told me of their decision to have a baby so New York young, taking a sip of milky tea. She had already helped McNally with some stationery buys, and she knew she was about to have a kid on a bookseller's salary. So she said "yes" straightaway. Goods for the Study opened the day she went into labor.
Every weekend, Goods was packed with shoppers turning over little brass rulers and flipping through notebooks with delicate leather covers sourced from Japan. Less than a year later, the pair opened Picture Room right next door on Mulberry Street. In 2016, after Salter helped McNally open a second Goods location on West 8th Street, she decided it was time to start her own thing. "It just got really stressful, and to be honest, I don't care about ink," she said. She did care about the growing network of artists, like Dan Graham and Leanne Shapton, that she was meeting through Picture Room. So in 2017, Salter and McNally parted ways: McNally kept Goods for the Study; Salter bought out Picture Room's small inventory and moved the operation to Atlantic Avenue. She described it as "a clean break." (When I reached out to McNally, she responded, "I'm sure Sandeep can answer everything.")
Once in Brooklyn, Salter started doing art consulting for private buyers and developers like Brookfield Properties. It helped keep Picture Room profitable, but she missed selling objects — so she and Carson, now a creative strategist, opened Salter House in 2018. "It was meant to be a place for local moms to come, because that was my world," she said. "And I didn't feel like, at the time, there was really a stylish place that you could come and buy things for kids. That was just a need that we wanted to fulfill. Then it became less about that." And more about being a place for local moms to buy into Salter's vision. If other design stores had veered in the direction of Memphis-warped squiggles or mid-century brass, Salter House was selling stuff you could imagine in the background of a Dorothea Lange photo: Migrant Mother, if she were married to a creative director.
One of the store's first hits was a $62 pair of translucent amber rubber gardening clogs made by the French company Plasticana, which Carson stumbled upon in Europe in 2013. Excited about their possibilities, Salter said, he "shopped them around to some friends of ours who had shops at the time like Assembly and Westerlind." No one bit. So they started stocking them at Salter House when it opened, and now the clogs (and jelly sandals) rarely stay in stock for more than a few months at a time. Other places — like Colbo in Dimes Square and Mohawk General Store in Silver Lake — have begun selling them, too, to Salter's mild annoyance; they'd tried to negotiate an exclusive distribution deal.
Salter knew as soon as she opened Salter House that she'd also want to stock white cotton nightgowns. She started by importing them from British brands she'd grown up with, then began designing them herself with cap sleeves and pearly buttons and broderie anglaise. ("Maybe I'll get a couple," she said, running up to the front of the shop and coming back with a heap of white cotton, which she laid out carefully on the back of the sofa.) She launched these a year ago with a party at her narrow, impeccably decorated apartment on Orange Street, where dozens of grown women put on nighties and sipped miso soup out of enamel mugs. When a woman I know posted a photo from the party on Instagram, another immediately DM'd her, "what cult is that/I want to join." She wouldn't be alone. This year, Salter House's nightgowns and rubber clogs and big floral scrunchies could be seen all over Bed-Stuy and Cobble Hill and Silver Lake on gallery girls and editors, the same kinds of women who five years ago would have been plodding around in wooden-heeled mules from No. 6 — and five years before that buying out everything at Bird.
All of which, of course, means that imitators have begun popping up. "There's definitely been times where I felt like I've seen something styled in a way that felt like it had been copied from us," she said. "There are obviously more direct times, and I take them on the chin. When it is personal, it is personal." She does not name it, but an example might be the Six Bells, the "country store" that Audrey Gelman, founder of shuttered girlboss co-working empire The Wing, opened in nearby Cobble Hill this year. For those watching the mid-Brooklyn retail landscape, it looked suspiciously Salter House inspired. I asked Salter what she thought about Gelman's store and her face tightened. "It was jarring," she said carefully. "And I know her personally, so … yeah."
She's too busy iterating to dwell on this for long. She's expanded beyond spare nightgowns into decadent Vermeer-sleeved dresses, stiff-boned corsets, and floral bloomers. When I started to leave, she asked me to wait, then took me up front to show me her special new prize: a line of pewter cups and spoons and plates she'd sourced, handmade in Missouri and so heavy I needed two hands to lift them. Right now it's impossible to imagine anyone else stocking them — at least anyone else this century. "They're so medieval," Salter said, looking absolutely thrilled.