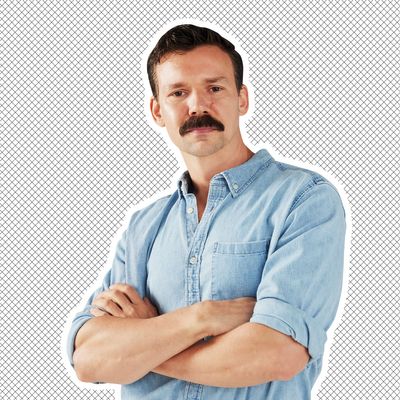 Photo-Illustration: by The Cut; Photo: Savage X Fenty
As a longtime fan and follower of Adam Selman's career, I was happy to see the fashion designer's name pop up again this fall after he shut down his namesake line last year. In October, he announced his latest venture: He's now the executive design director of Savage X Fenty, Rihanna's increasingly popular underwear and sleepwear brand, and helped launch its new Sport category this week.
Selman first got my attention when he started designing for Rihanna back in 2011. He's created over 100 custom looks for her since, including that unforgettable "naked" dress she wore to the 2014 CFDA Awards, and has worked with her on every single one of her major fashion collaborations, from River Island to Puma. In 2013, he started his own playful namesake line, transitioning it to Adam Selman Sport, or A.S.S., in 2019. But when Rihanna called about this latest gig, he packed his bags and got on a plane in January, leaving New York behind after 22 years.
Selman's first collection debuted this week as part of Savage X Fenty's annual show on Amazon Prime. (Johnny Depp also makes a very creepy appearance — the brand declined to comment when we asked why.) Of course, the Sport offering is characteristically kinky, with plenty of cutouts, fishnet, and mesh. Similarly to Selman's former line, it also aims to find a middle ground between fashion and sport, whatever that means to you. (Sex counts! So does clubbing.) "We don't want to compete with Nike or the Under Armors of the world — there's enough of that out there," Selman told the Cut. "We're trying to carve out our own space." He was Zooming in from Los Angeles, where he's since relocated. Below, we chatted about what's missing in the activewear market and his days as a competitive cheerleader.
How would you describe your approach to activewear? Where does it stem from?
I've always been super-sporty, but I never quite had a home in sport. Growing up in Texas, my dad was a football coach, and I tried every single sport possible. I landed on competitive cheerleading. I was the first male cheerleader in my high school. I was a junior Olympic gold medalist. It was a whole thing. But I've always been on the outside cuff of sport while still being active, and I took this same approach. I felt like there was a hole in the market; everything was very zen and neutral colors. It's was all very technical, and everyone was sort of missing the style part. So I used my knowledge of sportswear and costumes to make the transition from fashion to function.
Do you remember any cheers?
I won't do a cheer for you — I'm too shy for that these days. But the competitive cheer squad I was on was called Cheer Station, so you can imagine what we came up with. I can still do a backflip — that counts, right?
How has your past experience as a designer prepared you for your new role?
There's lots of different tricks of the trade I picked up from making so many costumes and doing a lot of drag things early in my career. I was able to parlay that into merging fashion and performance. With stage, it's all about illusion. And with drag, too. My particular strength with stage is to make a costume without making it look like a costume. So I would do a lot of built-in compression layers to really give you a snatched waist, or a lifted butt, or a held-in thigh to really elongate the leg, and I do that a lot now in activewear. For me, it's all about long lines. No one ever complained about a longer leg line.
Are there any key pieces or themes in this first collection that really show what it's all about?
It's not for a wallflower. If you're going into a group fitness class, or you're walking down the street, or going into a club — whatever your sport is — you're walking in and it's attention-grabbing, for sure. We didn't want to go overt with branding because that's something we knew we could develop into — this is just the beginning. But to start, we did a lot of lingerie detailing, like seams down the back of the leg to mimic a vintage tight. We're doing a garter legging that has fishnet panels — things that really felt true to Savage and Rihanna and that feel unique in this space. We're coming at it from a harder point of view — more of a city person. It says: "I'm here, and I'm taking up space." And I don't think a lot of activewear companies take that approach. They're like, "I'm here, and we're going running."
Can you tell me more about the line's size range?
The biggest problem the active industry has is size inclusivity. We fit on a size medium, a 2X, a 4X, and we go XXS through 4X. We really try to say that whatever the XXS is getting, the 4X is getting as well. There are some tweaks and things we have to do for support, but at the end of the day, the vision is still the same. The company is also women-focused, led, and driven, and the team has done such an amazing job of helping me translate the designs into the full offering of sizes. When I started Adam Selman Sport, we were one of the first to go up to a 2X. Nike wasn't even doing that. There are still some companies that only go up to a large — like, big companies that are growing and popular.
And what about the price range?
That's probably my biggest challenge, to be honest — to do this at an affordable price range. I always say that you have to question things that are made for under $100. Where does it come from? What are they doing? But it's been really fascinating to see the extensive process and testing that goes into bringing a factory onboard and making sure everything is legit and up to code and that we're doing it in the right way. I don't think that anything is above $89. It's challenging but exciting — it should be accessible to everyone.
What's your own personal fitness routine these days?
I go to the gym. I have a trainer. I go to group fitness. I'm also training for a half Iron Man — key word: half. But I also don't want to be complacent. When I moved here, I got really into meditating because that's what you do when you move to L.A. You just have so much more time here to be in your head and contemplate your entire existence than in New York, where it's like, boom, boom, boom, and you're running into people, and you're on the subway, and you never have a moment to yourself. There's a lot more solitude here, so I'm more on my mental health tip.
Have you bought a crystal yet?
Yeah, of course. All the crystals.
Do you have a favorite trail? That's what people do in L.A., right?
I love this one called Los Liones. It's by the beach, over by Malibu — almost the Palisades. I run up to the top, and you get full ocean views. It's incredible. Some days it's really misty and foggy. And then I'll run down. It's a perk of L.A., I have to say.
And what do you personally wear to work out?
I'm so boring! I'm a man of a uniform. And I also had the blessing of having my own collection. I made a lot of my favorite shorts and then tweaked them to insert into my line.
Speaking of shorts, with menswear, I feel like a lot of attention is given to inseam length. Where do you stand in the inseam wars?
I'm going through a style evolution right now. I used to be a real short-shorts guy. My calling card was my legs — I have amazing legs from my cheerleading days. Nailed it. But I have narrow shoulders, and it's all about illusion, right? So I would do short-shorts for long legs and cutoffs so that my shoulders looked bigger. I haven't really thought about this, but I guess since I've gotten older, I like a little bit of a longer inseam, and it also depends on what I'm doing. I'm not into tight shorts right now, either.
Do you ever watch any sports?
Oh God, no. I'm not a big sports fan. I like watching live sports. If you were like, "Hey, Adam, let's go to a football game," I'd be like, "Yeah, let's do it." I wouldn't know who to root for, but I'd definitely have fun. The other day at the gym, though, I flipped the channel on my treadmill screen and gymnastics came on, and I was like, this is amazing. I happened to be working out next to Rihanna's manager, Jay Brown, and he was laughing at me. But I was so thrilled to be running to women's gymnastics.
You mentioned that this is just the beginning for Savage Sport. Looking ahead, can we expect any cheerleading looks? What are some of your goals?
I am not going to say no … but I try not to focus on one particular sport; it's probably there in spirit more than anything else.
I'm really excited about a high-impact sports bra. That's something that the market does not do well. It just takes a long time to develop, and because Savage offers so much to so many women, it just has to be done right.
This interview has been edited and condensed.