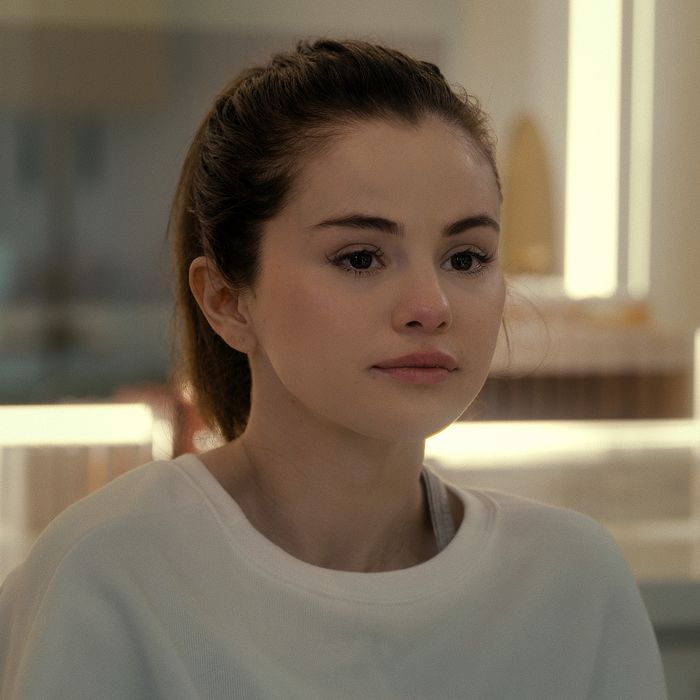 Selena Gomez publicly confirmed that she had been diagnosed with bipolar disorder in 2020 during a livestream on Instagram with her fellow former Disney star, Miley Cyrus. Since then, she's starred in two hit TV shows, successfully launched Rare Beauty, and finished filming a documentary that began as a tour movie and ended up becoming an in-depth look at her personal struggles. With Selena Gomez: My Mind and Me hitting Apple TV+ this week, Gomez is opening up about her bipolar diagnosis, living with mental illness, and how it has affected the past few years of her life.
"Because I have the platform I have, it's kind of like I'm sacrificing myself a little bit for a greater purpose," she told Rolling Stone about her nerves prior to releasing the documentary. "I don't want that to sound dramatic, but I almost wasn't going to put this out. God's honest truth, a few weeks ago, I wasn't sure I could do it." Here's what she's said about her struggles with mental illness.
In 2018, Gomez went into a psychosis and checked into a treatment center. There, she was finally diagnosed with bipolar disorder.
Gomez began hearing voices in 2018, in the thick of her Revival tour, but, according to the documentary, she didn't know what was happening. Her assistant, Theresa, said that the singer was "hearing all of these voices, and they just kept getting louder and louder and louder." She was was eventually taken to a treatment center for psychosis.
News of Gomez's hospitalization was reported by TMZ — which is how her mother, Mandy Teefey, found out she was in treatment — but details of her stay have remained private until now. Gomez reportedly doesn't remember much from this time, but in the documentary, friends say she was suffering from paranoia and was almost unrecognizable. It was then that she was finally diagnosed with bipolar disorder.
Gomez experienced manic and depressive episodes, including suicidal thoughts.
In the doc, Theresa recalled the moment she realized the Revival tour needed to be called off. "At one point, she's like, 'I don't want to be alive right now. I don't want to live,'" Theresa said. "It was one of those moments where you look into her eyes and there's nothing there. It's pitch black." Gomez admitted that she initially didn't want to seek treatment. "I'm gonna be honest, I didn't wanna go to the mental-health hospital," she says in the documentary. "I didn't want to, but I didn't want to be trapped in myself and my mind anymore. I thought my life was over; I thought, This is what my life's going to be like forever."
Speaking with Rolling Stone, Gomez said she "started to feel like I was not in control of what I was feeling, whether that was really great or really bad," in her early 20s. She went on to describe periods of mania followed by depression so severe she could barely get out of bed. "It would start with depression, then it would go into isolation. Then it just was me not being able to move from my bed. I didn't want anyone to talk to me." She also suffered from suicidal thoughts and ideation for a few years, telling the magazine, "I thought the world would be better if I wasn't there."
Treatment for Gomez's bipolar disorder was tricky. She told Rolling Stone that the clinic overprescribed meds that made her feel "gone." After she left the center, her medication was retooled by a psychiatrist. "I had to detox, essentially, from the medications I was on. I had to learn how to remember certain words," she said. "I would forget where I was when we were talking. It took a lot of hard work for me to (a) accept that I was bipolar, but (b) learn how to deal with it because it wasn't going to go away."
She has since made mental-health advocacy a priority.
Gomez views My Mind and Me as a kind of extension of her mental-health advocacy. Though she hesitated on whether or not to sign off on its release, she was eventually swayed by an audience's emotional response to a test screening. "I was like, 'Okay, if I can just do that for one person, imagine what it could do.' Eventually I just kind of went for it. I just said, 'Yes.'"
Beyond the documentary, Gomez started the Rare Impact Fund with the goal of raising $100 million for mental-health advocacy; launched Wondermind, a website and newsletter that focuses on "mental fitness" and bringing mental-health resources to fans; and is in touch with the Biden White House, working with Surgeon General Vivek Murthy on mental health. She hopes to one day help develop a school curriculum on mental health to be taught in schools. "There's so much to be said about being connected to your emotions and having that intelligence," she says in the documentary. "You're kind of fucked if you don't understand. You have no empathy, you have no way of connecting with people because you don't even know how to."
Gomez made it clear that, despite the documentary and her career success, she isn't cured. "I'm not fine and just back to happy life," she told Rolling Stone. She worries that she won't be able to carry children while on her current bipolar medications, and the magazine reported that she's done dialectical and cognitive behavioral therapy in an effort to "make bipolar my friend." Her bipolar disorder is not something that will ever simply go away, so she tries to focus on the positives. "I wouldn't be here if it wasn't for the psychotic break, if it wasn't for my lupus, if it wasn't for my diagnosis," she told the magazine. "I'm depressed thinking about who I would be."
At the end of the documentary, Gomez says she tries to remind herself to respect her needs. "When you're struggling with your mental health, the essential part of it is knowing what to do and recognizing that," she said. "It's something that I'm not ashamed of."