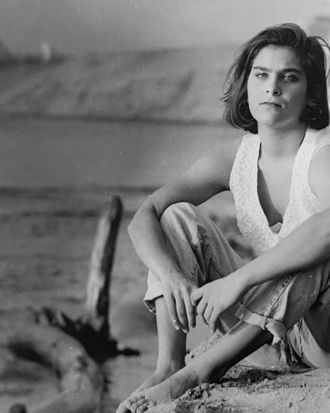 Photo: Courtesy of the subject
Leila, an artist living in a large southern city, was violently raped nearly 30 years ago. This month, the man who raped her walked free after serving a sentence for other similar attacks. As is the case for thousands of other rape survivors in the U.S., her rape kit went untested for years. By the time she found out, the state's statute of limitations for a rape prosecution had expired. I know Leila through our parents.
A little over two weeks ago, on November 2, when the man who raped me was released from prison after serving 29 years of a 32-year sentence, I felt a strange mixture of relief and doom. (It had taken me a long time to find the actual date of his release, so the relief was knowing when it was actually happening.) I had this realization the night before while lying in bed: If he reoffends, I'm counting on the same system that didn't protect me to catch him. And while I hope he doesn't reoffend, I think he will. He's a serial rapist with multiple offenses on his record, and he continued committing sexual offenses during his incarceration, according to documents obtained by a local investigative reporter. I'm putting my faith in a system that didn't care then. Why would they care now?
I was a 22-year-old college student when I was raped in June 1993. I had moved from New York City down to Memphis to study at Memphis State. I play the fiddle and sing, and I thought I'd have a career in music — bluegrass music was my passion. I loved being onstage, performing, meeting new people. That night in June, my roommate was out of town, and I had fallen asleep on my couch with the TV on quietly after taking a run on a beautiful street in Midtown, my neighborhood. I woke up in the dark with an arm around my neck and a serrated knife at my throat. There was just a bit of light coming in from a window. In that first groggy moment, I wasn't sure if it was a dream. I had taken kung fu for two years at that point, and I thought of trying to put my two hands on his arm and flipping him over, but I could sense he was massive. I heard him say, "Move or scream and I'll slit your fucking throat." I was there for that, but after, I was no longer physically present. I had accepted I would have to comply in order to survive. I had some sort of out-of-body experience in which I could see it all from above.
He cut my shirt off with the knife, put something in my mouth, and put a pillowcase over my head. He tied my hands behind my back and raped me all over my house, always with the knife against my throat. In the dining room, in my bedroom. It went on for, well, I really don't know how long, but I've always imagined it was an hour or two. When people think of rape, they might think of slam-bam, missionary-style sex. This was nothing like that. When it's happening to you, you can see that it's so clearly not about the sex. It's so clearly about anger and dominance and power, and the sexual aspect is just the tool that satisfies it for that person.
When he was done raping me, he shoved an entire tray's worth of ice cubes in my vagina and made me drink a bottle of vodka I had in the freezer. He asked where my money and jewelry were. He left me bound and gagged on the floor of my bedroom with the pillowcase still over my head. I had my ear to the wood floor trying to listen for his footsteps. I often sing songs to myself in my head, and I remember singing about five songs, so I would guess 15 minutes elapsed without any sound of him. I figured he might be gone, though I didn't know for sure — he could have been in the attic. I'm still not sure how I did this, but I must have wriggled out of the pillowcase, gotten up, and made it to the pantry, where I knew there were scissors. I somehow got them behind my back and cut myself free. I ran to the phone, but he had cut the phone line. Then I remembered we had a spare phone because my roommate and I were going to set up the attic as an extra bedroom, so I plugged that in and called 911.
The police took 22 minutes to arrive. I couldn't find the keys, which he had taken — the rapist had broken in through the bathroom window — and our locks were locked from the inside, so I don't remember how the police got in. There were six or seven police officers, all men except one woman. They dusted the whole house for fingerprints. There had been a case about a year earlier just outside Memphis in which an older woman in her 60s was raped and, while she was being raped orally, had bit the man's penis and hurt him so badly the police were able to detain him. One of the cops mentioned that; he said, "Why didn't you bite his dick off?" I just looked at him like, Are you fucking kidding me? You're asking me this right now? There was nothing soothing about those cops. When the lady from the rape crisis center got there, everything was better. She was gentle and kind.
At the crisis center, my rape kit was taken. I happened to have a gynecologist appointment the next morning at 9 a.m., and the doctor gave me an AIDS test that day as well as tests for other STIs. I had bruises all over my body, but the gynecologist said I didn't have any vaginal or anal fissures, which was some small measure of relief. I was told I'd have to be tested repeatedly for the next five to ten years, and I spent the rest of the summer freaking out. For years, I was too scared to get tested again.
Over the next few months, I was brought in several times for questioning. A detective had me look at tons and tons of mug shots even though I knew I wouldn't be able to recognize him because I never saw his face. He suggested maybe it was someone I knew, and I might be able to recognize his face that way. At one point I asked, "Well, what about my rape kit?" And I was told, "I'm so sorry, but it was inconclusive." At that time, I had no idea how long it took for a rape kit to be analyzed. I didn't really understand it. Still, I told them, "The rapist had tried to wipe the DNA evidence with the ice cubes and vodka — he's clearly done this before. He must be a career criminal." But I just totally put my faith in the fact that they were investigating.
The day after the attack, I moved in with my boyfriend at the time, and he and his roommate saved me. They helped me get comfortable with going out to bars, with going for walks in the woods. But for the next three to five years, I really retreated into myself. I gave up on doing anything with music, even though I still played privately at home, because I didn't want to be in front of people. I was scared that, God forbid, he might recognize me. I slept with a knife under my pillow, and every day, if I was home alone, I'd walk from window to window with the knife in my hand. A few weeks after the attack, I went to Massachusetts to stay with my mom. We got into a fight about the screen door — she insisted on keeping it open, and I wanted it closed. I'll never forget what she said to me: "What happened to my bright-eyed girl?"
My mom never really accepted it. She would say, "You should be out there performing." I don't think she ever understood what I went through. It derailed my life. It changed everything. I became a spectator of music because I didn't want to be seen. Eventually, my boyfriend and I broke up. He was wonderful, but it just became difficult because I had so much trauma. I mean, how do you trust somebody again? How do you have sex again when you've been violated? It's terrifying to even go down that path again. Over the years, I've done a lot of therapy with some amazing therapists. One in particular helped me reach a point of acceptance, even forgiveness, of the rapist. I never had suicidal thoughts, though, and I never blamed myself.
My mom had moved down from Massachusetts to live with me while I finished college. When she moved out to a house a few doors down, I started watching crime shows, fictional ones like Law & Order: SVU. She'd come over and say, "Why are you watching that?" I liked learning how people get away with stuff. One night, in the fall of 2014, there was an episode about untested rape kits. I swear, it was as if my head exploded. I could feel heat — literal heat — rising up into my head, like it was going to explode. I called my dad and said, "I just know it."
Then I called the Memphis Police Department. The person who answered said, "Yes, Ms. Grossman, we do have several untested rape kits, and we will get to yours when we get to yours." And I'm like, "Well, honey, it's been 20 years. I'd really like to know what's going on." After that, I put a Post-it note on my mirror, and every time I saw it, I'd call, and I became sort of a thorn in their side. Finally, I found a sympathetic person who had been assigned to work on these untested rape kits, who genuinely wanted to help. That felt so unusual that I even asked him one day, "Was your mother or daughter raped or something? Why are you so sympathetic?" He said, "No, I'm just really unhappy with how this has all gone down." He got the rape kit tested and confirmed it was a viable sample. Then he told me to stay tuned in case there was a DNA match.
In July 2018, I had just gotten home from a trip to Scotland with my daughter and my brother. It was a really difficult time for me — our father had died a few months earlier — and I was a little depressed, wishing I was back in Scotland. It was a Monday, and as I was leaving work, I checked my phone, and I had an email that read, "We've got a match. Call me when you can." I went home and I sat down and I just prayed, "Dear God, this has been a nightmare. And I'm gonna find out who this is. I pray that he is living with the consequences of what he did. And thank you." I was sure he was either in jail or he was dead. I had never considered that he might be in jail but with a release date. When I found out the name, I looked him up, and I didn't recognize him at all. Apparently he had worked at the Walgreens near me, which was a relief, in a way, because I had thought it might be somebody I worked with.
The man who assaulted me, I learned, is a serial rapist who had been sentenced to prison for 32 years just months after my own attack for four aggravated rapes and sexual battery, including one attack on an 11-year-old girl. Several of the others followed the exact same pattern as mine and happened around the same time — he broke in, used a weapon to threaten his victims, and cut the phone line. The only reason he was caught was because he committed these crimes in a nearby area where the local police department ran their own fingerprints. But despite the similarities in these cases, the Memphis Police Department apparently never contacted them or made the connection. I found out later that not only did they not test my rape kit, but it is possible that they had never even run his fingerprints. So my question is, Why? Why put fingerprint dust all over my house? Why not just say, "You know what, Ms. Grossman, we're not going to investigate anything, so just go home and suffer with it"? Because that's really what they did. [Ed note: The Cut reached out to the Memphis Police Department for comment for this story but did not receive a response.]
In 2010, our local news station, WREG, had found that the Memphis Police Department had a massive backlog of untested rape kits stacked on shelves and piled up in shopping carts and left in storage closets. [Ed note: Since the investigation, the Memphis Police Department began testing the backlog of kits, which were eventually found to number more than 12,000. This has led to hundreds of court cases, and the department now says all rape kits are tested within 96 hours of being logged.] In my case, because I didn't find out until 2014 that my rape kit wasn't tested, the 15-year statute of limitations had expired. [Tennessee law bars the prosecution of crimes after a certain number of years have passed; in the case of rape, this limit is 15 years.] I'll never have my day in court.
A local investigative reporter for WREG, Jessica Gertler, also found out that the belated DNA testing connected this rapist to three other cases, including one of a high-school student. It is possible none of those victims will ever be contacted by the Memphis police because they say it is not their policy to reach out when the statute of limitations has expired. Since 2018, I've been working with state legislators Steven Dickerson, Heidi Campbell, and Bob Freeman to try to change that — if not for my case, since I'm told they can't change the law to apply retroactively, at least for future cases. I think the statute should reset when new and conclusive evidence is found. Despite several attempts, they have not been able to get that bill passed, but they did pass a bill that establishes a tagging system for rape kits so survivors can at least track what is happening to their case through a barcode system.
If I were to see this man in court, I know what I'd like to ask him. I want to know how he found me. The other big thing I'd want to ask him is, Has he ever considered the hurt he's inflicted on people? I forgave him a long time ago. I don't think holding on to that kind of anger is helpful; at some point, you just have to let things go. I imagine that, for him to have these sexual perversions, he must have really gone through hell. So I forgive him for that. But I don't forgive him for not acknowledging his crimes. And I don't forgive the system for letting him out when it hasn't done a damn thing to rehabilitate him.
I am scared he could find me, but I also feel relief because I feel like people are finally listening. It could make a difference that his name and face are out there after being featured on the Memphis TV station WREG. Maybe someone will recognize his face on a dating app and avoid going out with him. All this time, it's been like being on fire, and you're screaming, "I'm on fire!" And people are just giving you the littlest trickle of water, like, "Oh, I'm so sorry. But there's nothing we can do about it." That's all I've heard for years. Now people are finally listening. So I don't feel good that he got out, but the day he got out, I woke up feeling more empowered than anything.