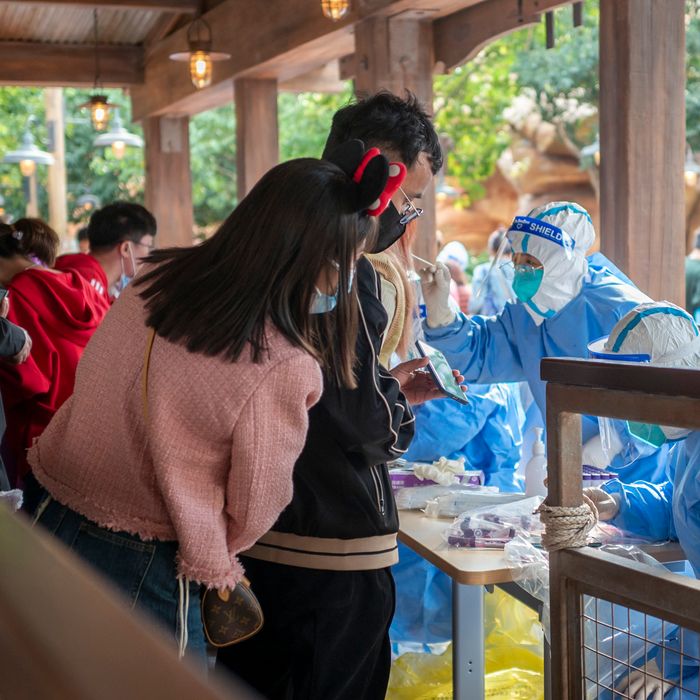 Photo: VCG via Getty Images
I love Disneyland as much as the next girl, but being kept inside a place with limited seating, incessant cutesy music, and wildly expensive food against your will sounds like a nightmare. This is what happened to guests at Shanghai Disney on Monday who arrived thinking they might get a peek at the park's Halloween fireworks, only to find themselves temporarily locked in as part of China's Zero-COVID policy.
On Monday, Shanghai Disney was abruptly closed, with staff and visitors ordered to remain inside the park. As reported by the AP, authorities tested every single human in the park for COVID-19 to ensure they were negative before leaving the theme park. Reuters reported that the lockdown began at 11:39 a.m., at which point no one was allowed in or out without a negative COVID test. The government reportedly claimed that more than 400,000 tests were administered, with all guests testing negative and allowed to leave by 8:30 p.m. However, Reuters, as cited by CBS News, spoke to a guest who claimed that she and her friend didn't leave until 10 p.m., adding that she "didn't get to see anything." Her friend reportedly added, "We were also cold and hungry."
Per Reuters, the temporary lockdown was enacted after a 31-year-old woman — and recent park visitor — tested positive for COVID-19. The Shanghai city government has reportedly issued a warning to anyone who has visited Shanghai Disney since Thursday to isolate and complete three days of nucleic-acid testing. And residents of Shanghai's Yangpu district have reportedly been put on strict stay-at-home orders.
Hours locked in Disneyland only to potentially face extreme lockdowns at home? Sounds pretty rough. On the bright side, rides reportedly remained operational for trapped guests as they awaited test results, so, you know, it wasn't all bad.