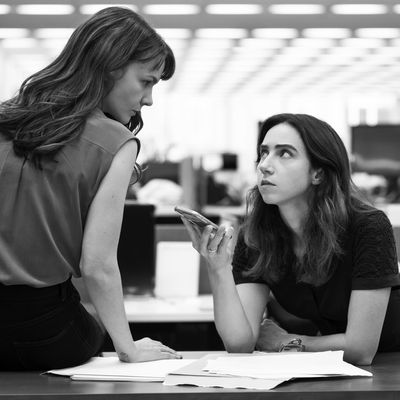 Photo: JoJo Whilden/Universal Pictures
For most of my career, I've been one of the last to leave the office. I'd chitchat with the cleaning staff while scarfing down some Tupperware gruel before the lights flickered on and off — the world's most depressing last call. Each open browser tab was a tiny handcuff chaining me to my desk. I didn't understand how other reporters freed themselves to get drinks at 5 p.m. Didn't they have more tabs to click on? The idea of professional boundaries was foreign to me, and everything in my life (relationships, family, my own health) became disposable when I was on deadline.
The journalism world is especially guilty of making people feel like they should be grateful for getting a paycheck. Workaholism is a prerequisite for most job listings, which usually read something like this: "You thrive on adrenaline and are a scoop machine who mainlines the internet 24/7." Most media about the industry glorifies staying at your desk past any reasonable limit. I'm still traumatized by watching Vivian Kent, the pregnant journalist in Netflix's Inventing Anna, work until her water breaks and she has contractions in the newsroom. While Jessica Pressler, the real-life reporter who covered fake heiress Anna Delvey for New York, did file the story when she was eight months pregnant, she told InStyle that it was "kind of fucked up" how she was visiting Delvey in jail so close to giving birth. "It's my job and I have to be working up until the last second," Pressler said. "Because that's what this country is like."
As I wrestle with whether I could become a mother and continue to work without losing my mind, I've been craving a depiction of the unglamorous reality and the rarely discussed consequences of blind dedication to landing a scoop. I want to see the mental breakdowns, the screaming matches with partners, the alienated friendships.
At first, She Said, the film adaptation of how two New York Times reporters broke the Harvey Weinstein story, seemed poised to deliver. The movie establishes that Megan Twohey and Jodi Kantor (played by Carey Mulligan and Zoe Kazan, respectively) are the kind of women who do phone interviews while crossing busy streets and throw on slightly crumpled shirts because when your schedule is this tight, grooming is an afterthought. They tune out their husbands, who jokingly say things like "I'm having an affair" just to test the limits of their unimportance. They work late at the office before falling asleep in cabs on the way home. Their main focus is convincing scared-shitless sources to speak on the record and tackling a powerful Hollywood machine that has repeatedly killed the story they're determined to tell.
Depictions of women juggling work and child care are still relatively new and much more complicated than the stereotypical working dad who drops his briefcase in the doorway and sits down to a fully prepared roast-chicken dinner. In She Said's first 20 minutes, Kantor hands her young daughter a piece of paper with the TV password when she unexpectedly gets a call from Rose McGowan while Twohey, who is pregnant, takes a series of work calls in a hospital waiting room. When Twohey hangs up after a hostile call from a Fox News journalist and blurts out "Are you fucking kidding me?" her husband looks on, worried.
I hoped this meant the film would wade into the messy territory of Twohey trying to care for her body and relationship while doing a job that requires 24/7 attention. Instead, this story line quickly fades. Twohey's postpartum depression, which would be fruitful ground for some real talk about mental health and the loss of professional identity, is given some screen time in the first quarter of the movie. But the film does not show her go on to grapple deeply with those struggles. Instead, Twohey returns to the Times, and when an editor asks, "Would working help?" to alleviate her at-home stress, the reporter responds, "Absolutely. It's better now."
I wish the film acknowledged how throwing herself into reporting on Weinstein might have tested Twohey's relationship with her husband as they try to raise a child or further complicated her feelings about motherhood. But the baby is only an accessory to Twohey's professional plotline — strapped to her husband's chest during a weekend walk while she takes a work call or lying on top of him in bed while Twohey types on her laptop. As someone whose habit of working weekends has lined my couples therapist's pockets, I felt like screaming, "Show me the mess!" Why on earth does this couple never fight? What land mine of resentment must Twohey's husband be sitting on? Does she enjoy being a mother, or has she disassociated from the role? The movie tosses those questions aside in favor of showing a journalist in command of her job.
Kantor, whose two kids are a bit older, is under intense pressure to drop everything for work. When she discovers Weinstein's former assistants live in California and the U.K., her editor asks, "Can you get on a plane?" Kantor pauses slightly before saying, "Let me work it out with Ron," her husband, "but of course." In the next scene, she has already flown across the country. How did she actually feel about dropping everything? Was Ron, a fellow New York Times journalist, frazzled to find out his wife was leaving for an indeterminate amount of time? We see a hint of emotional fallout when Kantor, on a video call with her daughter, says, "I miss you like someone took a piece out of me." They get disconnected, and Kantor tears up on the hotel bed, dropping her head in her hands. She was supposed to fly home the next day, but when a source suddenly wants to talk, she gets on a train to do yet another interview.
She Said briefly flirts with interrogating whether all this sacrifice is worth it. After the reporters have been threatened, followed, and woken up by anonymous callers in the middle of the night, Twohey wonders if the trauma she has witnessed throughout her career has played a part in her postpartum depression. Maybe "this darkness and constant violence sort of exploded," she muses. "Do you wish you hadn't signed up for the story?" Kantor responds, a reasonable question given that their entire lives have been swallowed up in pursuit of Weinstein and they still have no on-the-record sources. They both quickly agree that no, they don't have regrets. Would we not be capable of seeing them as journalistic heroes if they did?
Let me state this plainly: Twohey and Kantor pulled off an investigative marvel and an important public service for sexual-assault survivors and for journalists like me who cover gender violence. I am not arguing that they should have done more yoga rather than report the hell out of a career-defining story. I just wish the movie more deeply explored the costs of throwing yourself into an all-consuming job alongside the rewards.
The film does give Weinstein's survivors nuanced inner lives. There are moments when they are ambivalent about coming forward and wonder whether it will really change anything. They oscillate between feeling fearful and empowered, resolute and regretful, about risking their privacy and reputations in hopes that their stories would hold Weinstein to account. In a two-hour movie that has so much ground to cover, I get why the emotional focus was on the women who came forward to help galvanize the Me Too movement rather than on the journalists who found them.
But Twohey and Kantor are still cast as the main characters, and while She Said does a better job than most onscreen portrayals of peeling back the domestic curtain, I craved more of their B plot. A slammed door at home or a really vulnerable journal entry about wanting to quit and move to a tropical island would have done the trick. Minimizing the personal toll onscreen only glorifies hustle culture. A few years ago, my takeaway from this movie might have been that I need to grind even harder. I've been working hard to silence my inner taskmaster, though, and now I felt annoyed watching my fictional counterparts navigate a corporate fantasy world where success is heroic and free of consequences. Don't get me wrong: I'd still like to win a prize. I've just done enough therapy, and hit enough walls, to understand the gravity of what I'd have to sacrifice along the way.