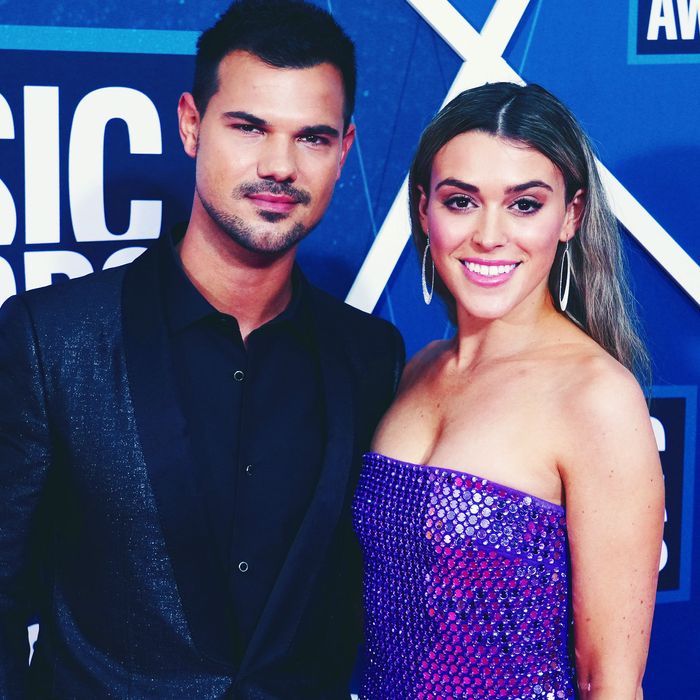 Photo: Jeff Kravitz/Getty Images for CMT
Changing your name for love can be complicated, seeing as it involves updating your driver's license, credit cards, and many other pieces of official documentation. It is presumably even more complicated when it means you and your spouse will have exactly the same name. Congratulations to Taylor Lautner and his new wife, also named Taylor, who got married this past weekend at a California winery and now face this exact dilemma.
The couple reportedly exchanged vows at Epoch Estate Wines in Templeton before a group of roughly 100 close friends and family. Lautner, best known as a former werewolf heartthrob, proposed to nurse Taylor Dome one year ago in front of a big neon sign spelling out his last name, suggesting that a name change was on the horizon. While appearing on The Kelly Clarkson Show this past summer, Lautner confirmed that Dome, whom his sister introduced him to during an acting hiatus, would take his last name. He also shared how they have navigated both being named Taylor. Apparently, Lautner mostly goes by "Taylor," while Dome goes by "Tay." But also, he says, "A lot of people just do 'boy Tay' and 'girl Tay.'"
Mr. and Mrs. Taylor Lautner are far from the first celebrity couple to find themselves in this conundrum. As you may recall, Paris Hilton was once engaged to another Paris, who was the grandson of a Greek shipping billionaire. Lauren Bush also infamously married Ralph Lauren's son, David Lauren, making her Lauren Bush Lauren.
Even Lautner has some experience in this realm, given that his new wife is at least the second Taylor that he's dated. After dating Taylor Swift for a few months in 2009, the actor earned one of the kindest Taylor breakup songs. We can only hope that, should this happy couple decide to have kids, they choose a different name for their firstborn.
This post has been updated.