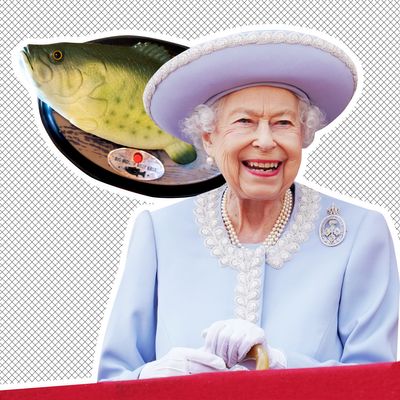 She was only human after all
Photo-Illustration: by The Cut; Photos: Getty Images
Certain monarchy-loving Brits have spent the past few months clutching their fascinators in horror of The Crown's impending release, dreading that the drama's fifth season would once again fudge the facts of recent royal history and smear the late queen's memory in the hearts of viewers she never counted among her subjects. Now that the new season is finally here, we as journalists will do our duty to both Dame Judi Dench (very concerned about The Crown's "crude sensationalism") and the public in general, assessing the overall accuracy of this ten-episode arc. Did King Charles once break-dance for the youth, and was he smooth and coordinated in his movements? Yes and no, respectively. Did Fergie, Duchess of York, once get her toes sucked on the front pages of British tabloids? Unfortunately, yes — it was both a big scandal and a big invasion of privacy. Did the queen once receive a singing, talking, animatronic fish as a present from her family, and did she absolutely love it?
Let the record show that she did.
Yet the circumstances under which she accepted this glorious-to-her gift remain murky. According to The Crown's writers, Prince Andrew gave the queen a Big Mouth Billy Bass for her birthday, causing her to erupt in pure undiluted delight when it started serenading her with "Don't Worry, Be Happy" and Charles to quietly smolder, because his hand-painted landscape didn't elicit the same enthusiasm. We don't know whether Charles, then in his late 40s, really pouted over his mother liking his little brother's present best. But we do know, pretty definitively, that the queen had a Big Mouth Billy Bass and — per a contemporaneous New York Times report — awarded it pride of place on the grand piano at Balmoral Castle. How she came into possession of the singing fish is less clear.
At the time, the Guardian claimed that "six of the blighters have made their way" to the queen's Scottish estate and that she "was introduced to the bass-voiced bass by the Princess Royal," Anne. Meanwhile, other experts allege that the fish actually came from Prince Harry as a gag holiday gift (the Windsors apparently love gag gifts), but regardless of who picked it out, two things seem clear: "The Queen thinks Billy's a scream," as a supposed "royal insider" put it to the Guardian, and Andrew was her special treasure as well as a thorn in Charles's side. Overall, the scene scans as truthful if not uniformly true. Please note that Big Mouth Billy Bass came out in 2000 (a smash hit, retailers couldn't keep the fish on the shelves), whereas the events of episode ten of The Crown — a TV poll on whether the monarchy should continue to exist, Charles's Hong Kong handover speech — anchor it in 1997.
Somewhere, Dame Judi is seething.