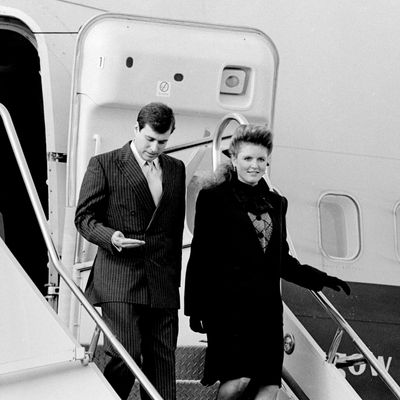 Photo: Bob Riha Jr./Getty Images
To the entirely unfounded distress of the royal palace, season five of The Crown has arrived, and with it, a heavily fictionalized account of the royal family's life in the '90s. Also Tampongate. While this season is largely dominated by Charles and Diana's divorce, the show touches on the marital troubles of two of the queen's other children: Princess Anne (who filed for divorce from her husband, Mark, in 1992) and Prince Andrew (who separated from his wife, Sarah, the same year). The show's coverage of Andrew's divorce has drawn my attention to another scandal that goes largely overlooked in the canon of royal affairs: During the couple's separation, Andrew's wife was photographed having her toes sucked on a St. Tropez beach.
The scene arrives toward the middle of the season, episode four to be exact, when the queen sits down with her favorite boy to talk about his rapidly deteriorating marriage. Last season, during one of these mummy-son hangs, Andrew raved about a movie that followed a "nubile 17-year-old girl" getting seduced by "several twisted and perverted older predators" to his mother's mild concern — a rare nod to current events given Andrew's connection to sex trafficker Jeffrey Epstein and the sex-abuse lawsuit Andrew recently settled with Virginia Giuffre. This time, the matter at hand is far more disturbing to the queen. An embarrassing batch of photos have arrived in the papers, Andrew tells her, and they show a financial adviser named John Bryan doing something awful. The queen doesn't want to know what it is, but Andrew tells her anyway: "Sucking Sarah's toes, Mummy!"
The conversation devolves into a series of bad podiatric jokes about the incident — followed by Andrew whining about the "sheer humiliation of it all" and begging his mother to let him get a divorce. (He and Sarah were separated at the time.) Later in the episode, there's a quick cut to what appears to be the actual newspaper spread from the August 20, 1992, Daily Mirror, which showed Sarah sunbathing topless in the south of France while Bryan kissed her toes. Or sucked, depending on which tabloid you ask. Another haunting analysis of the incident: A former associate claimed in a documentary that Bryan was actually "licking her instep," but the "upward thrust of his tongue" could have feasibly touched her big toe.
This was not the first set of photos suggesting infidelity on Sarah's part. Before the couple separated, pictures of her with Texas millionaire Steve Wyatt on a trip to Morocco were leaked to the press, fueling rumors that they were having an affair — an incident The Crown references in this scene.
Sarah and Andrew were already separated when the St. Tropez photos came out, but the fact that she was enjoying a sexy vacation with a man who wasn't her estranged husband was, I guess, too much for the British public to tolerate. No one seemed sympathetic to the fact of this egregious invasion of privacy — least of all the royal family, who were reportedly furious. According to royal biographers, Sarah was staying with the Windsors at Balmoral, ironing out the terms of her separation from Andrew and her future as a duchess, when the photos were published. Some reports claim she was asked to leave the estate and, when she arrived back home in Surrey, the royal family didn't send someone to open the gates, leaving her to sit in the car surrounded by paparazzi. Prince Phillip allegedly avoided her for the rest of his life. She ultimately relinquished her HRH title and restyled her name to Sarah, Duchess of York.
In the years following the scandal, Sarah seems to have largely gotten back into the family's (and the U.K.'s) good graces — especially with Andrew himself. They officially divorced in 1996, but she has appeared at various royal events with their daughters — including Harry and Meghan's 2018 wedding and the queen's funeral in September. Sarah has remained a confidante of sorts for Andrew, and they still live together at Royal Lodge in Windsor, where they're currently taking care of the queen's last remaining corgis. Sarah was rumored to have been involved in Andrew's defense strategy in the Giuffre lawsuit and has defended his character in the press, calling him "a kind, good man" and "a fabulous father to the girls" in a 2021 interview. But Sarah has her own ties to Epstein — in 2011, she apologized for accepting $24,000 from him to cover some debts, calling the arrangement (which was conducted by Andrew) a "gigantic error of judgment."
Charles and Diana announced their separation a few months after Sarah's toe-sucking incident, which might explain why it was largely drowned out. Still, I'm glad The Crown found this moment in history worth revisiting. Thanks to the show, "Sucking Sarah's toes, Mummy!" will live on in infamy.