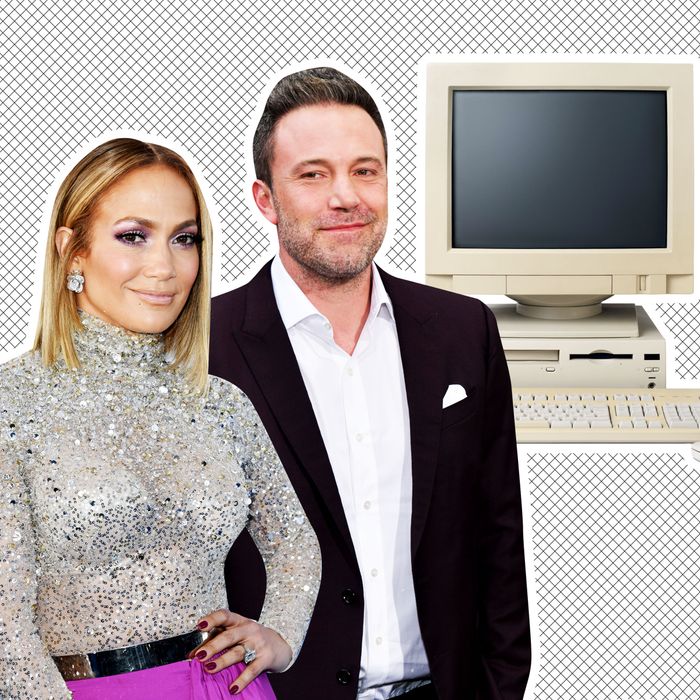 Is it a promise or is it a threat?
Photo-Illustration: by The Cut; Photos: Getty Images
Since the moment unnamed tabloid sources revealed that Ben Affleck accomplished his redux seduction of Jennifer Lopez via flirty emails, I have been wondering how that is possible. Just what did the emails say, and how many did he send, and which "loving and longing" messages did he deploy in order to, I am so sorry, "'own her heart' with his pen"? While these 1.5 years of Bennifer 2.0 have given us lots of kissing-through-masks pics, they have not given us answers to our single most central question — though today we come one step closer. Thanks to an interview Mrs. Affleck granted Apple Music's Zane Lowe, we now know how Ben concluded his winking little notes: "Not. Going. Anywhere."
"That's how he would sign his emails when we started talking again," J.Lo explained, softening Ben's spiky punctuation. "Like, 'Don't worry, I'm not going anywhere.'"
According to J.Lo, Ben had this three-beat promise, which to me sounds more like a threat, engraved on the inside of her massive engagement ring's band. It appears to be a reference to their early-aughts wedding that never was, thanks to Ben's alleged indiscretions at Brandi's Exotic Nightclub in Vancouver, Canada. Speaking to Lowe, J.Lo called the 2003 breakup "the biggest heartbreak" of her whole life. "I honestly felt like I was going to die," she said. "It sent me on a spiral for the next 18 years." But then Ben started "flooding" her inbox with his steely resolve, and Bennifer was back, baby.
J.Lo finds his closing sentiment sweet, rather than haunting, and I suppose that's what counts. But me, I'm imagining a rumpled Ben Affleck (ready to rebound after stuffing his cardboard cutout of ex Ana de Armas into the trash) bursting into his basement cave office to fire up his desktop love machine. He sucks his Dunkin' through a grimace, teeth gritted from determination — the object of his affection is still engaged to A. Rod, after all — and pain because he just banged his knee on that giant trunk he wedged in right next to the door. He clicks through a carousel of pap pics from the Dominican Republic, where his former flame is filming Shotgun Wedding with Josh Duhamel and Jennifer Coolidge. He opens Gmail; he clicks compose. "Just wanted to tell you how beautiful you look and how much I wish I could be down there with you," he plonks out, with restrained passion, hesitating only over the send-off. It is too soon to mention love, but "go Sox!" feels too casual and "sincerely," too formal, even though he is sincere — very. He strokes his chin beard, he taps his toe. How to reassure without menacing? And then, eureka, he has it: "Not. Going. Anywhere. Ben Affleck." Subtle, yet firm. He smashes send and kicks back from his computer, hitting the trunk again. But he doesn't care; he is happy with himself for finding just the right tone, for finding the courage to say what needed to be said after all these years. And we are happy for him — for them. We love you freaks. Never change.