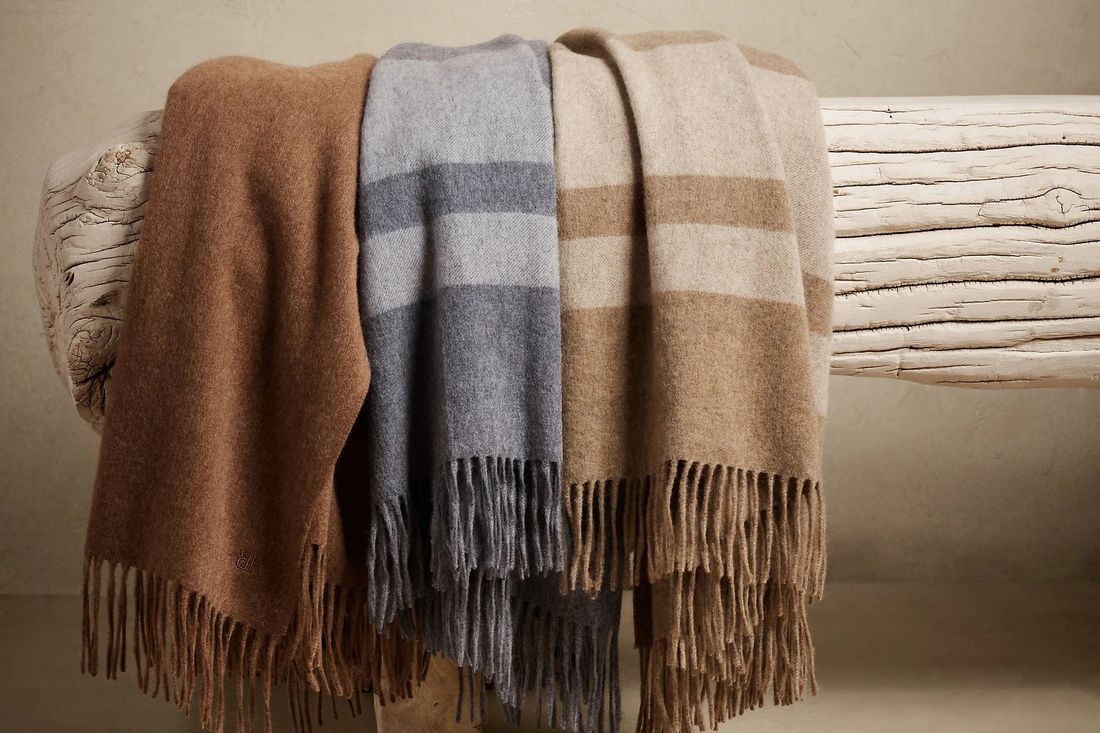 You thought you knew your best friend, your sister-in-law, or your longtime co-worker — but the moment it's time to consider what they'd want for the holidays, they become enigmatic, unsolvable puzzles. Luckily, the most thoughtful gifts aren't always the most expensive, trendy, or hard to get your hands on. If you're doing it right, whatever you decide on should speak to the recipient's interests and desires, but not be so impractical that it'll collect dust in a dark corner.
Maybe in years past, you went the gift card or cash route — both great ideas for the right person, but not nearly as considered as, say, a coffee table book that celebrates their favorite travel destination, or a leather throw pillow for their new home office from Banana Republic's lauded home shop. Even something as easy as a cold-pressed olive oil set can show how much you appreciate their hospitality if you're a frequent visitor (or if you're Italian).
We culled a few sneaky-good gift ideas that toe the line between exciting and sensible. Don't worry: If the idiom that tells us it's the thought that counts holds true, you're in great shape.
Carry-All Tote
We all know someone who's forever schlepping a handbag, two half-filled canvas totes, and a water bottle for good measure. Replace it with this embossed, croc-effect bucket bag that'll hold all the essentials with none of the scattered energy.
Cozy Wool Slippers
Is it still frowned upon to wear slippers out of the house? These 100% wool backless clogs come in two neutral, wear-with-anything colors, each as buttery and warm thanks to the breathable shearling. Even more: They make the perfect luxe gift for a recent retiree or anyone who plans to prioritize leisure time in the new year.
Stylish Throw
What do you get someone who's struggling to adapt to a hybrid work schedule? A perilously soft cashmere throw blanket that feels as comfortable as a work-from-home companion as it does a makeshift, office-ready asymmetrical midi skirt.
Stress-Less Kit
Sure, buying someone a de-stressing kit can be risky business: You're telling someone in no uncertain terms that you can see their stress and are driven to remedy it. But sometimes, the person that needs a skin-softening, lymphatic-draining, stress-reducing ritual in the form of Calendula body oil, coffee body polish, a lemon-verbena bath soak, and an invigorating body brush is the one who's least likely to get it for themselves. Not all heroes wear capes.
Nightstand Hydration
Inspired by Maison Balzac designer Elise Pioch's French roots, these transparent, mouth-blown carafes are just as good at keeping water at-the-ready on your nightstand as they are as a vessel for florals at the center of the table. Fill 'em with a trio of magnolia bud stems as a token of appreciation for any hostess.
Patterned Scarf
The right accessory can take an outfit from basic to sophisticated in seconds — and that's doubly true for a vintage-inspired silk scarf. Though this patterned style comes in a variety of all-season motifs, the brown logo goes with (almost) everything. It's small enough to serve as a great substitute for a necklace, but substantial enough to transform an entire look.
Coffee Table Book
If going the vase or candle route seems uninspiring, contribute to their home decor while allowing them to relive their Italian honeymoon or a particularly memorable trip abroad with this coffee table book by curator Cesare Cunaccia. It details the Tuscan countryside with a series of breathtaking landscape imagery and artwork from the region. (If Tuscany isn't their favorite, Assouline has tomes on Capri, Athens, and Marrakech, too.) Extra points if you happen to be their travel buddy.
Waterless Diffuser
This sculptural resin-based diffuser is as much a work of art as it is a home fragrance. With a one-hour consistent run time and a USB charging port, it works without water or heat to diffuse essential oils over 1,200-square feet, which is still bigger than the average New York City two-bedroom apartment. If lavender isn't quite right, try the sand gray or mossy green color ways.
Leather Throw Pillow
It may seem silly to buy yourself a luxe, decorative haircalf leather pillow, but when you gift it to a friend, it'll almost feel like you're just showing off. It's an especially thoughtful one-size-fits-all gift for anyone who's in the middle of furnishing a new home — or a new home office.
Olive Oil Quad
There's always one couple in the friend group that tends to host more than anyone else, but when bottles of wine or flowers feel tired, show them your appreciation with Brightland's cold-pressed olive oils. This special edition of herb- and spice- infused oils showcases the work of four emerging artists — and because each bottle is UV-coated to protect the olive oil from light, they're perfectly safe to be displayed on a kitchen counter.
Woodsy Candle
Made from a natural apricot-coconut wax blend, this candle's notes of wild sarsaparilla — a vanilla-forward scent from the ginseng family — and paper birch, a woodsy mint, smell like a cozy winter evening at home.
Iconic Wall Calendar
Finding a gift for the artist in your life is a tall order to fill, especially if you don't necessarily share the same taste. But if you have a non-conformist on your hands, this reissue of the iconic '70s-era perpetual Ring-A-Date calendar designed by Italian artist Giorgio Della Beffa will be a runaway hit. Those in the know will recognize the classic piece, and those unaware of its cultural significance can appreciate its practicality.
Rose Quartz Water Bottle
Anyone that worships at the altar of Gwyneth knows rose quartz is a healing crystal that connects to the heart chakra for unconditional love. Give them the gift of healing (and hydration) with GLACCE's refillable glass water bottle, which comes with a one-of-a-kind cylindrical rose quartz stone. (For those who insist their love is already strong enough, the brand also makes an amethyst bottle for balance and protection, or an obsidian bottle to promote confidence and strength.)
At-Home Grinder
A home kitchen must-have, this professional-grade grinder is for the French press aficionado who's sick of shelling out good money on weak coffee shop pour-overs. The sleek, minimalist design won't clog up the kitchen counter, nor will it wake up everyone in the house.
This advertising content was produced in collaboration between Vox Creative and our sponsor, without involvement from Vox Media editorial staff.