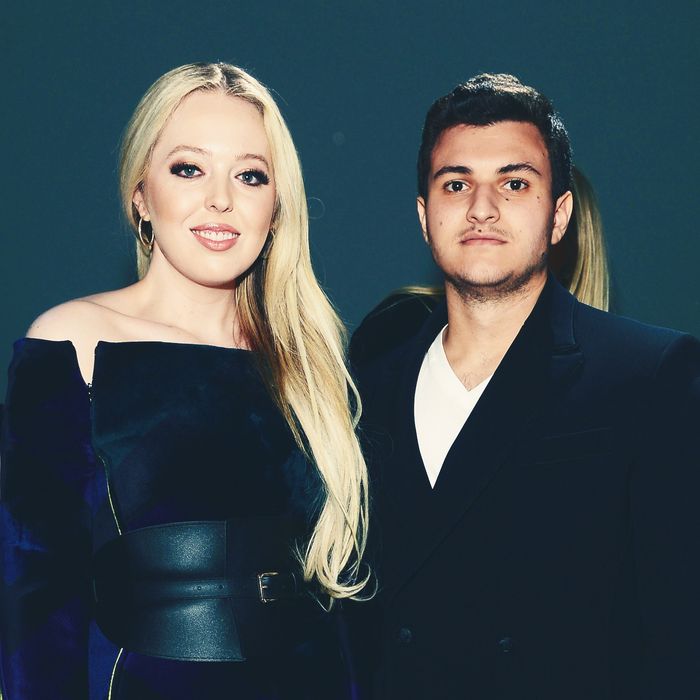 Photo: Noam Galai/Getty Images for Taoray Wang
Not even multiple criminal investigations and a potential hurricane could stop the Trump family from celebrating Tiffany Trump's wedding on Saturday. Tiffany, the one adult Trump child who is not currently being sued for fraud or investigated for participating in an attempted coup, married Michael Boulos at Mar-a-Lago (where else?) this weekend. More than 500 guests were reportedly expected to attend the nuptials — which, if you ask me, sounds like more than enough cover for a few FBI agents to sneak in.
The wedding was pretty much what you'd expect from the Trumps: lavish, extravagant, and a bit gaudy (check out the multi-colored floral arches and the blindfolded dancers at the reception). Tiffany wore an Elie Saab gown as a nod to her husband's Lebanese American heritage, her mother, Marla Maples, told People. Donald Trump walked his daughter down the aisle and managed to smile for photos, despite the outcome of the midterm elections. Brave.
Trump was reportedly not in the mood to celebrate on Saturday. "He has been upset and ranting like a raging bull for the past couple of days," a political source told People. And who knows how he reacted to the mid-wedding news that the Democrats would retain control of the Senate after Catherine Cortez Masto was officially projected to win a Nevada Senate seat. He was uncharacteristically silent on the news Saturday, staying away from Truth Social, but, of course, the news of a Democratic Senate breaking during Tiffany Trump's wedding quickly became a joke on Twitter.
The former president has been known to give impromptu "the 2020 election was rigged" speeches at Mar-a-Lago weddings, but so far, no details have been reported about his father-of-the-bride speech. Though, perhaps, his new in-laws wouldn't have minded an election-fraud themed toast. After the engagement was announced, the groom's father, Massad Boulos, told the Daily Mail he was overjoyed to be related to Trump, calling him "the best president in recent US history; and the one with the biggest achievements by far."
The newly married couple reportedly met while Tiffany was on vacation in Mykonos with Lindsay Lohan, and they got engaged at the White House last year. Like Tiffany, Boulos comes from a business family. Although born in Houston, he grew up in Nigeria, where his family reportedly owns an entire swath of companies. Town & Country reported that the Boulos family owns businesses in more than ten West African countries. Sounds like Trump's ideal son-in-law.
Tiffany previously celebrated her bridal shower the weekend before the midterm elections. Big sis Ivanka Trump shared pictures from the event on Instagram, showing the Trump daughters posing with their sister-in-law, Lara Trump, who is married to Eric Trump. (Don't worry: Kimberly Guilfoyle, Donald Trump Jr.'s fiancée, was also present for the celebrations.)
Soon after the celebrations began, reports suggested that Tiffany might not be getting married after all — at least not legally. Initial reports from Business Insider contributor Kimberly Leonard suggested that Tiffany had yet to acquire a marriage license, but TMZ later reported that the couple received their marriage license on Tuesday. But bureaucracy wasn't the only thing threatening Tiffany's wedding. A few days before the ceremony, "Page Six" reported that Tiffany was "flipping out" about Hurricane Nicole, which was expected to head straight for Palm Beach and Mar-a-Lago. The club was reportedly evacuated on Wednesday, with staff being sent home due to weather conditions. Lucky for Tiffany, Nicole was downgraded to a tropical storm after making landfall in Florida on Thursday, and her wedding moved forward as planned.
Congrats to the (as of yet) unindicted couple!
This story has been updated.