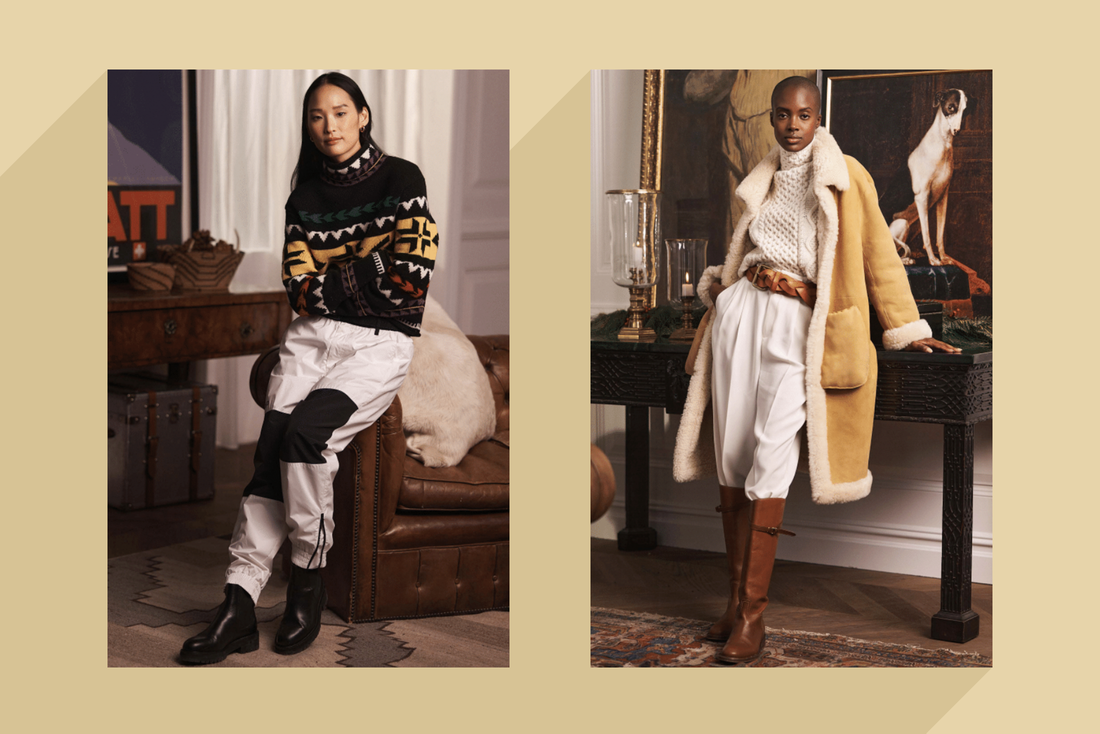 Photo: images from Ralph Lauren, designed by Liana Cervantes
Gift giving is an art. But that doesn't mean the daunting task of finding the perfect something for your picky mother-in-law has to be intimidating. If you're stumped on what to give said mother-in-law, or your most fashionable best friend, or the aunt whom you learned your best style secrets from, Ralph Lauren is the ideal place to start. The brand puts new meaning in "extra special" and is known for its quality, timelessness, and fashion-forward aesthetic. For us, it's a no-brainer when you're searching for thoughtful items with charm and style.
The Holiday Candle
This may be the perfect holiday candle. Scented with a blend of evergreen, red currant, and juniper berry, it'll fill any room with festive cheer.
The Hybrid Bag
This bag is a modern classic they'll cherish forever. It's available in various prints, colors, and fabrications — including satin, velvet, and leather — and serves double duty as either a shoulder bag or a wristlet.
The Cozy Blanket
Unwrapping this luxurious throw will make anyone excited for their next movie night. Made from cashmere, it's incredibly warm and soft and we love how it can be monogrammed for a personal touch.
The Standout Coat
This coat is a seasonal essential that'll keep them warm for years to come. The two-tone, two-texture style will help it become the cornerstone of their winter wardrobe. Even better, it's made of sustainable, recycled materials.
The Classic Sweater
Gifting cashmere is a sure way to impress any recipient. This specific sweater is a particular crowd-pleaser, as the style is classic and refined.
The Forever Bag
Well worth the investment, think of this leather bag as an heirloom piece; something they'll eventually pass down to a loved one. With a spacious interior and minimalist design, it'll remain practical and stylish for generations.
The Wool-Cashmere Beanie
Take guesswork out of the equation by gifting something universally lovable. You can't go wrong with a wool-blend beanie like this one; it's simple and will go with everything they already own.
The Leather Gloves
From your grandfather to your kid brother, anyone can appreciate a quality pair of gloves. Soft yet durable, this goatskin pair features cuffs made from lambswool to keep out the cold. They'll never need another set again.
The Custom Pillow
Make them feel really special by springing for a completely custom throw pillow. You get to choose the design, the colors, and other details such as buttons.
The Universal Fragrance
A luxe perfume is a beauty staple everyone needs on their vanity. This one mixes cardamom, patchouli, and vetiver for a captivating fragrance that's spicy and warm.
The Refined Sunglasses
Any fashion person will immediately fall in love with these refined sunglasses. The round frames are playful and classic and they come in both black and beige, meaning there's a pair for every outfit.
The Iconic Polo
The classic polo you know and love but with a twist. Now customizable, you can surprise your loved one with a polo in any color of the rainbow that also includes a personal monogram.
The Mascot Sweater
Anything adorned with Ralph Lauren's iconic mascot has a vintage feel. We love that this wool sweater's relaxed silhouette will look just as good with jeans as it does dressed up with trousers.
The Leather Riding Boot
A durable pair of tall leather boots are a staple in anyone's closet. This one is crafted from Italian leather and comes in both brown and black. Paired with trousers, dresses, or jeans, it'll last a lifetime.
This advertising content was produced in collaboration between Vox Creative and our sponsor, without involvement from Vox Media editorial staff.