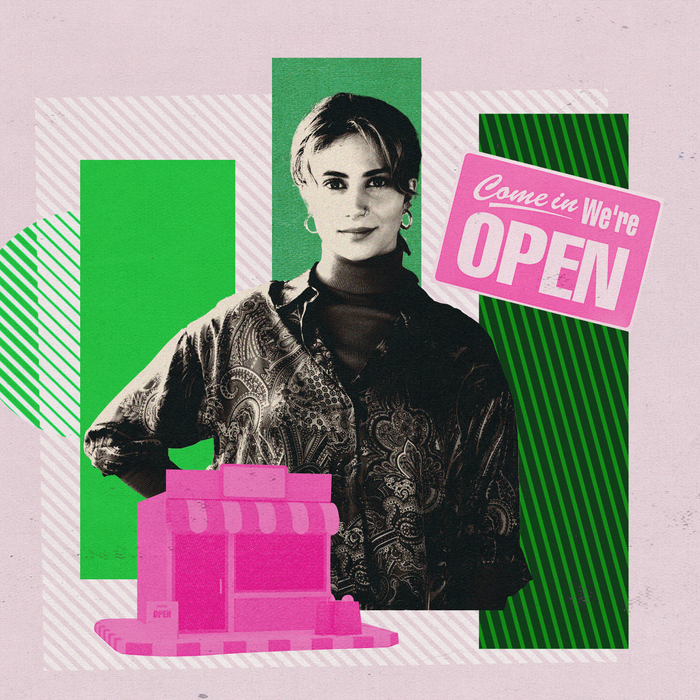 Fueled by a shift to virtual work, the Great Resignation, and even quiet quitting, more and more people are leaning into working for themselves than working for "the man" than ever before. From March 2020 to June 2021, a record number of small businesses were launched. Dropping out of the corporate rat race, though, doesn't necessarily mean you'll lose the long hours or "fire drills" — it just means you'll tackle new problems, and need to solve them for yourself.
With so many people thinking about opening a business, we turned to Intuit QuickBooks, which offers a variety of accounting software solutions for small business owners, for their expert tips to offer entrepreneurs. Here, they identified four key challenges nearly every small business owner experiences after lighting up that "open" sign.
The Challenge: You're overwhelmed about needing to be an accountant, customer service rep, content creator and creative all at once.
Whether you just launched a full-time consulting career or are taking house calls as a plant doctor, growing your customer base involves doing a whole lot more than just doing your job. Now, it's up to you to maintain a social media presence, create blog content to boost traffic to your website, handle customer inquiries, and manage the books. And while that's the norm for all small businesses at first, it's just not scalable. When you begin to feel trapped in the day-to-day routine of keeping the ship afloat, rather than growing your business — or worse, as burnt out as you felt at your 9 to 5 gig— it's time to explore hiring your first employee. If you crunch the numbers and find that supporting a full-time worker isn't in the cards right now, consider part-time specialists to tackle the books, or a video editor to make your next TikTok seamless on an online marketplace for freelancers.
The Challenge: You're super confused about taxes.
If you thought filing your taxes as a W-4 employee was complicated, taxes for your small business are akin to AP calculus. And unless you decide to become an independent math tutor, no one has time for that. The first step to decoding them is proactive: you'll need to use tax preparation software to track your business transactions as you go, rather than trying to collect it all at the end of the fiscal year. QuickBooks Online, for example, helps you track income, expenses, and stay ready for taxes. Additionally, keep track of all your potential deductions too: anything from advertising to client gifts can be a write off for a small business.
The Challenge: You feel like you're bleeding money.
According to the Small Business Administration, only 33 percent of all startups make it to their 10th birthday — and it's usually because they run out of cash. Truth is, most new businesses aren't profitable in their first year at all. And while, in our online-driven world, it's possible to start a new business with essentially no money, maintaining cash flow is key to making sure you don't run out of runway. If cash flow is looking tighter than you're comfortable with, looking for ways to reduce operating costs is an essential step — and one you can get creative about. For example, why not try bartering services with other small business owners in your local community? Could you try a co-working space instead of a traditional office lease? To know where your business stands, QuickBooks Payments can help you keep track of payments and get you paid four times faster.*
The Challenge: You need to decide between operating an IRL store or an online shop.
While being able to operate solely online was essential at the height of the pandemic, many new retailers who quickly grew in 2020 and 2021 are now faced with trying to reach more customers. For someone who sells custom knit hats or hand-poured candles, an IRL storefront can help bring in new foot traffic and increase visibility, as well as potentially increase production (if the space they find has a workshop area, for example.) Of course, that also comes with a lot of operating costs, from store employees, to furniture, to (yes) rent. The experts at QuickBooks recommend taking an in-depth look at your business plan, current expenses, and potential alternatives. (For example, could you share a commercial kitchen and offer takeout, rather than setting up your own restaurant? Could you lease vendor booths at holiday shopping fairs?) Or is there a commercial kitchen you can share?) When it comes to making sure your shelves are stocked, QuickBooks also offers inventory management too, so that your displays are fresh enough to catch the attention of your next customer.
Four times as fast' based on US customers using QuickBooks Online invoice tracking and payment features compared to customers not using these features from August 2020 to July 2021.
This advertising content was produced in collaboration between Vox Creative and our sponsor, without involvement from Vox Media editorial staff.