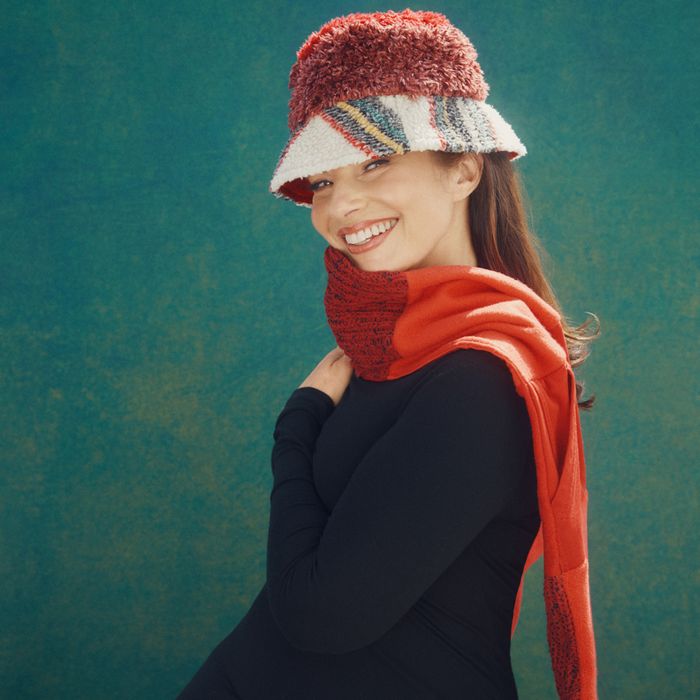 Fran Drescher wearing the new Full Circle collection from thredUP.
Photo: Courtesy of thredUP / Photographed by Ashley Batz
The fear that a holiday gift won't be unique can send any rational person into a nervous tailspin. What if the gift recipient already owns something just like it? What if they're so apathetic about it that it ends up in their attic, doomed to live in an unending regifting cycle? Even worse, what if it almost immediately ends up in the trash beneath decaying fruitcake and nana's ambrosia salad? Finding a gift for someone is easy; the real challenge begins when you need to find one they'll love. ThredUP's first upcycled holiday collection could be the answer to your gift-giving prayers — worst case scenarios be damned.
ThredUP is one of the largest online resale platforms that's helped redefine what it means to shop secondhand, benefitting both your closet and the planet. Now, the fashion marketplace has partnered with New York-based clothing designer and zero-waste lifestyle pioneer Zero Waste Daniel and ultimate '90s fashion icon Fran Drescher to create Full Circle, an upcycled collection filled with one-of-a-kind gifts everyone on your list will want.
"As one of the world's largest online thrift stores, we are committed to thinking creatively about how we can recirculate and make use of every single item that comes through our doors," Erin Wallace, VP of Integrated Marketing at thredUP, says. "We also love a fashion throwback, so we decided to marry two of our favorites: secondhand clothes refurbed into new looks, and unforgettable '90s fashion."
Normally, many of the brand-new gifts we buy have a short life cycle; their final resting place is almost always a landfill. Upcycled gifts help alleviate this dark fate. In total, thredUP's zero-waste collection uses approximately 2,000 pounds of textiles that could not otherwise be resold. It's just an added bonus that, more often than not, secondhand items — whether it's apparel or home decor — are budget-friendly and more unique when compared to the bag your sister and now 12 of their closest friends own. When the primary goal of holiday gift giving is to make someone you love feel special and seen, it's apt to shop exclusively from a collection that was designed to do exactly that.
The collection will be available to shop starting early November. With the holiday season fast approaching, you won't want to miss out on getting a first pick of these pieces. Beat everyone else to the punch by texting FRAN to 40272 (Terms & Privacy) and you'll be one of the first to know when the collection is ready to shop.
Made from clothes that didn't meet thredUP's quality standards, this limited collection offers trash-to-treasure pieces that are guaranteed to wow your gift recipient (even if it's yourself). Although thredUP is known for its deep-cut fashion finds, the Full Circle collection runs the whole gamut of holiday gifts, including home decor and pet accessories.
For your furry companion, both small and large, there are pet beds made of non-stretch denim and canvas to prevent wear and tear. For the home, you can choose from a range of decor items, including coasters made from leftover seasonal novelty fabric, quilted and stuffed with leftover outerwear material; napkins, a zero-waste option for anyone who loves playing host; and bowls made from the seams and hems of deconstructed denim garments.
Don't worry, there are rare fashion finds included in the collection, too, like patchwork bucket hats made from pieces of outerwear, cozy scarves upcycled from sweater and sweatshirt sleeves, and crossbody bags upcycled from denim, leather, and pleather — every option Drescher-approved. Zero Waste Daniel also designed a selection of exclusive, custom pieces inspired by Drescher's iconic character, Fran Fine. He even had insider tips from Brenda Cooper, the Emmy Award-winning costume designer of The Nanny, on how to create the Fran-inspired pieces.
Prices of the collection pieces start at $10, with most items running from $20 to $60. If you are willing to break the bank (or at least dent it), the collection's Collector's Coats, which you can see Drescher impeccably modeling, cost up to $600.
But giving to people you know isn't the only reason for the season. According to a recent survey conducted by thredUP with GlobalData, 55 percent of consumers would like to buy holiday gifts that benefit good or charitable causes. So, if the bespoke component of Full Circle wasn't already alluring, thredUP will also donate 20 percent of the proceeds to Drescher's charity, Cancer Schmancer.
So, what're you waiting for? Text FRAN to 40272 (Terms & Privacy) to find out when you can finally shop this unique collection. But hurry — it won't last forever. Like we said, one-of-a-kind.
This advertising content was produced in collaboration between Vox Creative and our sponsor, without involvement from Vox Media editorial staff.