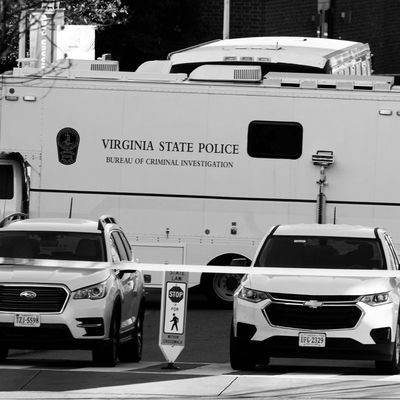 Police at the University of Virginia's Charlottesville campus.
Photo: Steve Helber/AP/Shutterstock
A gunman opened fire on the campus of the University of Virginia around 10:30 p.m. Sunday, killing three people and injuring two more. Police took the suspect, identified as student Christopher Darnell Jones Jr., into custody on Monday morning, ending a nearly 12-hour lockdown on the Charlottesville campus. According to the New York Times, the victims were football players whose bus was arriving back to a parking garage when the shooter attacked.
At a press conference on Monday morning, the university's president, Jim Ryan, disclosed the names of the students who were fatally shot: Devin Chandler, Lavel "Tyler" Davis, and D'Sean Perry. "When I see our students, I see my own kids, and I cannot imagine anything worse for a parent than to lose a child," a visibly upset Ryan said.
Jones appears to have been a member of the UVA football team, at least as of 2018 — that year, he was listed on the roster as a freshman, though he never took the field. During the manhunt, police described him as "armed and dangerous." The school lifted its shelter-in-place order shortly before Jones was confirmed captured, though classes — at UVA and area public schools — remained canceled on Monday.
Meanwhile, students hunkered down in whatever building they happened to be in when the lockdown alert went out. "People are stuck in the libraries, they're stuck in academic buildings, they're stuck in you name it," Eva Surovell, the editor-in-chief of the student newspaper, The Cavalier Daily, told the Times. Another student described the mood on campus as "terrified." According to CNN, almost 600 mass shootings — incidents of gun violence in which four or more people are shot — have taken place across the country this year, 68 of them at schools. Charlottesville is also the site of 2017's white supremacist "Unite the Right" rally, where a neo-Nazi killed a woman after intentionally driving his car into a crowd of counterprotesters.
This is a developing story and will be updated.