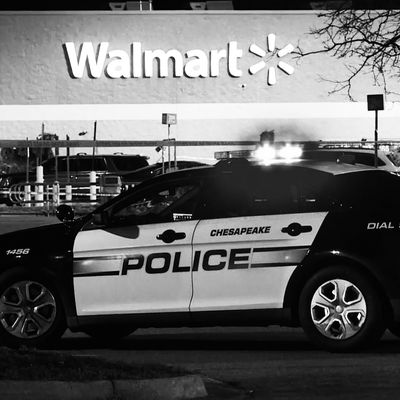 Photo: Anadolu Agency via Getty Images
A Walmart manager shot six employees inside the break room of the store in Chesapeake, Virginia, on Tuesday night before killing himself, the Associate Press reports.
This is the second high-profile mass shooting in the United States in three days, following the killing of five people at a gay nightclub in Colorado over the weekend.
In a news conference on Wednesday, Chesapeake Police Chief Mark G. Solesky said that the gunman appeared to have died of a self-inflicted gunshot wound, that he had used a pistol, and that the motivation behind the violent act was not yet known. Solesky did not identify the gunman or the victims. He said that four other people had been injured and taken to the hospital. Their condition was not yet known. The FBI is involved in investigating the shooting, according to the New York Times.
Briana Tyler, an employee at the Walmart, told Good Morning America that she had just arrived at the store for her shift and was in the break room with other employees, as on every other day, when the manager began firing.
"I looked up and my manager just opened the door and he just opened fire," she said, adding that the gunman did not appear to be aiming at anyone in particular and did not speak. "He just started shooting throughout the entire break room, and I watched multiple people just drop down to the floor, whether they were trying to duck for cover or whether they were hit."
Tyler said that the gunman looked directly at her, but a bullet missed her head "by an inch or two."
Rick W. West, Chesapeake's mayor, said in a statement posted to his Facebook page and the city's Twitter account that he was "devastated" by the shooting and would be praying for the victims, their families, friends and co-workers. "Chesapeake is a tightknit community and we are all shaken by this news," the statement said.