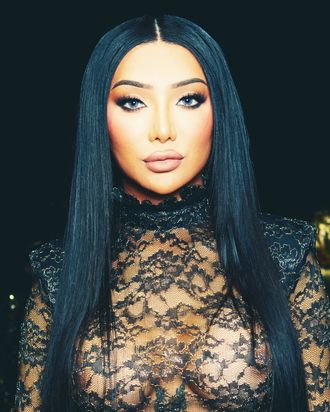 Photo: Rosdiana Ciaravolo/Getty Images
Nikita Dragun, a beauty influencer, was arrested Monday night at the Goodtime Hotel in Miami. According to NBC News, police officers responded to a complaint of a disorderly patron just after 6 p.m.
Hotel security told police that Dragun, who is no stranger to controversy, had been "causing a disturbance and being extremely disorderly," and "walking around the pool area unclothed," according to an affidavit obtained by NBC News. Dragun, 26, allegedly threw water on a hotel staffer when confronted about her behavior. Upon arrival, police made their way to Dragun's room, where they said loud music was playing, and identified themselves. The affidavit states that Dragun opened the door and was told by hotel security, who had accompanied the police to her door, that she might be asked to leave the premises. Police say Dragun shut the door only to open it moments later and ask, "Do you want more?" The influencer then allegedly swung an open water bottle, "causing the water to hit and spill on" the security guard and one of the officers.
Dragun was arrested and charged with felony assault, misdemeanor battery, and misdemeanor disorderly conduct. The influencer, who has tens of millions of followers across all of her social-media accounts, was transported to the Turner Guilford Knight Correctional Center, where her bond was reportedly set at $2,000.
Dragun, who is a trans woman, was reportedly held in a men's unit. In a video released by a local news outlet of her appearance in court, Dragun asks the judge, "Do I have to stay here in the men's unit still?" The judge responded, "Yeah, I don't make the rules up there," but promised to find Dragun proper accommodations.
In a statement to TMZ, Jack Ketsoyan, a representative for Dragun, said, "The situation with Nikita, who is legally female, being placed in a men's unit of a Florida jail is extremely distributing and dangerous."
"This decision made by the Miami-Dade County Corrections Department directly violates their protocol, which mandates that transgender inmates are classified and housed based on safety needs and gender identity," Ketsoyan added, noting that Dragun had been released.
Miami-Dade Corrections has since given a statement to TMZ denying the allegations that Dragun was held in a men's unit. "Miami-Dade Corrections and Rehabilitation Department (MDCR) is committed to protecting the rights of the transgender community and of all LGBTQ people," the department said. The statement went on to claim that Dragun did not make it past the booking process prior to release and was never placed in a men's unit. "All inmates undergoing our intake process remain in an open seating (open booking) area, in the presence of correctional staff. Additionally, inmate Dragun was placed in a holding cell by herself due to her high profile status before being released, and she was escorted by an LGBTQ officer during her time at the corrections facility."
This post has been updated.