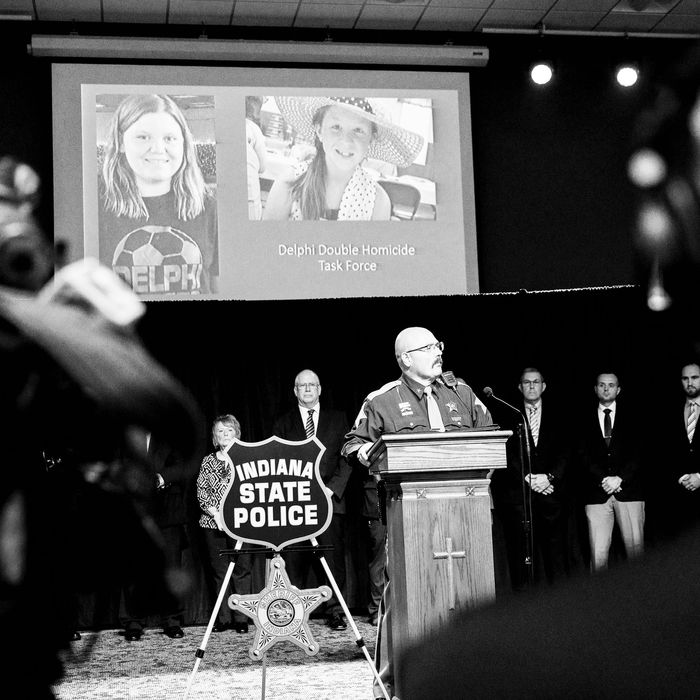 Photo: Jeremy Hogan/SOPA Images/LightRocket via Getty Images
An Indiana man has been charged with the 2017 murders of two eighth-grade girls — 14-year-old Liberty German and 13-year-old Abigail Williams— who disappeared while hiking in Delphi and were found dead a day later, the New York Times reports. The case garnered nationwide interest after authorities began publicizing potential clues, including footage of a man following the girls during their hike and an audio recording of a male voice that appears to order the girls to go "down the hill."
At a news conference on Monday, Indiana authorities announced they had arrested Richard Allen, a 50-year-old CVS worker living in Delphi, and charged him with two counts of murder. Allen pleaded not guilty and is being held in custody without bond, according to a local prosecutor. Charging information is currently sealed, and the prosecution has stated that the case is "very ongoing." Below, everything we know.
The girls went for a hike in the woods, and were discovered dead the following day.
In February 2017, Liberty German and Abigail Williams, who went by the nicknames Libby and Abby, set out to hike the Delphi Historic Trails on their last day of winter break to "walk around and hang out," on the Monon High Bridge, per an Indiana State Police report. But the girls never showed when Libby's father came to pick them up at a previously agreed upon time. A relative notified the authorities, and following an extensive search, their bodies were discovered a day later in a wooded area roughly a half-mile away from the bridge where they'd initially been dropped off. Police subsequently released images and video extracted from Libby's cellphone that showed a male suspect walking behind the girls on the bridge, which Abby's Snapchat photos revealed the girls had crossed shortly before they were murdered. "Guys …," a male voice can be heard ordering the girls in the audio, "down the hill." Authorities also released composite sketches of the suspect, and while they did not disclose how the girls had been murdered, police praised Libby for making the recordings before her death. "This young lady is a hero, there is no doubt, to have enough presence of mind to activate the video system on her cellphone to record what we believe is criminal behavior that is about to occur," a sergeant from the Indiana state police said in 2017, per the Times.
Police investigated the case for more than 2,000 days.
The active investigation for the girls' killer continued for more than 2,000 days, with the reward for information on the case exceeding $300,000 in 2021. Authorities released new composite sketches of the suspect and additional cellphone footage taken by one of the teenagers in 2019. Last year, the girls' grandparents issued a public appeal for help: "We are stuck in time looking for a monster that murdered two young girls," they wrote in a letter asking people to spread awareness about the murders, per CNN. "He killed once and could do it again. We realize there are many unsolved murders out there, so maybe in taking that minute you could help solve this or another case or prevent another horrible tragedy, so another family doesn't live this nightmare in which there is no waking up from. "
Little is known about Allen, but family members of the girls have inadvertently interacted with him after the murders.
Not much is known about Allen, who lives in Delphi with his wife and is reportedly being held at White County Jail. CNN reports that Allen's neighbors saw police searching his house two weeks ago, with authorities reportedly towing away his SUV and leaving the property with several of his belongings, including clothes, books, a shopping bag, and a shoebox and digging out two areas in the backyard.
Meanwhile, Allen's employer, CVS, has released a statement saying it was "ready to cooperate with the police investigation" in any way possible. Libby's aunt Tara German is reportedly a regular at the branch where Allen worked and told CNN he once helped her when she went to the store to print photos for Libby's funeral. "I was a mess trying to get the images off my phone," German said. "Once they were printed, [Allen] looked at me and said, 'I'm not gonna charge you for this.'"
Allen's pretrial hearing will take place on January 13, with a trial to follow beginning March 20. Per CNN, a court will revisit its decision to seal the charging documents at a later point, and tip lines for information about Allen remain open.