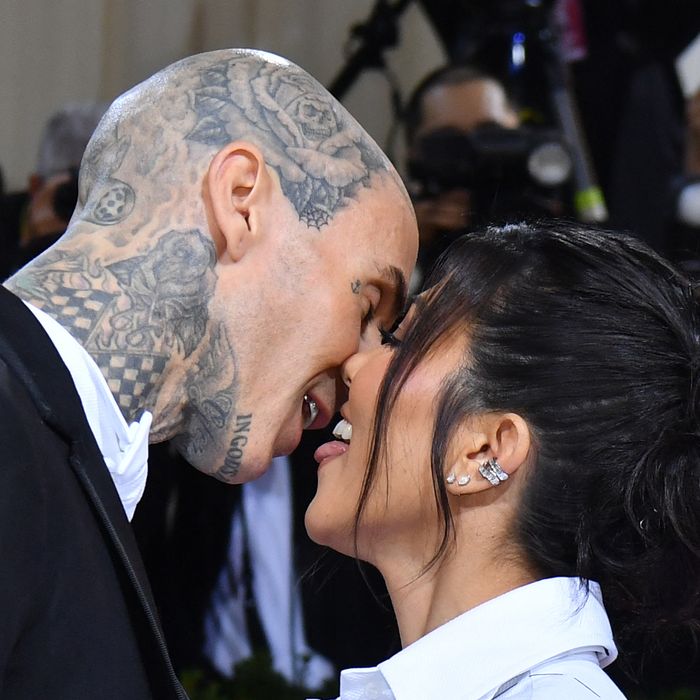 Photo: ANGELA WEISS/AFP via Getty Images
Whenever Kourtney Kardashian and Travis Barker hit the red carpet, you know the tongues are going to be out. The newlyweds have been touching tongues in public for over a year now. They did it at the Video Music Awards, the Grammys, the Met Gala, and even the Oscars. The move quickly became their signature PDA — well, that, and making out all the time on The Kardashians — and now we know why.
Apparently, tongue touching isn't really Kourtney and Travis' favorite spit-swapping method, it's all in the name of glam. "I don't wanna get lipstick all over him and I don't wanna ruin my lipstick," Kourtney revealed in this week's episode of The Kardashians. As we all know, Kardashian glam is sacred, and I'm sure her makeup artists appreciate Kourtney's dedication to a look. But then why get the tongues out at all? "We also don't wanna not kiss, so we'll kiss with our tongues," she added. Hmm… They couldn't give little air kisses or something instead?
Tongues aside, Kravis hasn't been shy about sharing their relationship with the world. Their Instagram PDA is legendary — as were their multiple Gram-friendly weddings. (Their Italian ceremony is expected to be included in this season of The Kardashians.) But, Travis recently revealed that he originally wanted to keep their proposal private. Speaking with GQ, he said that his now-mother-in-law Kris Jenner asked if they could film the proposal for the show, and he only agreed because she promised there would not be a camera in sight. "I can't see one camera, and Kourtney cannot see one camera," he recounted. (Strategically hidden GoPros got the job done.)
That's not to say Travis isn't comfortable sharing his personal life with the world. "I don't care if I'm cumming in a cup, or whatever," he told GQ, referencing a recent scene about the couple's IVF journey. "It's real life." When you put it that way, the tongues aren't so bad, I guess.