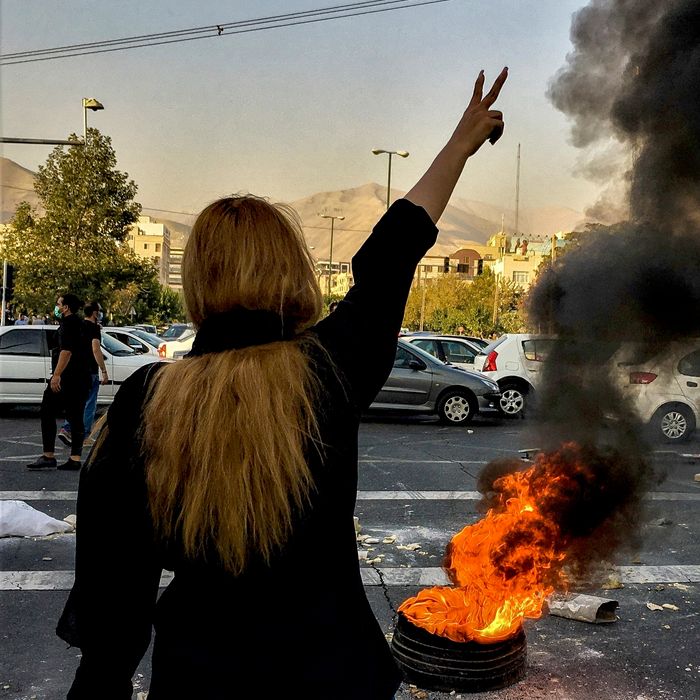 Photo: AP Photo/Middle East Images, File
In September, Mahsa Amini, a 22-year-old Iranian woman, died in the custody of the country's "morality police" after she was arrested for allegedly wearing her hijab "improperly." In the weeks and months following her death, the country has erupted in protests that show little sign of ceasing despite brutal crackdowns by the Iranian government. Videos have shown police beating protesters — many of whom are women and teenagers — with batons and spraying tear gas and bullets into crowds. According to Iran Human Rights, at least 402 people, including at least 43 children and 26 women, have been killed, though widespread internet blackouts have made it difficult to confirm fatalities. Hundreds of people have been injured, and according to the Human Rights Activists News Agency, at least 16,800 have been arrested.
Since Amini's death, continued violent attempts to quell protests by Iranian forces have garnered international outrage. Here's what we know about what's happening in Iran.
Mahsa Amini died in police custody on September 16.
On September 13, while visiting family in Tehran, Amini was reportedly arrested for "improper hijab" — a violation of Iran's mandatory dress code that requires women, regardless of religious affiliation, to conceal their hair and necks with headscarves. After her arrest, Amini's family struggled to find where she'd been taken. "We tried by every means to reach her, but the Iranian authorities did not let us," her cousin Irfan Mortezai told the Associated Press. "I couldn't reach her."
Police claim Amini suffered a heart attack on September 16 while in custody at the Vozara detention center, where she had been taken to be "educated," though many question this account. Following Amini's death, photos began circulating of her lying incapacitated in a hospital bed with tubes and wires all over her body and blood pooling from one ear. Amini's family believes she was beaten by officers in a police van following her arrest. "They have to explain for what crime, for what reason did they do this?" Amini's mother said in an interview with the Iranian news media, according to the New York Times. "I am her mother, and I am dying from grief." Amini's father told BBC Persia he believes authorities are lying about his daughter's death. "They're lying. They're telling lies. Everything is a lie … no matter how much I begged, they wouldn't let me see my daughter," he said.
Following Amini's death, Iranian president Ebrahim Raisi ordered the interior minister to investigate the case and reportedly called Amini's family to assure them that action would be taken. "Your daughter is like my own daughter, and I feel that this incident happened to one of my loved ones," he said.
Amini's death set off a wave of protests across the country.
Following news of Amini's death, protests spread across the country with women at the forefront. In Amini's hometown of Saqqez, in the Kurdistan Province, women took their hijabs off and chanted, "Death to the dictator." In Tehran, they ripped off their headscarves and waved them in the air; one protester climbed atop a car and set fire to her hijab. Women followed suit in Sari with a mass burning, tossing their headscarves into a large fire and dancing as they watched them go up in flames.
In Kerman's Azadi Square, a woman disposed of her headscarf, took scissors to her hair, and chopped nearly all of it off as the crowd around her cheered. Women around the world have been cutting their own hair in protest of Amini's death — including Abir Al-Sahlani, an Iraqi-born Swedish member of European Parliament, who chopped off her hair during a speech at the E.U. assembly.
For Muslim women, the choice to wear a headscarf is intended to be a deeply personal one, and Iran's overarching dress code has been a point of contention since its adoption after the Islamic Revolution in 1979. Women have long been arrested for pushing back against modesty laws — including in 2018, when 29 women were arrested for going without their hijabs in public.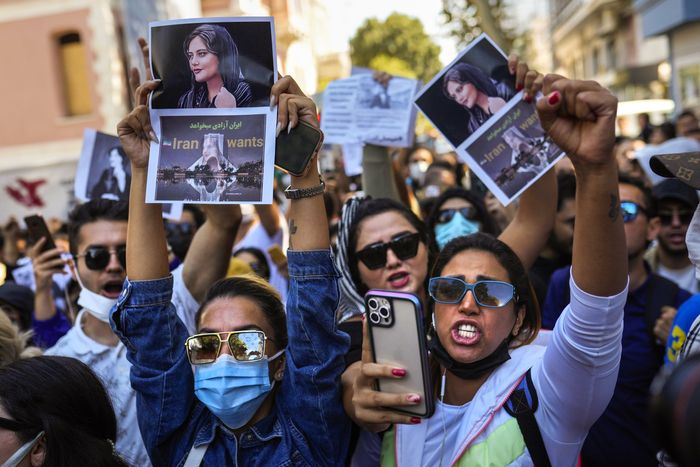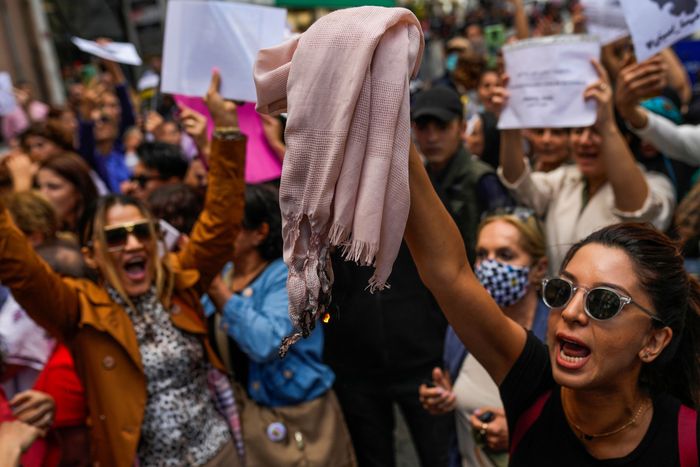 The protests have been met with a deadly crackdown from the Iranian government.
Across the country, growing protests have been met with brutal violence from Iranian forces, which have have killed more than 300 protesters. According to the New York Times, Iranian forces have said that the average age of protesters is 15. Amnesty International has called for "global action" in response to the deadly crackdowns.
Growing protests at universities across Iran have been met with police violence. In October, riot police reportedly confronted hundreds of students at Sharif University of Technology in Tehran with tear gas, paintball guns, and nonlethal steel-pellet guns and CNN reported that Iranian officials confirmed they were detaining student protesters in mental-health institutions to "reform them." The New York Times has documented "raids on high schools in cities across Iran, where plainclothes militia and intelligence agents interrogated, beat and searched students or where school authorities threatened or attacked students."
The BBC reports that Iranian authorities have used threats of sexual assault to subdue protesters. In September, an anonymous protester told the BBC that she and at least 60 other women had been detained in a police-station room so crowded they couldn't move or sit down. "They said we could not use the bathroom, and that if we got hungry we could eat our stools," said the woman, who alleged that authorities threatened the group with violence. "After almost a day, when we shouted and protested inside the room, they started threatening us that if we didn't keep quiet, they would rape us." A recent viral video verified by the BBC shows an officer forcing a woman toward a bike as another officer approaches her from behind and puts a hand on her buttocks. Tehran's Police Public Relations office is reportedly investigating the incident.
Anger has erupted around the deaths of protesters Nika Shakarami, 16, and Hadis Najafi, 22, who were killed by Iranian forces. Shakarami's family claims that security forces stole their daughter's body and improperly buried it. Sources close to Najafi's family told the BBC that officials had refused to return her body until her father agreed to say she had died of a heart attack.
The BBC has identified 45 of the confirmed casualties — including 16-year-old Sarina Esmailzadeh, a YouTuber who was beaten to death in Tehran in September by security forces armed with batons. Individuals from Iranian ethnic minorities have been targeted: Mohammad Rakhshani, a 12-year-old from Sistan Baluchistan, home to the Baluch ethnic group, is the youngest victim the outlet has identified so far. The government reportedly denies killing "peaceful" protesters and claims that 20 security personnel have died.
The reporter who broke Amini's story has been arrested and charged.
Since protests broke out, at least 48 journalists, including 18 women, have reportedly been detained and only one known to be released so far. According to the New York Times, Niloufar Hamedi, a journalist who was the first to bring attention to Amini's story, was arrested in September. She and fellow journalist Elaheh Mohammadi, who has reported on Amini's case, have been charged by Iran's judiciary with "colluding with the intention of acting against national security and propaganda against the state." Hamedi is reportedly being held in solitary confinement.
Journalist Christiane Amanpour was slated to sit down with President Raisi in September but said an aide told her the interview wouldn't happen unless she wore a headscarf. "I politely declined," Amanpour wrote in a Twitter thread. "We are in New York, where there is no law or tradition regarding headscarves. I pointed out that no previous Iranian president has required this when I have interviewed them outside Iran."
Amanpour said she told his aide that she "couldn't agree to this unprecedented and unexpected condition." She continued, "The interview didn't happen. As protests continue in Iran and people are being killed, it would have been an important moment to speak with President Raisi."
In an interview with state television, Raisi said that the "chaos is unacceptable" despite his being "saddened by this tragic incident." He added, "One cannot allow people to disturb the peace of society through riots."
Iran's supreme leader, Ayatollah Ali Khamenei, has blamed the U.S. and Israel for the unrest. "This rioting was planned," he said. "These riots and insecurities were designed by America and the Zionist regime and their employees."
More than 16,000 protesters are reportedly in detention, and Iranian lawmakers in Parliament are asking for "no leniency" for those arrested.
CNN reports that Iran has charged at least 1,000 people for their alleged involvement in the protests and that trials are ongoing. Iranian lawmakers recently urged the judiciary to "show no leniency" toward detained protesters. In mid-November, Iran's Revolutionary Court sentenced a protester to death, and five others were sentenced to five to ten years in prison. U.N. experts have urged Iran "to stop using the death penalty as a tool to squash protests," as international worry mounts that more death sentences could follow. At least 20 detainees are currently facing charges punishable by death.
Iranian public figures are risking severe consequences to show solidarity with protesters.
Several Iranian public figures are showing solidarity with anti-government protesters at extreme risk to themselves. Hossein Soori, the head of the country's boxing federation, is currently in Spain for a youth tournament and has announced that he will not return to Iran as a show of support for demonstrators. Before their opening match against England at the World Cup in Qatar, the Iranian national football team stood in silence as their national anthem played while fans cheered Amini's name. Speaking to reporters before the game, team captain Ehsan Hajsafi shared his condolences for "all the bereaved families in Iran" and expressed his team's support for those who have lost loved ones in the protests. "We have to accept that the conditions in our country are not right and our people are not happy," Hajsafi said, according to the BBC. Adding that the team players "cannot deny the conditions" in Iran and know they are "not good," he continued, "We are here, but it does not mean we should not be their voice … I hope the conditions change to the expectations of the people." Meanwhile, hard-line Iranian newspapers have blamed Iran's 6-2 loss to England on the protests and accused foreign enemies, including the United States, of sparking a "political media current" that "[damaged] the spirit of Iran's team."
Earlier this month, award-winning Iranian actresses Hengameh Ghaziani and Katayoun Riahi were arrested for removing their headscarves at protests and during public appearances. The country's state news media reported that both women stand accused of collusion and acting against national authorities. "How many children, teenagers, and young people have you killed — is it not enough with the bloodshed? I hate you, and your historical reputation," Ghaziani wrote prior to her arrest in a since-removed social-media post denouncing the government, according to the New York Times, adding, "This may be my last post."
This post has been updated.