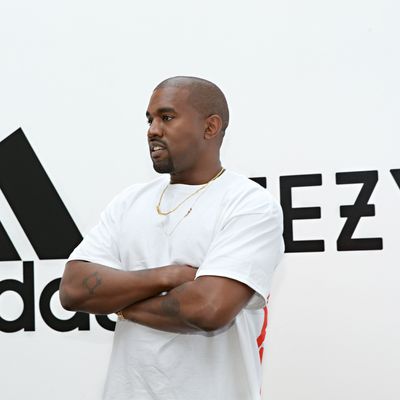 Photo: Jonathan Leibson/2016 Getty Images
In an open letter to the CEO and executive board members of Adidas sent on Tuesday, former Yeezy employees alleged "years of verbal abuse, vulgar tirades, and bullying attacks" from Ye that left them "fearing for their lives," according to Rolling Stone, which exclusively obtained a copy of the letter.
One "young creative" who reportedly interviewed with Ye in Chicago in 2018 described his surprise to Rolling Stone when he entered the room for the interview and found Ye dancing to his own music. Ye allegedly said, "My wife just sent me this," and revealed an intimate photo of his then-wife Kim Kardashian West on his phone. Another time, also in 2018, Ye reportedly showed members of the Yeezy creative team an explicit video of Kardashian.
Rolling Stone's reporting follows ongoing backlash Ye has been facing since going on various antisemitic tirades on social media and in interviews in recent months. His hateful rants led to the talent agency CAA dropping him and several brands distancing themselves from him. Notably, Adidas finally cut ties with Ye after receiving immense public pressure from celebrities, politicians, and fans to do so.
Matt Sullivan and Cheyenne Roundtree, who wrote the Rolling Stone article, spoke with more than two dozen former Yeezy employees who allege that executives at Adidas knew about Ye's behavior but did nothing to stop it. Their open letter is a call to executives to address "the toxic and chaotic environment that Kanye West created."
In the letter, employees call out Ye's "very sick pattern of predacious behavior toward women," and allege that he "exploded at women in the room with offensive remarks, and would resort to sexually disturbing references when providing design feedback."
"There was no accountability," one of the employees told Rolling Stone. "Difficult moments happened, with executives in the room — VP level or higher — and nothing would be done. You'd still show up to work the next day."
Ye could not be reached for comment by Rolling Stone. A spokesperson for Adidas said in a statement to the Cut on Wednesday that the company "does not tolerate hate speech and offensive behavior and therefore has terminated the adidas Yeezy partnership."
"We have been and continue to be actively engaged in conversations with our employees about the events that led to our decision to end the partnership," the statement read. "They have our full support and as we're working through the details of the termination, we have been clear that we want to keep our employees' talent and skills within the organization. Having said this, we will not discuss private conversations, details or events that lead [sic] to our decision to terminate the adidas Yeezy partnership and decline to comment on any related speculation."