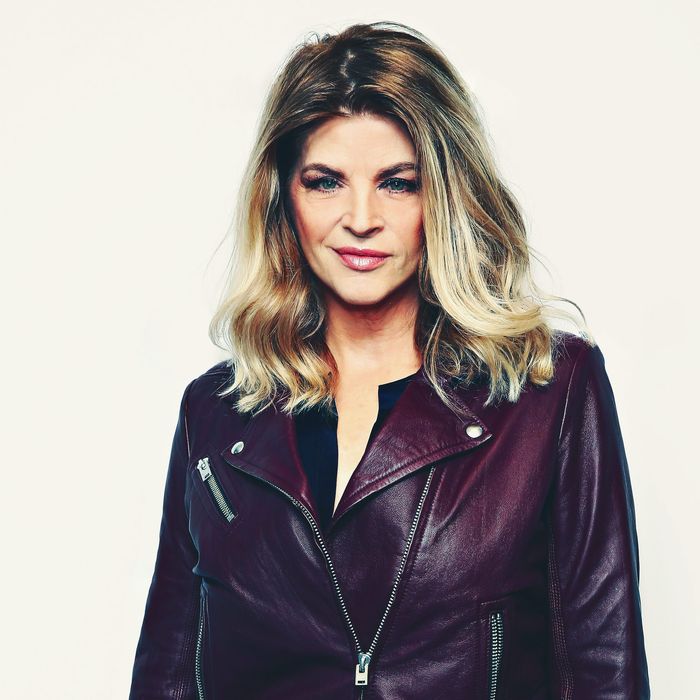 Photo: Cindy Ord/Getty Images
Kirstie Alley was a writer and performer who had a habit of randomly creating pop-culture moments that defied all logic. On Monday evening, Alley's children confirmed via Instagram that the 71-year-old actress had died of cancer. "She was surrounded by her closest family and fought with great strength, leaving us with a certainty of her never-ending joy of living and whatever adventures lie ahead," the statement reads. "As iconic as she was onscreen, she was an even more amazing mother and grandmother."
Whether in her appearances on Oprah, her Jenny Craig ads, or her questionable tweets, one thing was always true about Alley: She gave people something to talk about. Speaking of the tweets, no celebrity has had a built-in memorial format quite like Alley, who famously bid adieu to Stephen Hawking with the most perfect 11 words ever crafted on the app.
Alley's raspy voice, emotive eyebrow, and comedic brilliance, plus her unapologetic identification as a Hollywood Scientologist, made her someone we will deeply miss reading about. Of course, many of her classic films and TV shows will be etched in our collective memory for years to come — but her appearances, headlines, and greatest moments in pop-culture history are what will live on in our hearts.
Below are the ten Kirstie Alley moments we can't quite believe happened but can't stop talking about.
When she debuted on television.
In 1979, Alley made her first appearance on American TV as a contestant on the syndicated Match Game. The host introduced her by saying, "This lady is from Wichita, Kansas. She's out here on assignment, and we're lucky to have her here." The panelists included Jamie Lee Curtis and Betty White, whom Alley would beat for Best Lead Actress in a Comedy Series at the 1991 Emmys.
When she reinvented television with Fat Actress.
Her 2005 Showtime series consists of only seven episodes, but each one is more bizarre and brilliant than the one before. Whether she was manifesting for Kid Rock to tell her she had the best body he'd ever seen; going to war with her nemesis, Mayim Bialik; or having Kelly Preston eat tissues for lunch while telling her that she and her assistants need to get on a "parasite diet," this show was truly ahead of its time.
It's not a celebrity's job to understand air-traffic restrictions, and according to her rep, "Kirstie was coming from Pennsylvania that morning and was simply exploring all options of transportation." She eventually made a more low-key entrance via car with Nicole Scherzinger of the Pussycat Dolls.
When she explained scientology.
The 2018 U.K. version of Celebrity Big Brother had an American-politics theme, but when expected cast member Stormy Daniels pulled out hours before production was due to begin, Alley stepped in as the focal point of the show. In this clip, she expertly answers nothing about what Scientology is.
When she reinvented the made-for-TV movie genre with Family Sins.
In 2004, Alley starred in Family Sins as Brenda Geck, a pillar of her community who actually spends her days teaching her foster children how to shoplift. This YouTube clip, in which she explains in detail how to casually steal from a department store, encapsulates her sinister appeal.
When she would tweet anything that came into her head.
Her Twitter made headlines regularly, but Alley's overlooked masterpieces were what most energized us. One of her simplest sentiments came after she had presumably just watched the film Welcome to Marwen and tweeted, "I just watched Welcome to Marwen … LOVED." She also once tried to hunt down the actor from the infamous "Liberty-bibberty" Liberty Mutual commercials by going directly to the source (tweeting at Liberty Mutual).
When she reinvented interior design.
When Alley's Los Feliz home went up for sale in 2021, we saw for the first time what was probably the most gorgeous bathroom in America. It featured an "under the sea" theme with jellyfish and other marine life on painted tile. Truly a place to unwind.
When she made the greatest film of all time.
Alley's film catalogue includes some iconic characters, from her first role as a Vulcan who somehow has feelings in Star Trek II: The Wrath of Khan (a role later passed on to Kim Cattrall) to being the lady you want to be adopted by in It Takes Two, Alley brought everything she had to her roles. No performance was more important to a generation or more of a pitch-perfect camp template than that of Gladys in Drop Dead Gorgeous. The former pageant winner and queen-bee stage mom of Mount Rose ends up in prison when a swan eats her baby.
When she told us how many lemurs she has.
Alley was a pioneer of reality TV. A veteran of Dancing With the Stars and Celebrity Big Brother U.K., just this year she appeared as the Baby Mammoth on The Masked Singer. During her reveal, she told us how she has 15 lemurs because they keep "having twins," then she did a little dance.
When she "swapped cocaine for floral arrangements."
Alley once told her Twitter followers, "For u who don't know much about me, I used to be a coke head," then went on to explain her tradition of spending the money she would have spent on drugs on floral arrangements instead, which led to a "Page Six" headline fit for a legend.
Love her or hate her, you will never forget her. Alley Cats around the world will be looking to watch Toothless (1997) tonight; though it isn't available on any streaming platforms, you can watch it in several YouTube clips here.