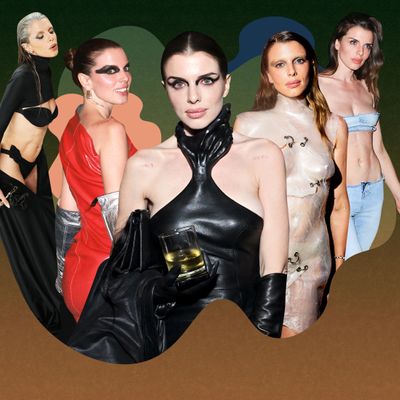 Photo-Illustration: by The Cut; Photos: Getty Images, Shutterstock
The truth is, we owe Julia Fox an apology.
How could we have known way back, hm, 11 months ago that we were coming face-to-face with one of the all-time pop-culture greats?
Let's go back to January. New Year's Day to be exact. The actress and Ye were first spotted ringing in 2022 together at a club in Miami before grabbing dinner the following night at Carbone, where an Us Weekly source reported that the pair were "having fun" during the "casual" outing. This fledgling romance was immediately met with splashy headlines, like "Julia Fox 'Couldn't Care' Less About the 'Attention' She's Getting from Kanye West Romance," "Kanye West, Julia Fox are in an open relationship: They're 'evolved beings,'" and "Ye and Julia Fox Are Going Full Britney and Justin." At one point, Fox even broke the fourth wall of celebrity media by skipping the source-quote middleman entirely and giving Interview magazine a first-hand account of their "date night." In the subsequent weeks she would go on to provide a near-constant stream of information to the press, addressing everything from exactly what the two chatted about over their spicy rigatoni to the ubiquitous claims of clout chasing.
While Fox has been a star of the downtown scene for years now, it was her sudden high-profile courtship with Ye that turned her overnight into a bona fide, talked-about-on–E! News phenomenon. Fox proved to be just as much a lightning rod for both controversy and the paparazzi as her new beau, and it seemed the then-problematic, now-full-blown-antisemetic artist had weirdly met his match in the Uncut Gems star. For a month and a half, the pair were spotted out every night, leaving places like the Slave Play theater and Lucien, performing copious amounts of PDA as Fox modeled one barely there denim or leather (or both) ensemble after the next.
There was something about this media-heavy relationship, fresh off the breakdown of West's seven-year marriage to Kim Kardashian, that felt suspiciously familiar. Ye was once again back in the catbird seat of creative director, micromanaging the aesthetics of his dream woman. He even re-created the iconic closet makeover scene he and Kardashian had previously acted out on her reality show in the early days of their relationship on his first date with Fox, providing her with an entirely new wardrobe courtesy of Balenciaga and Diesel — the couple's paid sponsors. As with his exes, the rapper took credit for everything about Fox's sudden surge in popularity and visual transformation down to the smear of black eye shadow she wore to the Schiaparelli show in Paris. It seemed West had finally found a new living doll to play dress up with, and Fox was very much along for the ride. This is Josh Safdie's muse we're talking about, after all.
But today, all these months later, those tabloid-friendly antics seem like little more than a masterclass in personal branding. While at the time many assumed it was West using Fox to make his ex-wife jealous, it was in fact Fox who proved to be playing the real long game of fame. In the midst of their whirlwind romance, she explained on her months-old podcast, Forbidden Fruits, that growing up she was a "die-hard, OG" fan of Keeping Up With the Kardashians, a show largely about the construction and perpetuation of the mythology surrounding that family and their enormous media empire. The obvious conclusion: Fox subconsciously absorbed Kim's tried-and-true formula for stardom and then actually improved on it. Fox doesn't just call the media, she provides her own reporting. She doesn't need a whole camera crew following her around when there's a tiny panopticon masquerading as a cell phone in everyone's pocket.
And it's in these unvarnished snippets of reality captured on an iPhone where Fox really shines. On any given day you can find the actress on TikTok delivering a train-of-thought monologue while responding to comments from the bath, improving scenes based off prompts supplied by her fans, giving detailed instructions on how to make a bikini out of resin-dipped autumnal leaves, and casually sharing the type of juicy anecdotes most stars would hoard for a future Tonight Show appearance. She excels in this medium where so many other celebrities flop because, despite the ever-escalating media coverage surrounding her, nothing about her day-to-day life has fundamentally changed. She makes no apologies for her lack of glam squad, the harsh fluorescent lighting, or the swirl of children's toys and detritus strewn behind her in every shot. Fox remains a real person, and her refusal to filter out all the unglamorous parts forces her audience to view her in that same light.
Instead of attempting to photoshop her perceived flaws out of existence, she leans all the way into the meme she's become. The very things that the public first abhorred about the ingénue are now her signatures: the vocal fry, the smokey eye, and the interview one-liners that sound simultaneously like she's uttered some ineffable universal truth and the dumbest stoned thought you've ever had. But most evocative of the Fox effect is the way even her once universally maligned fashions have become the current blueprint for celebrity style.
The actress's strapped-on garments, pubis-baring waistlines, and ever-present joots have gone from being a fashion punch line to inspiring every young famous person to start dressing like the star of a Matrix porno parody filmed inside a Levi's warehouse. Because what's ingenious about the actress's avant-garde ensembles is that they aren't just more of the same nudie red-carpet tabloid-bait we've grown accustomed to over the past decade. Her brand of flesh-baring doesn't feel sexy or scandalous, per se, but rather aggressively assertive. Fox has said she has never been interested in appealing to the male gaze and thus is unafraid of looking ugly or strange. She is dressing for the far more discerning eye of the girls, gays, and theys. And it's exactly this extreme confidence to look unappealing that makes her so downright appealing. Because Fox, unlike many of her red-carpet contemporaries, also has the added benefit of having an incredibly charming personality. And as she recently told Ziwe, thanks to her work as a professional dominatrix, she had to learn from a young age how to mold herself to fit her audience's every fantasy.
What makes Fox a thoroughly modern celebrity, however, isn't just this meta understanding of the inner workings of fame, but the fact that she seems totally unafraid of shattering its illusion. On TikTok, those myriad fantasies she presents on camera and red carpets come crashing down as she explains just how strange and useless the trappings of fame truly are. The actress can regularly be found on the clock app railing against the patriarchy, speaking frankly about the struggles of being a single mother, and sharing her politics, her opinions, and her recipe for banana bread. As we grow increasingly disillusioned with the picture-perfect vision the Instagram algorithm has been serving us for the past decade and the dysmorphias it's spawned, it makes sense that we would look to a new type of star who manages to feel very authentic, even through the mediator of our screens.
Fox's au courant brand of famous person is not a replicable one, a fact that became immediately clear following her breakup with Ye as the rapper attempted to re-create the media lightning in a bottle that was their six-week-long relationship, following the same PR fashion formula on one Instagram unknown after the next to exponentially diminishing returns. What Ye failed to grasp is that Fox is not just a blank template for overnight fame to be replicated ad nauseam, but a fully realized human being. The beauty of the actress is in that very inimitable singularity. While there will always be other "It" girls, there will never be the particular chaotic combination of personal traits that comprise Julia Fox.
Being a person with any modicum of notoriety on the internet who allows the public such free rein into their private life is inherently a double-edged sword. All those posts, tweets, clips, and quotes filled with unvarnished thoughts can just as easily become ammunition should her audience ever decide to turn on her. You start to understand why most A-list personalities hide behind the thick, anodyne armor of PR professionals. However, perhaps this is just yet another part of Fox's grand plans to make over Hollywood in her own image and prove that stars really are just like us. Not silver-screen demigods, but human beings as susceptible to error, bias, and misunderstanding as anyone else.
Because at the end of the day, whether you love her or hate her — are you not entertained?