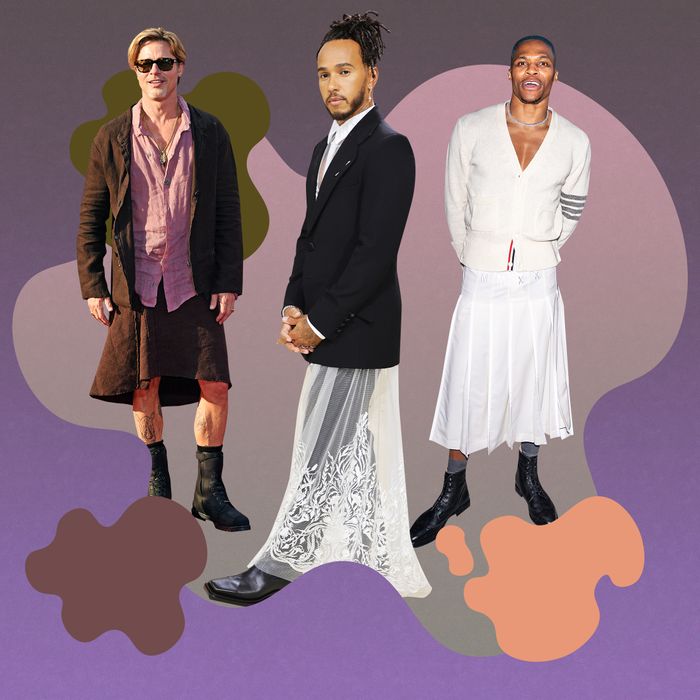 Photo-Illustration: by The Cut; Photos: Getty Images
Men's skirts, at least according to fashion magazines, are having a moment. Everyone from NBA player Russell Westbrook to Pete Davidson has tried one out; our most masculine men have flirted with them. Gendered dressing, says a New York Times analysis of 2022 spring fashion shows, is at an end. And perhaps it is, on catwalks and red carpets, for the guys who go to Thom Browne shows and appear on the cover of Vogue. But how trendy is a trend if only a handful of people, in a handful of spaces, can get away with it?
There's some evidence that men's skirts might be creeping into the mainstream: Adidas now sells a gender-neutral skirt, Virgin Atlantic relaxed its uniform policy this summer to allow men to wear skirts, and trending TikTok hashtags like #boysinskirts and #clotheshavenogender suggest that Gen Z might be embracing the skirt with more verve than older generations.
This past summer, writer Rhik Samadder took to the streets of London in a pink miniskirt to see if a regular guy like himself could pull off a skirt in public. He realized, pretty quickly, that he probably could not: "Passersby stare at me with narrowed eyes, like I'm a piece of long division," he wrote of the experience in The Guardian. "No one really had a neutral reaction to it," he later told me over the phone. "And I knew I wouldn't really be doing it again. I just don't have the strength to suffer that kind of scrutiny." Even more regular skirt-wearers have to be mindful of context. Mark Bryan, a robotics engineer and model who lives in Germany, started incorporating sky-high Louboutins and skirts into his wardrobe about five years ago. His approach to wearing skirts in the wild is mostly to ignore the haters, but he's well aware that different environments beget different reactions. "My hometown is Dallas; there are parts of Dallas where I have no problems wearing a skirt, but then there are parts of Texas where I wouldn't even try," he says.
While skirts and dress-like garments — dhotis, hanboks, and fustanellas, for example — have long been a part of menswear in many cultures, the skirt never fully took off among American men. "There were several experiments with 'unisex' fashion in the 1960s," explains Kimberly Chrisman-Campbell, fashion historian and author of Skirts: Fashioning Modern Femininity in the Twentieth Century. She mentions Rudi Gernreich's unisex miniskirts as well as dashikis and djellabas via the Black Power movement in the '70s. "Skirts, including dresses and kilts, were a big part of grunge fashion — Nirvana, the Lemonheads, and Smashing Pumpkins wore them onstage," she says. But men's skirts mostly exist as fashion blips rather than wardrobe staples, making brief appearances via adventurous designers, political movements, and avant-garde musicians.
"I do think unisex clothing is more in vogue," says menswear writer Derek Guy, "but it's hard for men to wear skirts in particular because there has been no cultural movement around them." In order for a garment to really take hold, Guy explains, it needs to be more than a meaningless "artistic project" — like Brad Pitt wearing a skirt at the Bullet Train premiere. A trend that "made sense," he says, is the rise of mesh shirts, which were big in gay culture before being picked up by straight guys and brands like Aimé Leon Dore (a phenomenon that has also sparked debates about appropriation). Still, the shirts caught on in the mainstream because there was a real foundation there — a culture for people to reference. And perhaps it'll take a mesh-shirt moment for the dude skirt to truly take hold — not another magazine cover or famous man in a Rick Owens kilt.