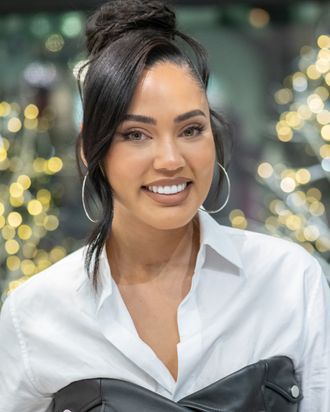 Photo: Bloomingdale's/Matthew Carasella
The holidays are not low-key at Ayesha Curry's house. The entrepreneur who founded Sweet July, a website and subscription box for home goods, takes them very seriously. How she shows her love is through food. She cooks for her husband, Steph Curry, and their three kids: "We always have half-traditional Thanksgiving, so your turkey or your ham, your mac and cheese. But then we also do a full Jamaican spread, so we have, like, oxtail, curry, goat rice and peas, Chow mein — which I know sounds, like, not Jamaican, but it it totally is."
Curry is really good at giving gifts, which is the reason behind her partnership with Bloomingdale's. Until January 12, the Carousel at Bloomingdale's is offering all-in-one gift boxes featuring 16 BIPOC- and women-owned brands like 54 Thrones, Zach & Zoe, and Partake along with Curry's own Sweet July brand.
Food is your love language. Where do you think that comes from?
Growing up, that's how my mom, grandma, and parents showed me love — by nourishing us. I took that with me into my adulthood. Giving somebody a bowl of chili when they come over and nourishing the soul through food is so important to me. It makes such a difference in relationships to have that moment together to put the phones down and enjoy a good meal, a good glass of wine, and great company.
But you draw the line at butter boards?
I'm anti–butter board. I think it's unsanitary. I don't like it. You're gonna have people double-dipping. I feel like a fly could get in the butter and stick in there. It seems like a lot of prep and a lot of work for very little reward. I'm not into butter boards.
What's the best gift you've ever gotten?
I was gonna say, like, 'Oh, my kids,' but I did all the work, so I'll say when my kids give me handmade things. Hopefully, this holiday I get something that they made at school. When you get into adulthood, it's those things that really stick and create those core memories in your mind.
Then I'd say, at this point in my life, anything self-care: Give me an oil to lather on, give me a new crystal, and you've done well.
Crystals? Do you believe in them?
Yes. I'm definitely a full-moon, new-moon girl. I'm manifesting, setting intentions, doing all of that. I think it's so important, regardless of what you believe in. I think the science behind it speaks for itself. Following the cycle of the moon and being able to start fresh every month is so nice.
I do have a healing hut in my backyard. There's all my crystals in there, my books, my incense. It's just a space where I can go and, like, meditate and and, you know, try and be grounded.
So I am guessing you have a really special nightly ritual?
I have a gratitude journal, and I try my best to reflect every night before I go to bed. I try to learn one new thing, like a new mantra or one new prayer, for my life every night. Something that I can close my eyes and reflect on in my sleep. Or at least that's the intention — that I'm going to create these sweet dreams for myself by thinking of something positive before I go to bed. That's become a ritual for me.
I was just telling my husband the other day that I think we should take 30 minutes every night for us to separately do something to better ourselves after we put the kids to bed. Whether it's reading, taking a bath, or a mini-facial. Then at the end of the day, we have something new to bring to the table for each other, and we feel refreshed and revived. It's made a huge difference already.
This interview has been edited and condensed.