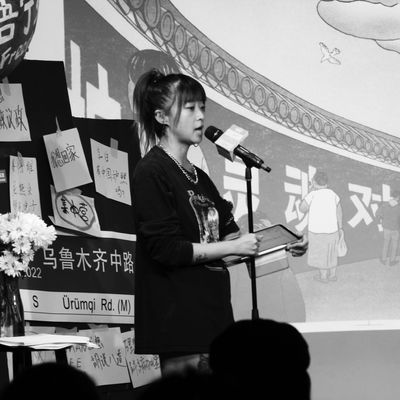 Days after protesters flooded the streets of dozens of Chinese cities to demand the country relax its strict zero-COVID policies, young Chinese students and professionals packed the cozy Caveat Theater on the Lower East Side. They'd all scored a coveted ticket to "女子主意," best translated as "women's ideas" or "good ideas," which is the only feminist stand-up comedy show performed in Chinese language in New York. They sipped cocktails and chewed on popcorn as they waited to be bombarded with punch lines that bring "forbidden pleasure" to people who grew up in China, as one audience member put it. But anyone who thought they were in for a light evening of entertainment was soon forced to confront something darker.
The show's advertised theme, "what is home," served as a reminder that China's ironfisted COVID travel rules had kept most of the audience and performers away for at least three years. The performance began with an audio recording of a Uyghur reading out the names of the victims of a deadly fire in Urumqi, in China's Xinjiang Province. The fire was the spark that ignited the protests in China in late November, as people believed the country's draconian COVID lockdowns made it more difficult for people to escape the residential building and for firefighters to put out the blaze. Signs for "Urumqi Road," where one of the major protests took place in Shanghai, were installed around the theater; a red balloon reading "Give me liberty or give me death" was tied to a stool on the stage.
The show's co-host asked the audience what they missed the most about their moms' cooking, joking about her own working mom's "magical ability" to feed her a different dish every day by taking her to a canteen. Fei Fei, who's in her 30s and asked to be identified by her stage name, soon switched from talking about braised ribs and steamed sea bass to the pain her violent father had inflicted on her and her mother, and the happy life she said they've been enjoying since his death. "Your home would only become a home after the bully at the home is gone," she said. Then she asked the audience to imagine the home those living in Hong Kong, Taiwan, and Xinjiang could find if they didn't have their own bullying parent: the Chinese government.
Combining feminism and politics in this way is unimaginable in China, where activists can be arrested, Me Too victims are isolated, and the LGBTQ community is silenced. But it's a hallmark of the stand-up comedy series that Fei Fei and feminist activist Xiaowen Liang launched in May. They and other performers are part of a larger circle of activists, students, and young professionals who participate in feminist protests in New York. They post photos from the demonstrations on social media to inspire debate back in China, raise money to support Chinese Me Too victims, and counterpunch against the misogynistic attacks the victims face online. They also played a role in coordinating a rally across the street from the Chinese consulate in midtown in solidarity with the zero-COVID demonstrations. The rally stood out from some other protests for its explicitly feminist signs with slogans like "The liberation of queers is the liberation of all people" and "We don't want patriarchy, we want diversity."
The comics draw their punch lines from the harsh realities of gender inequality and totalitarianism in China. Alice Wang, a first-time performer in her 20s, cracked a joke about her relatives' concern that she may find a "foreign boyfriend" and poked fun at their lack of awareness around the LGBTQ community. Others joked about China's resistance to democracy or the hazmat COVID volunteers.
The audience also was provided with pieces of plain A4 paper, which protesters held up during the demonstrations in China as a symbol of their struggle against censorship, and asked to write whatever they thought people back home would say if they had the chance. A performer going by the stage name Xiao Qi said the last time she saw so many people holding pieces of paper was years ago, when it was a fad for Chinese women to show their waists were as slim as the width of one sheet. Holding the paper from the waist to the chest is "one small step for the paper, one giant leap for China," she said.
Xiao Qi, a third-time performer, told me she didn't plan to talk about politics when she started doing stand-up. But she described this show as her "political coming out": "The first time I performed, I talked about male dominance in the movie industry. Then I realized it was not enough," she told me. "If we only focus on gender disparities and equal wages, we are missing the elephant in the room."
Talking about politics doesn't come organically to many young Chinese. Government censors ensure that even a veiled mention of sensitive topics like the Tiananmen Square massacre won't live for more than a few seconds online, and history teachers can lose their jobs by talking about such events in class. "The first time my mom told me about the 1989 Tiananmen pro-democracy movement was in 2020, as a warning for me to not get involved in protesting against the COVID policies," Susan Zhang, an industrial designer in her 20s who performed in the show, told me.
"The younger generation grew up in a prosperous China, and they have not suffered from the system as much as we have," Yang, a performer in her late 40s who asked to be identified only by her last name, told me. So she was thrilled to see younger faces at the solidarity protests in New York.  "I thought they were indifferent," she said. "Now I feel much closer to them."
But even in a "political coming-out," there is an element of fear. Many performers in the stand-up show, as well as protesters at the solidarity rally, did not want to be identified by their full names. While the recent uprising in China led to the meltdown of many COVID restrictions, some protesters have been arrested and the Chinese government has tried to blame "sinister foreign forces" for instigating the protests. Liang, the co-founder of the show who became a renowned feminist activist when she was a college student in China, has been a frequent target of nationalistic internet trolls herself. Even after she moved to the U.S., police visited Liang's parents and urged them to restrain her speech on social media.
Still, Liang told me the recent protests gave her hope. "Many overseas Chinese students started discussing how to mobilize and organize rights activities," she said. "This is a lesson we had no chance to learn in China." When Wang went to a demonstration against China's COVID policy, her mom, an immigrant living in the U.S., told her "to wrap myself up and avoid the cameras." But Wang said fear wouldn't stop her from doing what she believes is the right thing. "People in China cannot say whatever they want to say, so we should say it for them," she told me.
As the show went on, performers gathered the pieces of paper on which the audience members poured out their wishes — "I want to go home," "I want to talk about and participate in politics," "No internment" — and fixed them onto a piece of blue-painted cardboard on the stage that mimicked the ubiquitous metal foil used to block the entrances of residential buildings during China's lockdowns. At one point, the board fell over accidentally and the audience started cheering. "It fell out of fear," Fei Fei, the co-host, told the audience. "Our paper has weight."