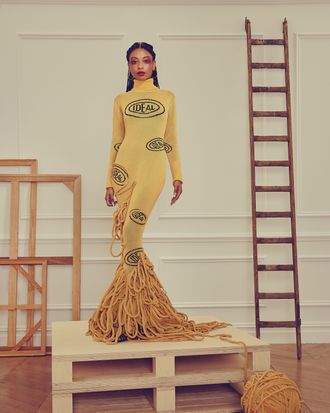 Jean-Michel Basquiat's family, which is behind his legacy and the King Pleasure exhibit, commissioned nine Black designers — Hanifa, Theophilio, Brandon Blackwood, Who Decides War, Johnny Nelson, Bed on Water, Homage Year, Head of State, and Advisry — to create looks based on the late artist's work. In collaboration with Black Fashion Fair, the designers created a capsule collection of ready-to-wear apparel and accessories, merging their signature styles with prints of Basquiat's art. The collection, currently on view, includes a dress by Washington, D.C.–based designer Hanifa that merges her signature form-fitting knitwear with Basquiat's art; slouchy boots by accessories designer Brandon Blackwood; and a structured blazer by Jamaican designer Theophilio. While those capsule pieces are not for sale and are part of the exhibit for a limited time, there are other pieces that are available to purchase.
So What Is on Sale?
What is on sale is over 16 pieces of merch including a sweater featuring a painting by Basquiat in knitted form for $325, a throw blanket featuring Basquiat art and tassels for $480, stud earrings in the shape of Basquiat's recognizable crown art for $175, a Basquiat painting printed tank top for $200, and more.
My pick? Brandon Blackwood's cult-favorite bamboo purse adorned with neo-Expressionist Basquiat art on the front and back for $475.
How Do I Get It?
You can shop the collaboration pieces at the King Pleasure exhibit in Chelsea at 601 West 26th Street until December 31, 2022, where you can also experience the intimate exhibition that features rarely seen paintings, drawings, and artifacts, all from the Basquiat family's estate. It is also available on Black Fashion Fair's website.
For more from the Cut Shop team, follow us on Instagram and Twitter, where we share our best new finds, favorite styling tricks, and more.