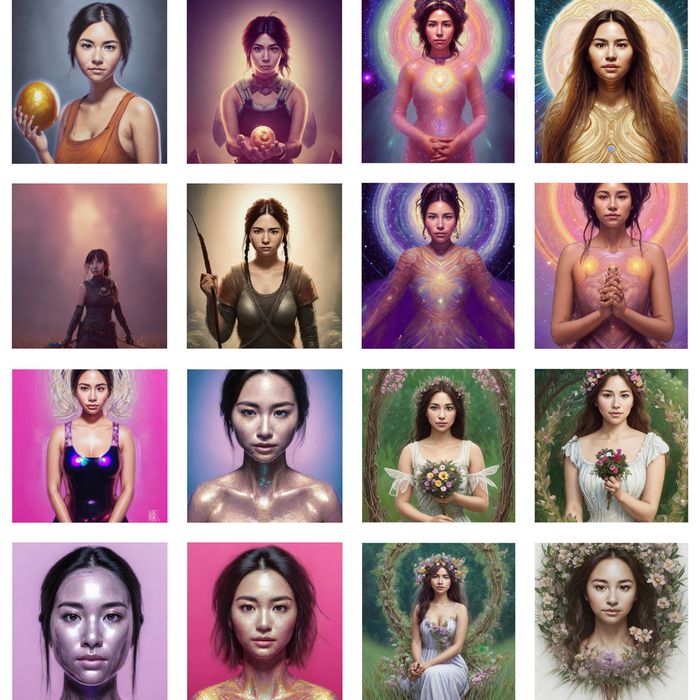 The writer's AI avatar.
Photo-Illustration: by The Cut; Photos: Lensa
Picture your perfect self. Does she have flawless skin, big boobs, a symmetrical face, big boobs, immaculately styled hair, and, did I mention, big boobs? No? Well, many of the female avatars created by Lensa AI, the recently popular photo-generating app, seem to have one — er, two — thing in common.
Why are we learning all this? Lensa, which has been around since 2018, started a self-portrait generator back in November. It has shot up to the No. 1 spot on the App Store, and now you're seeing these self-portraits everywhere. Although the app is free to download, in order to generate your Magic Avatars, you need to pay: $3.99 gets you 50 avatars, $5.99 gets you 100, and $7.99 gets you 200.
I chose that middle pay option (100 AI avatars for $5.99) because it's technically a business expense, but what would I do with two hundred fake pictures of myself? I uploaded 13 photos of my face, following the app's recommendation of ten to 20 headshots (full-body pictures aren't recommended) from various angles to allow for the best results. After 20 minutes, my 100 Magic Avatars were ready.
The results were a little underwhelming but still fun in a self-indulgent way. The best ones looked like fairly accurate illustrations — not photorealistic but still shared a likeness with me. Most of the avatars showed an ambiguously Asian woman to whom I suppose I could be distantly related. Unfortunately but unsurprisingly, Lensa AI seems to have consistent difficulty generating accurate images of people of color. Creator Quen Blackwell got her AIs back and wrote, "Y'all that AI shit turned me into a slave. no more. fun is over." Yikes. I'm half white, half Filipina, and any nuance in my appearance seemed to get lost in the process. Nearly all of the avatars had the polished sheen of a Facetuned photo — the skin a little too smooth, the facial features a little too symmetrical. Although only two of my 13 submitted photos contained the slightest suggestion of cleavage, the app filled in the gaps quite literally. About a quarter of the pictures featured a woman who just barely looked like me with a chest that can only be described as ample.
This seems to be a common occurrence among female Magic Avatars. "I noticed that what they lacked in resemblance to me, they made up for in tits," wrote Eva Evans (@itsevaevans) over email. She made a TikTok about it too. "They were more just images of generic hot chicks with blue eyes and a few other me-ish features."
The issue has been prevalent enough that the Prisma Labs Magic Avatar FAQ page has a section titled "Why do female users tend to get results featuring an over sexualised look?" It says that because the program was trained on "unfiltered internet content," Lensa AI "reflects the biases humans incorporate into the images they produce." In other words, it learned from watching us. And now some plastic surgeons are saying that patients are bringing theirs in for reference photos. Double yikes!
Lensa AI also claims that "occasional sexualization" occurs across all gender categories, though it's notably easier to find examples from women. Still, for research purposes and self-indulgent curiosity, I bought 100 Magic Avatars of my husband for an additional $5.99. There were some immediate differences.
My portraits were divided into ten different stylistic categories: Anime, Stylish, Light, Cosmic, Fantasy, Kawaii, Pop, Iridescent, Focus, and Fairy Princess. His ten categories were Superhero, Stylish, Mystical, Sci-fi, Astronaut, Anime, Adventure, Cyborg, Cosmic, and Rock Star. (Men love adventure and space; women like fairies and being cute.) Some images made his neck thicker and his shoulders broader; any avatars showing more than his face gave him a nondescript Marvel body, biceps somehow visible even in the bulkiest clothes. Unlike mine, the majority of his images looked a lot like him. (He's also white.) There were even some avatars that I would have believed were actual photographs of him had I not personally paid $5.99 for a computer to make them. While his avatars' faces were equally as smoothed and polished as mine, none seemed oversexualized. One did have 12 fingers, though.
Lensa AI prohibits the "intentional use of the app to create explicit content" under its terms of use, but it's pretty easy to trick Lensa AI into producing NSFW content. When TechCrunch fed the AI doctored images of one celebrity's face on another person's nude torso, Lensa AI generated nearly a dozen topless photos featuring that celebrity's face — an issue that exacerbates the problem of revenge porn. A press release from Stability AI, the company that developed Stable Diffusion, states that it hopes users will engage with the program in an "ethical, moral and legal manner." It has also taken recent measures to make it more difficult to generate pornographic images using its model, including removing all nude and pornographic images from Stable Diffusion's training data. However, "all these efforts haven't yet made AI absolutely safe from biased content and explicit imagery," the release states. For this reason, the company says the program is not intended for minors.
There's also the issue of user privacy, a concern that comes up every time a face-editing app goes viral. Lensa AI's privacy policy states that while the program deletes all user-submitted photos and image metadata after 24 hours, Lensa does use your photos to help train its AI. Of course, that will do little to discourage those of us who shamelessly seek ways to feed our ego.
"There's something both masturbatory and masochistic about seeing yourself rendered as a 'perfected' and totally unattainable version of yourself," Evans wrote over email, something she expands on in a Substack post. "My avatars created by Lensa AI didn't look enough like me to satisfy that itch, so I immediately went to another AI app in the pursuit of better avatars (and the glorious misery of being faced with a better version of myself)." That's one solution!