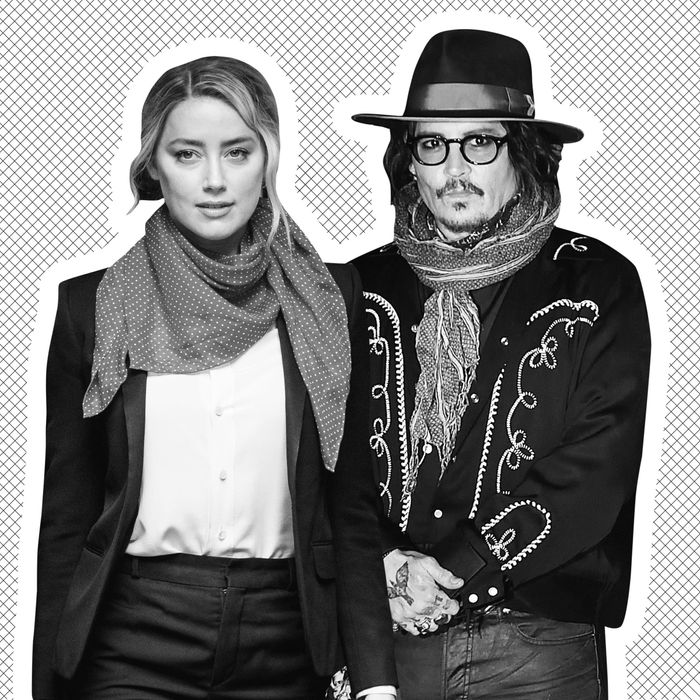 Amber Heard and Johnny Depp.
Photo-Illustration: The Cut. Photos: Getty Images
After two days of deliberation, a jury returned its verdict in the defamation trial between Amber Heard and Johnny Depp on June 1: Heard defamed Depp three times in her 2018 Washington Post op-ed, while attorney Adam Waldman — acting on Depp's behalf — defamed her once in his 2020 Daily Mail article.
The decision concluded six weeks of grueling testimony in Virginia's Fairfax County Courthouse, the latest installment in a heated legal volley that began in 2016. In her op-ed, Heard identified herself as a survivor of sexual violence whose career suffered when she named a powerful man in Hollywood as her abuser. She did not mention Depp directly, but given how publicly the actors' divorce played out and how central Heard's allegations of domestic violence were to the proceedings, Depp argued that most readers would have filled in the blank. He had weathered a fair amount of bad press by that point, but nonetheless, sued Heard for defamation. After losing her bid to have the case dismissed, she sued back. On November 23, nearly six months after losing in court, she filed an appeal arguing that Depp's lawsuit never should have gone to trial in the first place and that the outcome "undoubtedly will have a chilling effect on other women who wish to speak about abuse involving powerful men." But a few weeks later, Heard said she settled the suit, writing in an Instagram post that she "finally had the opportunity to emancipate" herself from a situation she "attempted to leave over six years ago" on terms she "could agree to."
Below, a timeline of the current case and how they got here.
Amber Heard and Johnny Depp: a quick primer.
Heard and Depp met on the set of The Rum Diary and began dating by 2012, after he separated from his partner of 14 years, Vanessa Paradis, and she broke up with her partner, Tasya van Ree. The actors married in early 2015, and despite many assurances from unnamed tabloid sources that everything was "great" and "they are great together," Heard filed for divorce 15 months later. Depp greeted this news with a terse public statement: "Given the brevity of this marriage and the most recent and tragic loss of his mother, Johnny will not respond to any of the salacious false stories, gossip, misinformation and lies about his personal life. Hopefully the dissolution of this short marriage will be resolved quickly."
This was May 2016. The couple had already weathered a whole international dog-smuggling drama by this point, and the gossip magazines quickly got to work on possible motives for the divorce. They floated alleged familial animosity, Ben Affleck, and different life phases (when they got together, she would have been around 25 and he would've been about 48) as possible reasons for the split, but the real one emerged in court filings: "There was one severe incident in December 2015 when I truly feared for my life," Heard wrote in her documents, arriving in court with bruises on her face. (People published photos of the injuries too.) Depp allegedly threw an iPhone at her head during an argument days before, and Heard wanted a restraining order against him, having already filed a police report. And so began a very nasty, very public divorce.
Heard accused Depp of physical and emotional abuse spanning years.
According to Heard, Depp routinely became explosively angry and physically violent throughout their relationship, particularly when substances were involved. Her filings framed the iPhone incident as a repeat event, alleging that Depp subjected her to "excessive emotional, verbal and physical abuse" as well as "angry, hostile, humiliating and threatening assaults." Heard said she had photos and video to support her statements — and breaking from its apparent support of Depp, TMZ eventually leaked footage from Heard's cell phone showing the Pirates of the Caribbean star raging at his wife. Text messages came out, too, in which Depp's assistant — Stephen Deuters — apologizes on the actor's behalf for having kicked Heard the night before. "He's done this many times before," she wrote back. "Tokyo, the island, London (remember that?!), and I always stay. Always believe he's going to get better … And then every 3 or so month [sic], I'm in the exact same position."
Heard also declined spousal support from Depp, emphasizing that, contrary to what his lawyers suggested in the media, the case wasn't about money for her. And while certain tabloid reports (TMZ's, for example) seemed to suggest Heard had faked her facial injuries, her friend, photographer and writer iO Tillett Wright, came out with an emphatic defense. "BULLS–T," he wrote in a lengthy Twitter thread. "I've had enough. I saw the bruises. Many times. And the fat lip. And the cut head." Further, Tillett Wright said he'd experienced and witnessed Depp's rage firsthand, asking: "How much evidence does a woman need to present?! She has photos, texts, witnesses, and filed a restraining order." And regarding the photos: Oh, boy.
Depp did not comment publicly, but certain tabloids discredited Heard before the pair settled.
After issuing his icy statement, Depp avoided commenting on the situation, leaving it to his lawyers to hash out in court. But despite the actor's silence, there was still a push to discredit Heard in gossip rags: TMZ, for example, published audio from a 2009 court hearing that followed Heard's arrest for allegedly assaulting van Ree, her former partner. Heard allegedly grabbed Ree's arm and struck her while at the Seattle-Tacoma International Airport, an incident van Ree said had been "misinterpreted and over-sensationalized by two individuals in a power position" (i.e., the police). Responding to the resurfaced arrest, van Ree said that Heard had been "wrongfully accused," adding: "It's disheartening that Amber's integrity and story are being questioned yet again. Amber is a brilliant, honest and beautiful woman and I have the utmost respect for her."
In subsequent litigation, Depp stringently denied Heard's claims, but by mid-August 2016, the pair reached a settlement. "Our relationship was intensely passionate and at times volatile, but always bound by love," they said in a joint statement. "Neither party has made false accusations for financial gains. There was never an intent of physical or emotional harm. Amber wishes the best for Johnny in the future." Once Depp finally paid her, Heard was supposed to donate the sum to charity, splitting it between the division of the ACLU that combats violence against women and the Children's Hospital of Los Angeles. (Subsequent testimony in the case indicates she has not completed those payments; the ACLU cited "financial difficulties.") The settlement also required her to withdraw the restraining order and the abuse case with the stipulation that she could never refile it. Unfortunately, though, it did not end the larger dispute.
Depp filed a libel lawsuit in the U.K. — but not against Heard.
In 2018, Depp sued News Group Newspapers, Ltd., after one of its titles — The Sun — referred to him as a "wife beater." As the BBC notes, U.K. law obligates the party accused of committing defamation to prove their claims, which arguably should've made the case easier for Depp to win. The trial once again turned the spotlight on 14 instances of abuse Heard says occurred between 2013 and 2016. Depp denied all of it, turning the accusations back on his ex-wife: He said that she, or possibly one of her friends, defecated in his bed. He said that she would regularly fly into violent rages, once cutting off his finger tip when she threw a liquor bottle at him. He said that she was "a calculating, diagnosed borderline personality; she is sociopathic; she is a narcissist; and she is completely emotionally dishonest." He enlisted his former partner Paradis and ex Winona Ryder as character witnesses. But, ultimately, he lost the case in July 2020.
In his ruling, the judge agreed that on multiple occasions, Depp seemed to have placed Heard in "fear for her life." That decision also highlighted some depraved texts from the actor to other members of the industry. To Heard's former agent, he once wrote that she was "begging for total global humiliation. She's gonna get it … I have no mercy, no fear and not an ounce of emotion or what I once thought was love for this gold digging, low level, dime a dozen, mushy, pointless dangling overused flappy fish market … I'm so fucking happy she wants to fight this out!!! She will hit the wall hard!!! And I cannot wait to have this waste of a cum guzzler out of my life!!!" To another actor, he wrote: "Let's drown her before we burn her!!! I will fuck her burnt corpse afterwards to make sure she's dead." Of his sister and producer, he demanded: "I want her replaced on the WB film," which Depp admitted referred to Aquaman.
He was denied an appeal to the judge's decision, but in the meantime, he had already undertaken a defamation suit against Heard in the U.S. over her 2018 op-ed in the Washington Post.
Depp sued Heard for defamation, and Heard sued him back.
Reading the op-ed, there's little question who Heard is talking about, even though Depp's name doesn't appear anywhere in the text. Titled "I Spoke Out About Sexual Violence — And Faced Our Culture's Wrath. That Has to Change," the essay touches on the professional consequences she says followed from becoming "a public figure representing domestic abuse," and the limits of the Me Too movement. "Imagine a powerful man as a ship, like the Titanic," she wrote. "That ship is a huge enterprise. When it strikes an iceberg, there are a lot of people on board desperate to patch up holes — not because they believe in or even care about the ship, but because their own fates depend on the enterprise."
Mostly, her argument highlighted political solutions; reauthorization of the Violence Against Women Act and shoring up Title IX protections on campus, rather than rolling them back. But three months later, in early 2019, Depp filed a $50 million defamation suit over the article, arguing that her claims were "demonstrably false" and, further, "brought new damage to Mr. Depp's reputation and career." While it's true that Depp's career has flatlined since 2016, members of the film industry who spoke with The Hollywood Reporter suggested the U.K. ruling may simply have been a final nail in his coffin. Alleged drug abuse and underperforming films, they said, may have also played a part in the waning of his prospects.
In any case, Heard filed to dismiss Depp's case April 2019, offering new and horrific details about the alleged abuse in the process: Heard alleged that Depp, often under the influence of drugs and alcohol — "We called that version of Johnny 'the Monster,'" she said in the filing — would beat her, choke her, and at times ripped chunks of her scalp from her head while pulling her hair. "I remember being afraid that Johnny might not know when to stop," she wrote of one alleged assault, "and that he might kill me."
The case wasn't dismissed, and Heard countersued for $100 million in August 2020, saying Depp's accusations about her making the whole thing up — that she had been "painting on her bruises," for example — for publicity were intended to hurt her reputation.
Now, the case is on trial in Virginia.
Though the Washington Post isn't named in the lawsuit, it is printed in Springfield, Virginia, which is also where its online servers live. The trial therefore opened on April 11 at the Fairfax County Courthouse, where Judge Penney Azcarate has already barred fans from camping overnight. Per the Guardian, Heard's lawyers may invoke a Virginia law that protects people from litigation when they speak with third parties about "matters of public concern that would be protected under the first amendment." Witnesses on Heard's side are expected to include Ellen Barkin, an ex-girlfriend of Depp's who has previously testified that he once threw a wine bottle at her. Depp reportedly plans to call Paul Bettany, the actor he texted about burning Heard and then some.
On April 9, just before the trial began, Heard posted a message to her fans on Instagram, saying that she would be "offline for the next several weeks" to focus on the trial. In her post, Heard defended her op-ed, noting, "I never named [Depp], rather I wrote about the price women pay for speaking out against men in power. I continue to pay that price," she wrote. She added that she has "always maintained a love for Johnny," and said, "it brings me great pain to have to live out the details of our past life together in front of the world."
In opening statements, Depp's lawyers said that Heard wrongfully "presented herself as the face of the Me Too movement — the virtuous representative of innocent women across the country and the world who have truly suffered abuse," and that her "false allegations had a significant impact on Mr. Depp's family and his ability to work in the profession he loved." Heard's attorneys, meanwhile, alleged that Depp once sexually assaulted her with a liquor bottle, noting that — as "an obsessed ex-husband hell-bent on revenge" — "all Mr. Depp has wanted to do is humiliate Amber, to haunt her, to wreck her career."
A former marriage counselor testified alongside Depp's doctor, a security guard, and others.
In the first week of the trial, jurors heard from Depp's older sister, Christi Dembrowski, and Dr. Laurel Anderson, a marriage counselor who worked with Heard and Depp in 2015. In Anderson's testimony, which came from a deposition filmed in February, she claimed that, based on her work with the couple, she believed "they engaged in what I saw as mutual abuse." The doctor claimed that Heard would start fights to "keep him with her" and that those fights could lead to physical violence. "If he was going to leave her to deescalate the fight, she would strike him to keep him there because she would rather be in a fight than have him leave," Anderson said. She also testified that she saw "multiple" small bruises on Heard's face once.
On April 14, Depp's legal team suffered a blow when a judge dismissed Georgina Deuters, who appeared in person as a witness for the actor. She testified that Heard offered her drugs at her wedding to Depp in 2015 and that she had witnessed Depp drink alcohol and take cocaine multiple times throughout their almost 20-year friendship. However, her testimony was struck from the record after Deuters confirmed she had watched video clips of the testimony already given at trial online.
Testimony from Depp's doctor, Dr. David Kipper, was played for the court. (Like Anderson's testimony, Kipper's came from a deposition recorded in February.) Kipper addressed Depp's drug and alcohol use — he recalled helping the actor detox after he allegedly became dependent on opioids after a dental procedure — and was asked to testify about a March 2015 incident during which Depp's finger was severely injured. Depp is claiming that the injury was the result of Heard throwing a vodka bottle at him, while Heard's team maintains that the injury was self-inflicted. According to Kipper, Depp never to his knowledge accused Heard of being responsible for the injury and told the ER staff at the time that he had cut himself with a knife. The doctor confirmed that he saw broken glass in the kitchen at the time, but he did not say whether it was from a vodka bottle, nor could he recall blood being on the glass itself. He said there was "blood around the home" but not "specifically" on the glass. Depp's former private nurse, Debbie Lloyd, testified in a video deposition that she never worried about Depp's safety with Heard.
On April 18, Johnny Depp's security guard Sean Bett testified in court. He recounted overhearing fights between the couple but said he never witnessed any physical abuse save for one instance when Heard allegedly threw a plastic cup or water bottle at Depp. Bett provided the court with photos of Depp from December 2015 that appear to show injuries on the actor's face.
Depp testified about his abusive childhood and aspects of his relationship with Heard.
Taking the stand on April 19, Depp told the court he had originally brought the lawsuit because he felt a "responsibility to clear my name." Depp denied ever "striking" Heard or any other woman. The actor also recalled what he said was an abusive childhood, describing his father as "a barrage of hatred" in the moments when he would beat Depp with a white leather belt. Depp said his mother also hit him, though he said she stuck more to "verbal" and "psychological abuse." Eventually, Depp's father left, leaving his mother in a deep suicidal depression and his son very angry — until a conversation he had with his father years later. During that talk, Depp said he "learned that I was wrong about my first impressions of his exit from the family, very wrong."
Depp also spoke about the early days of his relationship with Heard, describing her as "too good to be true" during the first year and a half that they dated.
"She was attentive, she was loving, she was smart, she was kind, she was funny, she was understanding, and we had many things in common," he said. But he said there were small tells that something was off in their relationship, even early on. The actor said Heard scolded him when he arrived home one day and took his boots off, reprimanding him because that was her job, according to Depp. "I did take pause, of course, at the fact that she was visibly shaken or upset that I had broken her rules of routine," he said. "Within another year, she had become a different person almost." Depp claimed Heard would become unreasonably irritated if he didn't want to go to bed at the same time as she did. "Little things like that," he said, would balloon into much larger problems down the line.
Additionally, Depp talked about his path to acting, and the mental and emotional toll fame took on his psyche. Acknowledging the extreme, violent texts he had sent about Heard — that he hoped her "rotting corpse was decomposing in the fucking trunk of a Honda Civic," for example — he said he was "ashamed of some of the references made," adding that "pain has to be dealt with humor, something dark, very dark humor."
The actor spent a significant amount of time on the subject of his substance use, denying that he had ever taken drugs to "party" but instead to periodically "numb myself of the ghosts, the wraiths, that were still with me." He framed these as "self-medication moments where what you want to escape from is your own brain, your own head," but he claimed Heard's characterization of his habit as "substance abuse" was "just plainly false" and "an easy target for her to hit." He said "there have been no moments where I was out of control," specifically on film sets. Depp admitted an addiction to Roxicodone, which he said had developed when he was injured shooting the fourth Pirates of the Caribbean movie, but said he had detoxed during his relationship with Heard.
Depp's testimony picked up Wednesday morning, where he likened Heard to his abusive mother. He recalled that Heard would use his "weaknesses" as "ammunition" to "verbally decimate" him. And he told the jury he stayed with Heard after she became "abusive" out of concern that she would kill herself, connecting the concern to his mother's suicide attempt when he was a child. "Ms. Heard had spoken of suicide on a couple of occasions," he said. "I thought maybe I could help her."
Accusing Heard of flying off the handle over the possibility of a pre-nup and a post-nup, the actor graphically described the incident in which he severed his finger. According to Depp, Heard hurled two vodka bottles during an explosive argument, one of which sliced off the tip of his middle finger. "I was looking directly at the bones sticking out," he said. "Blood was just pouring out … I don't know what a nervous breakdown feels like, but that's probably the closest that I've ever been. Nothing made sense and I knew in my mind and in my heart, this is not life." Depp said he then began "writing on the wall, in my blood, little reminders from our past … little lies that she told me and little lies that I had caught her in." Depp insisted he lied to the ER doctor who treated him, telling him — in an attempt to protect Heard — that he smashed his hand in a large "accordion door." Heard, who has not taken the stand yet, maintains that Depp injured himself during a multi-day bender, using the bloody stump to write cryptic messages meant for her.
Throughout Depp's testimony on April 20, his attorneys played confused clips from squabbles one of them had recorded. The court reviewed photos of bruises and scratches he says he sustained during "confrontations" with Heard, including one encounter where Depp claimed he tried to stop Heard from pushing into the bathroom, only to have her kick the door into his head. He denied breaking her nose during another fight, alleging that he later found a tissue painted with red nail polish — an apparent imitation of blood.
But the most outrageous allegation stemmed from a final disagreement he says the couple had after Heard's birthday party in 2016. Depp said he got there late after a long meeting with his accountants and that Heard continued to berate him after he tried to go to bed. When he told her he was leaving, he says she started hitting him; the next morning, when she had vacated the apartment to attend Coachella, he said he tried to go back to collect some of his things. He purportedly decided against it when he saw a photo of their bed with "human fecal matter" piled on his side. Depp told the court that when he told Heard he wanted a divorce, she "tried to blame it on the dogs."
After their split became public knowledge, Depp suggested that he immediately suffered the consequences of abuse allegations he described as baseless. He also spoke to the op-ed itself, saying that while he agreed with the points made in the second half, "It was obviously referring to our relationship, it was obviously referring to me two years ago, it was clearly about me." Because of that, he continued, "No matter the outcome of this trial, the second the allegations were made against me … the second more and more of these things metastasized and turned into fodder for the media, once that happened, I lost then."
Depp's cross-examination hammered on the actor's use of drugs and alcohol.
Cross-examination picked up steam on April 21 as Heard's attorney — J. Benjamin Rottenborn — embarked on an exacting and at times painful six hours of questioning. Rottenborn began with the texts Depp sent his friend Paul Bettany in 2013 about drowning and burning Heard. He used these and other comments to illustrate a discrepancy between the wrathful person Depp allegedly became under the influence of drugs and alcohol and the apologetic partner who emerged after he (again, allegedly) sobered up. Much of the cross-examination zeroed in on Depp's substance use and dependency as referenced in communications with Heard, family, and friends; it also highlighted apparent inconsistencies in his testimony during this trial and his testimony in the U.K. Rottenborn proposed that Depp frequently achieved a blackout state during his relationship with Heard and therefore doesn't necessarily know what he did or didn't do — an idea Depp repeatedly refuted, though the texts Rottenborn presented to the jury did suggest a pattern.
"I'm gonna properly stop the booze thing, darling, drank all night before I picked Amber up," Depp is said to have texted Bettany in May 2014 following a particularly turbulent flight from Boston to Los Angeles. Depp then catalogued the substances he'd apparently consumed, including but not limited to "half a bottle of whiskey," cocaine, "1,000 red bull and vodkas," pills, "two bottles of champers on plane," all — allegedly — on an empty stomach. Depp told Bettany he was "angry, aggro" and "in a fucking blackout," adding, "I'm done. I am admittedly too fucked in the head to spray my rage at the one I love, for little reason as well." On the stand, Depp maintained that he hadn't ingested all of that but instead had taken two Roxicodone with a glass of Champagne — though in his U.K. trial, he granted that he probably wouldn't have said those things to Bettany if they weren't true. And in an email to Heard the following day, which Rottenborn read to the court, Depp wrote: "Once again, I find myself in a place of shame and regret. Of course I am sorry. I really don't know why or what happened, but I will never do it again. I want to get better for you and for me, I must. My illness somehow crept up and grabbed me … I can't live like that again, and I know you can't either."
Rottenborn brought up a number of examples in which Depp seemingly pegged the couple's disagreements to alcohol or drugs in conversations with other people. He admitted to punching a sconce during an argument with Heard in 2013 and, according to Rottenborn, subsequently texted Bettany about an upcoming trip: "You may have to drink for me. I of course pounded and displayed ugly colors to Amber on a recent journey. I am an insane person and not too fair-headed on the drink." Rottenborn also probed Depp's use of the word monster, a nickname the actor previously suggested Heard assigned him in the moments when she believed him — rightly or not — to be under the influence. Heard's attorney pointed to a text sent to Elton John in 2012, thanking the singer for helping him get sober: "I would've been swallowed up by the monster were it not for you, that is a simple fact." He read another in which Depp told Kipper he had locked his "monster child away in a cage deep within" and another in which he explained that "all I had to do was send the monster away and lock him up," and he and Heard became "happier than ever."
In other texts and emails, Depp came off as angry and vindictive. In a 2013 conversation with John, for example, he apparently referred to Paradis, his former partner, as "the French extortionist, ex-cunt" intent on poisoning their kids against Heard. In a September 2016 text to his friend Isaac Baruch, Depp reportedly asked: "Is the slippery whore that I donated my jizz to for a while staying there?"
Rottenborn underscored inconsistencies in Depp's account of his sobriety in the 18 months before he arrived in Australia in February 2015, surfacing messages to his assistants seemingly requesting cocaine and ecstasy. (Depp insisted the latter was for Heard.) He addressed the finger incident, too, questioning why Depp's ring and pointer fingers sustained no injuries while the middle was so badly cut. He noted that Depp neglected to mention that he had dipped his severed finger in paint after it stopped bleeding, so he could continue scrawling messages throughout the house, which Depp granted. But the actor did not agree with Rottenborn's interpretation of hospital documents, recordings, and texts to Kipper, in which Depp seemed to say he'd chopped off his own finger during the confrontation. The court also viewed a video of Depp smashing up the kitchen in one of his homes while Heard apologized to him, and it ended the day with a five-minute recording of Depp threatening to cut himself and Heard pleading with him not to.
Depp's cross-examination ended Monday morning, shortly after Heard's lawyer played more audio recordings in the courtroom from the former couple's altercations. In one, Heard tells him to "put his cigarettes out on someone else," and he retorts with, "Shut up, fat ass." Depp denied putting his cigarette out on Heard and called the recording a "grossly exaggerated moment of Ms. Heard." In another clip, Heard says, "I cry in my bedroom after I dumped you a week prior after you beat the shit out of me," to which Depp responds, "I made a huge mistake. I won't do it again." Heard's attorneys also provided a stack of articles published before the 2018 op-ed by Heard that Depp's lawsuit claims torpedoed his reputation and career. The articles were presented as evidence that his public downward spiral began far before the op-ed was published.
Depp's own attorney, Jessica Meyers, questioned him again after the cross-examination, where he said that the text about burning Heard was "directly from Monty Python," referring to a scene where a village attempts to drown and burn a woman they believe is a witch. Depp called it an example of his "irreverent and abstract humor." They played more clips of arguments between Depp and Heard, including one where he asks Heard if she wanted to hit him in the ear "again."
In another recording played by Depp's attorney, taken after Heard publicly accused Depp of domestic abuse, Heard and Depp can be heard discussing the allegations over the phone. Heard says, "The last time things got really crazy between us, I really did think I was gonna lose my life and I thought that you would do it on accident." To which Depp responds, referencing two incidents of alleged violence: "I lost a fucking finger, man. I had a can of mineral spirits thrown at my nose." Heard then says to him, "Tell people it was a fair fight and see what the jury and judge think. Tell the world, Johnny. Tell them, 'I, Johnny Depp, I'm a victim too of domestic violence, and it was a fair fight,' and see if people believe or side with you." When Depp's lawyer asked him how he responded to her saying he was a victim of domestic violence, he recalled, "I said, 'Yes. I am.'"
A psychologist hired by Depp's team diagnosed Heard with "histrionic personality disorder."
Depp's defense is working to frame Heard as vindictive and overly dramatic with serious mental-health problems. On April 26, the defense called Dr. Shannon Curry, a clinical psychologist who had evaluated Heard during two six-hour meetings in December 2021, to the stand. Curry diagnosed Heard in front of the jury with "histrionic personality disorder," a psychiatric disorder with symptoms that include attention-seeking behavior, excessive expression of emotions, and an exaggerated but vague speaking style.
She said that Heard also showed symptoms of borderline personality disorder, which falls under the same cluster of disorders as HPD and is characterized by fear of rejection, uncontrollable emotional reactions, and self-harm (all behaviors Depp's attorneys have accused Heard of). Curry asserted that people with personality disorders can be "assaultive as partners" and tend to "make threats using the legal system, threaten to file for a restraining order, claim abuse." According to Curry, Heard "externalizes blame" and has a tendency to be "self-righteous" as well as explosively angry and clingy. In the psychologist's estimation, that potent combination may have caused Heard to lash out from a fear of abandonment.
"One of the most common tactics that they'll use is actually physically assaulting and then getting harmed themselves, but mostly we call this 'administrative violence.' Essentially, this is saying that they'll make threats using the legal system," Curry said of patients with borderline personality disorder, which she included in her diagnosis of Heard. "So they might say that they are going to file a restraining order or claim abuse, or they might do these things to essentially try to keep their partner from leaving in the moment." Curry also said that she believed Heard to be faking her PTSD.
In cross-examination, Heard's attorney Elaine Bredehoft emphasized a detail Curry acknowledged that she'd left out of her report: In what she described as an "interview" for her prospective retainer by Depp's team, Curry had a three-to-four-hour dinner, with drinks, at the actor's home. Bredehoft further sought to poke holes in Curry's credibility by questioning the timeline of her assessments. Heard did not meet with Curry until December 2021, and yet Depp's attorneys said in court filings from February 2021 that Curry — who, Bredehoft noted, is not board certified — would testify to Heard allegedly making false allegations of abuse and exhibiting signs of borderline personality disorder. Curry claimed that was not her opinion at the time, despite the conclusion of combined borderline and histrionic personality disorder showing up again in her report. According to Bredehoft, Heard reported abuse by Depp to her doctors, who found her reports credible.
On Wednesday, Depp's team played a series of prerecorded depositions from witnesses supporting their case. The first three focused on the night of May 21, 2016, when police were called after an altercation in Depp and Heard's L.A. penthouse. Bodycam and CCTV footage from the evening were played, and three LAPD officers who responded to the call testified that they didn't see marks on Heard's face but weren't able to examine her closely. They claimed she was uncooperative, refused medical treatment, and did not ask to file a report, and they considered the situation handled when they left. In a bizarre video deposition seemingly recorded from a moving car, a former doorman from Depp and Heard's building in L.A. said he didn't remember seeing "any marks or bruises" on Heard's face while she lived in the building. Both actors' former agent, Christian Carino, claimed in his deposition that Heard's allegations damaged Depp's reputation and career.
An ACLU representative spoke on Heard's settlement and the op-ed.
On April 28, Terence Dougherty, chief operating officer of the ACLU, testified to the donation Heard was supposed to send the organization from her settlement: So far, $1.3 million of $3.5 million has been paid on her behalf. Though the ACLU believes she has run into "financial difficulties," Dougherty also said he was not "aware" of any change in Heard's intention to pay the remainder eventually.
Dougherty also spoke to the op-ed, which he said Heard's attorneys edited to adhere to the nondisclosure agreement she signed settling her divorce. Because she is an ACLU ambassador, the organization suggested she write the essay and pitched it to the Washington Post. The ACLU, Dougherty continued, supported Heard's inclusion of details about her marriage to Depp, feeling they made for a "strong" draft. But ultimately, her legal team scrubbed those references. "My understanding is that the language that ended up in the op-ed was very different from the original op-ed," Dougherty said. "It did not refer directly to Ms. Heard's relationship with Johnny Depp."
Depp's accountant and business manager, Ed White, also took the stand, telling the court that Heard had escalated her settlement demands from $4 million to over $14 million. He said he paid out the $6.8 million they settled on by February 2018, and that Heard insisted he send the money directly to her rather than to the charities she selected. Depp's protection officer, Malcolm Connolly, testified from the U.K., alleging that though Heard started out "lovely" and "charming," she grew "more feisty" and "demanding" with time. Eventually, they were fighting much of the time, according to Connolly, who said he never saw anything physical and "mostly heard Amber screaming." He did say that Depp sometimes had scratches and bruising on his face.
Heard also reportedly fired her crisis PR team on April 28, with sources claiming she was displeased with recent headlines surrounding the case.
Depp's team wrapped up its defense on May 2.
Depp's legal team called its last few witnesses to the stand on May 2, including his former bodyguard and manager. The bodyguard, Travis McGivern, said on a live video feed that he had seen Heard punch Depp in the face and, in a separate incident, had seen her spit on Depp and throw a can of Red Bull at him.
The majority of the day's testimony, however, was focused on whether and when Heard's allegations of abuse had "canceled" Depp. His talent manager, Jack Whigham, pegged blame for the actor's removal from the Pirates of the Caribbean franchise on Heard's op-ed, telling the court that "it was impossible to get him a studio film" after the article ran. Hollywood lawyer Richard Marks agreed that the piece "created a cancel situation," while intellectual-property expert Douglas Bania noted Depp "was not portrayed in a negative connotation prior to the 2016 allegations of abuse." Bania said that "the public perception of Mr. Depp has been damaged" and that "they like him less" — a claim at odds with the staunch support Depp has received from fans in the courtroom and online.
It's not the allegations Heard made during the divorce but the substance of her op-ed that's on trial here. To that end, defense attorney Adam Nadelhaft countered that her words amounted to a drop in an ocean of bad press: Depp was in the process of suing the Sun when Heard's essay came out, and Bania admitted his analysis did not account for that concurrent coverage. His search data on Depp showed two spikes around the actor's name after the op-ed came out, in January and July 2020, dates that seemingly have a lot more to do with the U.K. trial than with the Post article. Nadelhaft pointed to articles dating back to 2014 chronicling Depp's apparent drunkenness in professional settings, his huge salary, a string of box-office "flops" — of which the fifth Pirates installment, Dead Men Tell No Tales, was one — and the 2018 incident in which he allegedly got drunk and assaulted a crew member on set. Nonetheless, Depp's legal experts maintained that his rumored antics were "background noise," to quote Marks, compared with the abuse allegations.
Also on May 2, the court viewed prerecorded testimony from Heard's former personal nurse, Erin Falati, who specializes in addiction. She testified to "discord" in the marriage and said Heard's anxiety had spiked around the time she met Depp in Australia in 2015. Toward the end of that year, Falati recalled seeing Heard's lip bleeding after an argument with Depp. She also spoke about photos Heard had texted her late one night. "I'm not an expert," Falati told the jury. "There's color on her face in different areas." In the pictures, Heard's cheekbone and eye look reddened and bruised.
Heard loses bid to dismiss the case.
After Depp's attorneys finished presenting their case this week, Heard's team attempted to have the case dismissed entirely. According to The Hollywood Reporter, the motion to dismiss was standard operating procedure, and the outcome was expected. Judge Azcarate reportedly denied the motion on Tuesday, May 3, and Heard's attorneys began presenting her defense.
Psychologist Dawn Hughes testifies that Heard was diagnosed with PTSD and was sexually abused by Depp.
Dawn Hughes, a specialist in intimate parter violence, was called as Heard's first witness in the case. She told the court that she had conducted a forensic evaluation of Heard specifically for the case, spending around 29 hours with her since September of 2019. (In comparison, the psychologist called by Depp who also evaluated Heard spent only 12 hours with the actor.)
Though Heard was not a patient of Hughes's, she reportedly confided in the psychologist about her relationship with Depp. Hughes testified that Heard had told her about multiple instances of "sexual violence," per Deadline. Hughes described the assaults as occurring when "Mr. Depp was drunk or high." She added, "He threw her on the bed, ripped off her nightgown and tried to have sex with her." She also testified that Heard told her Depp had "forced her to give him oral sex when he was angry."
Hughes also detailed a particularly violent moment previously mentioned by Heard's attorneys, when Depp allegedly penetrated Heard with a bottle in a fit of rage when the duo were in Australia during filming of the fifth Pirates of the Caribbean movie. She also testified, "[Depp] pushed Heard, he shoved her, he slapped her with the front of his hand and the back of his hand, he choked her, he slammed her into the wall, he pushed her, and when she fell down he kicked her in the back." She characterized Depp as controlling.
Hughes's main findings were that Heard had been subjected to intimate partner violence, and that she "demonstrated very clear psychological and traumatic effects." During cross-examination the next day, Depp's attorneys prodded Hughes on her conclusion that "Heard's reporting is consistent with what we know of intimate partner violence." Hughes, they pointed out, had not spoken with Depp — though she had, she emphasized, read transcripts, watched his depositions, gone through his medical records, and reviewed his text messages. Hughes said she could "not render judgment on whether Depp engaged in intimate partner violence," but stood by Heard's PTSD diagnosis. Depp's attorneys insinuated that she brought a biased opinion to the case, claiming she had never before testified on behalf of a male domestic-violence victim in court. Hughes refuted that idea, explaining that she works with male victims all the time. She also said that Heard admitted to hitting Depp "a number of times in a number of instances," suggesting some of that behavior may have been reactive.
Amber Heard tells her side of the story.
The first day of Amber Heard's testimony kicked off on May 4 and painted a picture of how — according to her — cycles of abuse developed in her relationship. The first portion covered much of the same ground as Depp's: flirtation on the set of The Rum Diary, bonding over their shared taste in music, literature, and wine; then, an eventual reconnection on the press tour and a honeymoon phase of the relationship that Heard said "felt like absolute magic." He lavished her, her friends, and her family with gifts, compliments, and attention. Still, she said, she noticed a pattern: They would spend days at a time at one of their houses, and then Depp would disappear for a period, during which she could not get ahold of him. Eventually, she said, she began to link up his absences with his drinking.
During those times, Heard testified, Depp's behavior would change. He became jealous, she said, and judgmental — quick to criticize her and make subtle accusations. "I found myself trying not to talk about auditions, because it would change the mood," she recalled. "He would talk about me whoring myself out, but in the context of … other actresses doing these roles were worthless whores, they were fame-hungry, expletive, expletive." Heard said he was routinely critical of her clothing, pointing to one instance where she wore a low-cut dress to an event. When she brought it up to him, she remembered him responding, "I think the whole world saw that, kid, that's how they'll remember you … That's what you're putting out there in the world, that's all they'll see you for, and that's what you wanted." She felt embarrassed, she said, and assumed he was right.
The criticism and the accusations escalated to blowout fights where, Heard said, Depp would become destructive. "He would throw a glass, or turn over a table, or hit the wall, then he would hit the wall really close to my head, screaming at me," she said. "Then he would disappear, get sober, tell me he was done drinking," she continued, "and he'd go back to this wonderful … unbelievably nice, sensitive, kind, warm, generous, interesting, funny man that I loved. He would make me feel so loved. I would feel so distant from that thing that was so scary, that I would not even recognize it."
Heard told the court about the first time Depp allegedly hit her: She said they were sitting on the couch "having a normal conversation, there was no fighting, no argument." Depp, she said, was drinking and potentially also on cocaine; Heard asked him about the "Wino Forever" tattoo on his arm. "To me it just looked like black marks. I didn't know what it said," she explained. "He says, 'It says wino.' I thought he was joking, because it didn't look like it said that at all, and I laughed." Then, she said, "He slapped me across the face." She laughed again, thinking it must be a joke, which apparently annoyed him. "You think it's so funny, bitch?" she remembered him saying. "You think you're funny, bitch?" She says he kept slapping her until she fell off the couch onto the carpet, then dropped to his knees, apologizing profusely.
After that, she said things improved for a while, until Depp started drinking again. He would allegedly accuse her of cheating on him, igniting explosive fights. Heard described her mood around him as "walking on eggshells, knowing you're doing something wrong but not knowing what it was." Then he would get sober, and things would get better, until March 2013. According to Heard, Depp leaned heavily on liquor and cocaine. She recalled a fight in which Depp allegedly backhanded her across the face, his rings splitting her lip and flecking the wall with blood. She recalled another incident in which she threw a vase at him, and he allegedly pinned her to the floor, hitting her in the face. She spoke to an incident in Joshua Tree's Hicksville Trailer Palace, where Depp admitted to smashing a wall sconce after a woman who'd taken MDMA cozied up to Heard. She said that, back in the trailer, he ripped her dress and underwear, insisting on performing a "cavity search" to look for his drugs. A similar incident occurred on a plane ride to Russia, Heard said, during which Depp allegedly coaxed a flight attendant into taking MDMA, then threatened to break her wrist when he perceived her to be hitting on Heard. Another physical fight followed, according to her testimony.
"No one told him" about his behavior during these moments, Heard testified. "He would pass out, he would lose control," and people would take care of the mess. "Then he'd walk around thinking he didn't have a problem, until he did. He'd get clean and he'd get sober and then he was this thing again, this thing that made me feel so loved, like my soul mate," she continued. "It just got so scary, the other part of him."
"I wanted to want to leave him, and I wanted him to get better," she recalled, through tears. When he sobered up, Heard remembered, "He would say, 'You saved my life, baby girl, you saved my life.'"
Heard says Depp tried to kill her.
On day two of Heard's testimony, she painted a picture of an increasingly turbulent relationship. Heard said the numerous fights she and Depp had often started when Depp accused her of cheating on him with various castmates. Leading up to the flight from Boston to L.A., she told the court, Depp had been upset about a scene she did with James Franco. When she picked him up for the flight, she said, she could tell something was wrong as soon as he got on the plane. To Heard, Depp looked drunk and visibly under the influence.
He allegedly began taunting her: "'You want to tell me how much you liked it, did he slip a tongue,"' she testified. "I struggle to be able to tell you how embarrassed I was because he was speaking to me in front of people in this way, asking me if I liked it, if I was wet." Heard said that when she would move to different parts of the plane, he would follow her, "throwing things at me, ice cubes, utensils … talking about what an embarrassment I am." She said that he slapped her across the face, kicked a swivel chair into her hip, and eventually, kicked her in the back, and that no one reacted. "I remember feeling so embarrassed, that he could kick me to the ground in front of people," she recalled. "And more embarrassing, I didn't know what to do about it."
According to Heard, Depp continued drinking on the flight, becoming so drunk that he locked himself in the bathroom and started moaning like a wounded animal. At that point, she said, she started recording: "I knew that Johnny wouldn't remember what he had done," she explained. She would continue taking photos and videos of Depp during periods of heavy alcohol and drug use, she said, because no one was addressing the issue. The court saw multiple photos of Depp passed out.
Heard testified to Depp's detox on his island — that he was often incoherent, hallucinating, and angry, and that she found herself in a position she shouldn't have been in, simply because he asked her to help him through it. As their relationship progressed, she said he would blow up, usually over her perceived infidelities and always while he was under the influence, and then he would leave. "He never had to deal with my face the next day, he would just go," she said. And then he would come back apologizing, Heard explained, assuring her it would never happen again.
She loved him, she said, and with doctors enlisted to help treat his dependencies, she believed things could improve. But by December 2014, "I would try to stand up for myself," she told the court. "I would push back, I would push him off of me. … I would yell at him and scream at him, I would call him ugly names." Adding that she was ashamed of that behavior, she said: "It felt like nothing I could do would change his sobriety patterns … nothing I did made him stop hitting me."
Still, the couple married in February 2015. Shortly thereafter, she flew to London to film The Danish Girl, and he went to Australia to film the fifth Pirates. The most harrowing portion of the testimony came when Heard described her arrival in Australia and the alleged bender that ended with Depp's finger injury. Heard maintained that she never asked Depp to get her MDMA — "I learned my lesson the hard way on the plane to Russia. I would never do MDMA with him, I'm asking for a problem in that case" — but said he pulled out a bag at dinner on her first night, which sparked an argument. He started drinking in front of her and things got physical. "I don't remember the exact sequence of things," she said. "I have a lot of flashes, it gets a little bit more confusing for me to recall everything in a linear way later on, as things got crazier." She said she shoved past him, and he threw her across the floor. Later, he shoved her up against the fridge, she testified, pinning her there by the throat and screaming in her face. Once she got away, she said she barricaded herself in their bedroom and took a sleeping pill.
When she went downstairs the next day, she recalled finding him still awake. He allegedly confirmed to her that he'd taken eight to ten of the MDMA doses, and began accusing her of sleeping with actors she'd worked with. He went after her again, she stated, allegedly slamming her into a wall. "At some point," she recalled, "I shove him hard to get him off me, and he shoved me back, and said, 'You wanna go little girl?'" Depp allegedly threw her across the room, onto a ping-pong table: "He gets on top of me and is just whacking me in the face, repetitive." When she managed to get up, she said she grabbed an empty bottle out of his hand and smashed it on the floor in between them. "That really set him off." She said he started flinging bottles at her, smacking her to the ground. "At some point he had a broken bottle up against my face," she told the court, "and he told me he'd carve up my face."
"I honestly don't remember if I threw anything in his direction, I don't think I did, I just remember him having me by the nightgown, throwing me around," she said. Eventually, she continued, she found herself backed into the bar area as Depp hurled bottles and cans at her. "At one point my nightgown came completely off, I was naked, and I'm slipping on this tile. There's glass underneath me," she recalled, "I'm up against the wall and he's screaming at me that he fucking hates me and I ruined his life." She said he started punching the wall next to her head, then bashing it with a phone when she managed to get away. When he got ahold of her again, she said, it was like he'd gone out of his body.
"I've never been so scared in my life, it was black, I couldn't see him," she stated. "I was trying to say in some way that it was me … trying to get through to him," but he kept smashing her head into the bar. "The next thing I remember, I was bent over backwards on the bar," she continued, explaining that she felt a pressure on her pubic bone and could see his arm moving back and forth. "I thought he was punching me," she said, but she realized he was penetrating her with a bottle. "He said, 'I'll fucking kill you.' He said it to me over and over again."
Heard doesn't remember how that fight ended, only that she took two sleeping pills at some point. When she woke up the next day, she said she found the hallways smeared with mashed potatoes and a mixture of blood and paint — the messages Depp admitted to leaving her throughout the house. She said she found him with his hand wrapped in bandanas: "He took them down and said, 'Look what you made me do, I did this for you,'" she told the jury. Once help arrived and Depp was taken to the hospital, she packed up and left, finding what she characterized as countless empty packets of coke stashed throughout their bedroom.
Heard said she got pulled back into the relationship to support Depp during the surgeries necessary to fix his finger. She spoke to subsequent fights: the one she says erupted after she discovered messages on Depp's iPad, suggesting he'd cheated on her days after their wedding. During that incident, according to Heard, she landed her first blow. Depp, she said, looked poised to knock her sister down the stairs after the sister tried to separate them: "For the first time I hit him square in the face. He didn't push my sister down the stairs." She spoke about another fight on December 15, 2015, in which Depp allegedly dragged her up the stairs by her hair, head-butted her in the nose, and held her face down on their mattress. "I remember trying to scream and I couldn't scream," she recalled. "I was suffocating in this pillow top, he was holding me down, punching me over and over."
The jury viewed photos of the injuries — her bruised face, busted lip, and patches on her scalp where Depp allegedly ripped out her hair — Heard said she incurred during that fight. "I thought, This is how I die," she told the jury. "He's going to kill me now, he's going to kill me and he won't even have realized it."
After a weeklong recess, Heard resumed her testimony for a third day — again saying she had thought Depp would accidentally kill her during a fight on their honeymoon in 2015. "He was squeezing my neck against the railway car for what felt like a very long time," she said, recalling that she woke up the next morning with his shirt tied around her neck, which he'd ripped off the night before. She said Depp also harmed himself during fights — cutting himself or putting cigarettes out on either himself or her. She testified that, after seeing a body double do a sex scene in a movie she'd filmed and believing it to be Heard, Depp slapped her across the face and punched her in the jaw. She said that during another fight in April 2016, on Heard's 30th birthday, Depp threw a bottle of Champagne at her, grabbed her by the hair, and used her body to knock items off a table. "Johnny was my home," Heard said, "and that home was often really violent."
Heard addressed Depp's accusation that she'd pooped in their bed after the April 2016 fight. According to Heard, one of their Yorkie dogs, Boo, had bowel-control issues after eating Depp's weed as a puppy and had an accident on the bed. "I was not in a pranking mood," Heard said in response to Depp's chauffeur's testimony, which claimed Heard had told him the poop was a practical joke. "I had just been attacked on my 30th birthday by my violent husband — with whom I was desperately in love and knew I needed to leave. It was not really a jovial time."
Heard said that she and Depp had spent a month apart after the April 2016 fight and reunited around the time Depp's mother died — at which point Depp became "obsessed with dog poop" and talked about "scientists and DNA and feces," according to Heard. During one argument about the poop incident, Heard said she called a friend to try to explain what had happened, and when Depp started to get angry, the friend told her on speakerphone that she wasn't safe in the house. Heard said Depp then hurled the phone at her face and started taunting her, hitting her on the head and grabbing her hair until a different friend of hers stepped in and called the police. Her recollection lines up with that of the police Depp's team called to the stand to describe the night they were called to the L.A. apartment — Heard said that she "refused to cooperate" because she "did not want them to arrest Johnny." Her legal team showed photos, allegedly taken that night, showing a red mark on her face, which police officers previously testified they had not noticed when they stopped by the apartment.
Heard said that after the phone incident, "I knew I had to leave him. I knew I wouldn't survive if I didn't." She filed for divorce and got a temporary domestic-violence restraining order against Depp in May 2016. "The violence was now normal and not the exception," she testified. The jury viewed photos of Heard with a bruise on the day she showed up to court to file the restraining order. Depp has previously said she'd painted the bruise on with makeup.
Depp's attorney tries to undermine Heard's credibility.
Heard's cross-examination began late Monday afternoon and picked up again on Tuesday morning. Depp's attorney Camille Vasquez attempted to undermine Heard's credibility by pointing to purported inconsistencies in her story.
Vasquez displayed photos of Heard on The Late Late Show With James Corden after a fight Heard said had left her with a busted lip and black eyes. Heard had previously said her makeup artists covered her mouth injuries with "really thick, superheavy, matte red lipstick," and when Vasquez noted that no redness or swelling were visible in pictures from the set, Heard replied: "You should see what it looked like under the makeup." Vasquez pressed Heard on her waylaid settlement donation, pointing to a 2018 interview in which Heard said she'd "donated" the full sum to charity. On the stand, Heard said, "I intend to fulfill my obligations" and suggested she couldn't because of the lawsuits.
On Tuesday, Vasquez questioned Heard on the timeline of events that allegedly culminated in the liquor-bottle assault, which Heard had already characterized as hazy for her. Depp's attorney seemed to express skepticism that Heard hadn't sought medical attention afterward; Heard confirmed that she had not.
The jury saw excerpts from the couple's "love journal" — along with more photos of Heard. These included images of her facial bruising from May 2016, which Vasquez said Heard had "edited" (Heard denied touching them) and images from a photo shoot Heard did in the Bahamas sometime after Depp had allegedly assaulted her on December 15, 2015. No bruises are visible in those photos, though Heard said they were taken about two weeks later. Vazquez put a fine point on Heard's use of drugs and alcohol and accused her of trying to get the license of the couple's former nurse revoked before she was set to testify.
The court listened to audio in which the couple taunt and belittle one another at length, mocking each other's film and TV roles. Heard invited Depp repeatedly to "suck my dick," and he called her a "spoiled fucking brat." Vazquez asked Heard, "Mr. Depp got you that role in Aquaman, didn't he?" Heard denied it. Depp's attorney showed a photo taken during the couple's honeymoon — when, Heard previously testified, Depp had wrapped his shirt around her neck — that shows Depp's bruised face. Heard said that she'd seen that photo before and he wasn't injured but that the version being displayed was Photoshopped.
Vasquez cited Heard's previous domestic-violence arrest. The charges were quickly dropped after her then-partner, Tasya van Ree, said the incident was a misunderstanding. "Johnny Depp isn't the only partner of yours that you've assaulted?" Vasquez asked Heard, who denied ever assaulting a partner.
Heard's friends testified to Depp's behavior while on drugs.
After Heard's testimony ended, the jury saw a prerecorded deposition from iO Tillett Wright, a former friend of the couple who was on the phone the night police were called to their L.A. apartment. Wright testified to Depp's substance abuse and provided more details about the May fight that had prompted Heard to file for divorce. Wright, who was on the phone just before Depp allegedly threw it at Heard, said he'd heard Depp say to Heard, "You think I hit you? What if I peel your fucking hair back?" He testified that Depp never mentioned anything about Heard being violent with him while he was friends with the couple.
On May 18, the court viewed a deposition of Heard's friend Rocky Pennington, who confirmed elements of Heard's account. Pennington said she saw texts in which Depp referred to himself as "the monster" and witnessed Depp confront the woman he perceived to be hitting on Heard in Hicksville. She also said she saw the wreckage of their trailer the next day. Pennington went over photos of Heard's injuries and detailed the May 21, 2016, fight: She said Depp came over to talk and that Heard eventually called her over to the penthouse for help. When Pennington arrived, she said, she placed herself between an "irate" Depp and frightened Heard, placing her hands on Depp's chest and telling him to stop. "I put my body over her, and he came closer to us, yelling at her to get up or something," Pennington recalled. She says Depp's security intervened and ushered him out as he smashed things with a wine bottle along the way. She denied Depp's attorneys' allegation that she and Heard staged the scene to frame Depp.
Pennington's former fiancé, Josh Drew, also appeared via pretaped deposition, saying he often saw Depp drunk and, on the occasion when Depp allegedly berated Heard and Pennington in the penthouse, experienced his rage firsthand. Drew said that while he never saw Depp hit Heard, he saw her with bruises and heard their arguments from the neighboring penthouse. Another friend who briefly lived in the complex, Elizabeth Marz, corroborated Drew's recollection of the May 2016 incident, saying Depp "charged" toward her and scared her out of the room. After he left, Marz said Heard "looked really upset and disheveled and she had a swollen face, a red swollen face."
Heard's sister, Whitney Henriquez, testified to Depp's allegedly controlling behavior, saying it ballooned from comments about her clothes to stonewalling her career. "At some point, she wasn't even allowed to have passwords on her phone, or if she did have a password, it was something really simple that he'd memorized," Henriquez said. "There was no expectation of privacy for her." She also admitted to drinking and doing coke with Depp, and said he would become a "completely different version" of himself under the influence of that combination. "He would slur, he would go on these paranoid delusional rants," Henriquez said, and he would call Heard horrible names — "fucking cunt, used up trashbag, slimy whore, saggy whore" — whether she was present or not. Henriquez confirmed Heard's account of the incident on the staircase, during which Heard says she punched Depp to keep him from hurting Henriquez, and that Depp's camp asked her to sign an NDA afterward.
Heard's former acting coach, Kristy Sexton, alleged in a videotaped deposition that Heard and Depp's relationship devolved from "lovey-dovey" in the beginning to constantly argumentative. Sexton attested to overhearing the couple's arguments and watching him scream at Heard. She also said she rarely saw Depp sober, and that he spoke disparagingly of Heard's prospective roles — describing them as "'a whore part or a trash part, piece of shit,' generally pretty negative if it was something he didn't want her to do." Eventually, the number of roles Heard considered dwindled to the point where "she wasn't auditioning or working on anything at all," Sexton recalled. She sometimes saw bruises on Heard's arms, she said, that looked like someone had grabbed her. During the Hicksville trip, Sexton explained that she was the only one "stone-cold sober" and heard Depp screaming from her trailer. The next morning, "I saw the completely torn apart trailer, Johnny was talking about what he had done, and he was instructing the body guards to pay it off, let's just take care of it." Heard, meanwhile, "was really closed off and quiet and he kept apologizing to her over and over again." Sexton added, "I heard him on different times making apologies, saying, 'I'm sorry I turned into a monster.'"
Heard's former makeup artist explained how she covered Heard's bruises.
May 18 also saw Mélanie Inglessis, Heard's former friend and makeup artist, answer questions in a prerecorded video deposition. Inglessis said that on December 16, 2015, she helped get Heard ready for the James Corden appearance: "1,000 percent, without a doubt," she had injuries on her face, Inglessis recalled. "The right eye had a little bit of a gash" near the cheekbone, she explained, and she noticed discoloration under both eyes and across the bridge of Heard's nose. To Inglessis, it looked like bruising with a little bit of swelling (particularly around one eye) and a split lip. Inglessis confirmed seeing a patch on Heard's scalp where a chunk of hair had been removed and said she used a peach concealer and her "bruise wheel" to counteract the blue under her eyes. "We did a really dark red lip to match that red gash" on Heard's lip, Inglessis added.
Ellen Barkin characterized Depp as "jealous," "controlling," and "demanding."
On May 19, jurors heard from former associates of the couple who testified to Depp's volatile behavior, including his former friend Bruce Witkin, his former agent Tracey Jacobs, and his former business manager Joel Mandel. All described increasingly concerning behavior from Depp — Jacobs recalled being "yelled at" and said that Depp's "star had dimmed" after he started acting "unprofessional" on sets. Heard's team also attempted to prove the claim in her countersuit that Depp and his associates had orchestrated a smear campaign after she went public with her allegations. That argument included a pre-taped deposition from Adam Waldman, Depp's former lawyer who was dismissed from this case after allegedly leaking confidential information to the press and doing an interview with Rolling Stone in which he called Heard's claims a "hoax." Waldman cited attorney-client privilege, but admitted to handing a "binder" of information to the LAPD that he said proved Heard's allegations were perjury, and that he spoke to several press outlets and "internet journalists" about Depp and Heard.
The jury also watched a taped deposition from actor Ellen Barkin, who testified that she had a ten-year friendship with Depp that turned "sexual" in 1994, when she moved to Hollywood. Barkin, who starred in Fear and Loathing in Las Vegas with Depp, said that he once threw a wine bottle across a hotel room in her direction while they were shooting the film. She characterized Depp as "a jealous man" and "controlling," and said that he became "demanding" and angry when jealous.
A producer testified that Depp's career declined well before the op-ed.
Heard's team was expected to call Depp himself as a witness on May 23; instead, the court considered testimony from an orthopedic surgeon — Dr. Richard Moore, who said photos of, medical records on, and Depp's testimony about his severed finger did not seem consistent with an injury from a flung vodka bottle — and from Dr. David R. Spiegel, a psychiatrist specializing in substance abuse and intimate-partner violence. Spiegel said Depp's use of drugs and alcohol had slowed his cognitive "processing speed" and also chipped away at his ability to control his behavior. He went on to say he believed that Depp bullied Heard from a place of "narcissistic insult," saying he required outside admiration, lacked empathy, acted entitled, displayed jealousy, and had easily wounded self-esteem. Spiegel also opined that Depp satisfied key risk factors for committing IPV and defended himself against Depp's attorney's allegation that he was making an "armchair" psychiatric diagnosis. "I have reviewed … a lot of professionals and the evaluations and their treatment course, video depositions, picture deposition, court filings, emails," he said. "I've reviewed a whole lot of things that describe Mr. Depp and his behavior."
The second half of the day focused on testimony from Kathryn Arnold, a producer and entertainment-industry consultant, who said Depp's career went into a downward spiral long before the op-ed published. Depp, she explained, is "an expensive actor," earning "between $20 and $25 million for each movie plus back-end." He also fell into a habit of showing up late to set to a degree that it affected production timelines. That, combined with his "drinking and the drug abuse, and other issues in his personal life," made it "harder for him to find him work," and "more challenging for production studios to hire him." As for the Disney drama, Arnold repeatedly emphasized that Pirates 6 doesn't actually exist yet, but said she believed that compromising issues arose well before Heard's essay came out. And on that score, Arnold noted, damaging stories on Depp — from Rolling Stone and the Hollywood Reporter — ran well before the op-ed did. "Hardly anybody even knew the op-ed existed before he filed the suit," Arnold said. It was Depp's lawsuits, she suggested, that had brought the most negative publicity: "Someone who talks about a burnt corpse," she observed, "doesn't necessarily coincide with the brand of Disney."
Arnold also spoke to the effect these legal battles have had on Heard's career trajectory. Whereas Aquaman should've been her "A Star Is Born moment," its impact has been mitigated by the ceaseless "negativity campaign" on social media. Heard was taken off big press events for the movie, while L'Oreal paused her cosmetics contract. Her role in Aquaman 2 was slimmed down considerably. (Depp, by contrast, filmed a movie in 2019; he appeared in a Dior campaign; he did press at the Venice Film Festival and enjoyed a "warm reception," Arnold said.) Arnold estimated that Heard lost between $45 million and $50 million in potential income because of the "hoax" claims Depp attorney Adam Waldman made in 2020. "It can be the instigating event, if you want me to call it that," Arnold countered in cross-examination. "We'll call the Waldman statements the instigating event of a torrential rain of social-media tactics that has gone on for years." There had been periods, like during the divorce, when Heard's career had taken a "pause," she said, but "the only time her career slowed down and stopped was at the same time those defamatory statements came out."
Experts testifying for Depp challenged the claim that Heard's career suffered because of the lawsuit.
On Tuesday, Depp's attorneys called several rebuttal witnesses to discredit experts who testified on behalf of Heard. Three of them — DC Films president Walter Hamada, social-media analyst Ron Schnell, and Hollywood lawyer Richard Marks, who spoke earlier during Depp's defense — contested Kathryn Arnold's claim that Heard's reputation took a hit due to the smear campaign she alleges Depp mounted to discredit her. Marks called her assessment of Heard's career "wildly speculative," and Hamada denied that she was ever going to receive a leading role in Aquaman 2. Next, psychologist Richard Shaw accused Dr. Spiegel, who testified on Monday to Depp's narcissistic personality and withering cognitive abilities, of violating the Goldwater Rule, a standard in the American Psychological Association's ethics rulebook that bars members from offering psychological opinions about people they haven't personally examined.
Depp's team also brought in a new witness on Tuesday: Morgan Night, the owner of the luxury trailer park in Hicksville where Heard says Depp flew into a rage believing a woman was hitting on her and ripped off her clothes, performing a "cavity search" for his drugs. Night said he witnessed Heard yelling at Depp, who was "cowering." He recalled inspecting the trailer for damage and seeing only a sconce ripped off the wall (which Depp admitted to doing during his own testimony). During cross examination, Night admitted that he had previously called Heard "jealous and crazy" in a tweet while the trial was ongoing.
Kate Moss denied the rumor that Depp once threw her down a flight of stairs.
On May 25, Depp's team called Kate Moss, who dated the actor from 1994 to 1998. During her own testimony, Heard cited a rumor that Depp had pushed Moss down the stairs during a vacation in Jamaica at some point in their relationship. Recalling hitting Depp in the face during a fight in the spring of 2015 because she thought he was going to throw her sister down the stairs, Heard said, "I just, in my head, instantly think of Kate Moss and stairs, and I swung at him." The reference reportedly prompted fist pumps from Depp's team, who asked Moss on Wednesday about the incident in Jamaica. Moss, who joined via video from Gloucester, England, denied that Depp had pushed her, saying she slipped on the stairs after a rainstorm, and that he ran back to help, "carried me to my room, and got me medical attention." She said, "He never pushed me, kicked me, or threw me down any stairs."
Depp also returned to the stand for his rebuttal, unilaterally denying Heard's "insane," "heinous" claims of abuse in general and the bottle incident in particular. "No human being is perfect, certainly not — none of us," he said. "But I have never in my life committed sexual battery, physical abuse, all these outlandish, outrageous stories of me committing these things … This is not easy for any of us, I know that, but no matter what happens I did get here, and I did tell the truth, and I have spoken up for what I've been carrying on my back, reluctantly, for six years." Additionally, Depp denied any culpability in Waldman's 2020 "hoax" statements in the Daily Mail and accused Heard of hitting him on a train on their honeymoon. Depp's team has pointed to a photo of Depp with a red nose as evidence of that claim, but Heard's attorney, Rottenborn, showed the court a photo of Depp with similar markings on his face before he and Heard boarded the train. Rottenborn underscored inconsistencies in Depp's account of the Australia incident from his U.K. and Fairfax testimonies.
Then Depp accused Rottenborn of tampering with evidence when asked to explain texts he sent to his assistant, Deuters. "Molly's pussy is rightfully mine, should I not just bust in and remove its hinges tonight?" he wrote. "I want to change her understanding of what it is like to be thrashed about like a pleading mackerel. I NEED, I WANT, I TAKE." Depp said those texts didn't reflect the way he wrote or talked and suggested either someone else had sent them from his phone or Heard's team had "typed up" the texts the night before. Rottenborn also asked Depp to confirm or deny that he tried to get Heard removed from Aquaman — a role Depp claims he got for her — pointing to texts to his sister and to Heard's ex-agent, the latter warning that Heard was "begging for total global humiliation." Depp denied attempting to interfere in retaliation, though Rottenborn pointed out that he'd reached out to multiple Warner Brothers executives. Depp maintained he felt a "responsibility to get the truth to Warner Brothers about what they were going to end up facing down the line."
A former TMZ employee testified about tips related to the divorce.
Morgan Tremaine, a former employee of the gossip site TMZ, said he received tips about Heard filing for a restraining order in 2016 and sent paparazzi. He also said he received a Dropbox link to the video of Depp smashing kitchen cabinets, via the site's tip line. The suggestion seems to be that Heard, or someone close to her, sent in the material — though as Bredehoft noted, Depp's attorneys also knew about Heard's plan to file for the restraining order and one had a close relationship with the site. Both TMZ and Heard's team moved to have Tremaine's testimony dismissed, but the judge overruled.
Depp's side also called Norbert "Bryan" Neumeister, a metadata expert who said that the photos Heard had presented at trial were run through Apple's Photos app. He could not say by whom, though Heard's attorneys noted that the change in data could come from saving the photo on a computer versus a phone. Side-by-side photos that Depp's team presented suggested the coloring on certain images may have been adjusted to play up the contrast on her bruises, which were visible regardless. The jury also heard from Beverly Leonard, an airport police officer who says she witnessed Heard's 2009 "altercation" with van Ree and testified that Heard seemed drunk and "aggressive" toward van Ree. (Who, it bears repeating, has already said that "assault" is a mischaracterization of what happened.) The witness, meanwhile, apparently contacted Depp's team on the night of May 24, which is how she wound up on the stand.
On the last day of testimony, Depp's attorneys accused Heard of lying and falsifying evidence.
On Thursday, the last day of testimony, Depp's attorneys called a hand surgeon to speculate that the actor's fingertip could have been cut off by a tossed vodka bottle, supporting Depp's claim that Heard threw the bottle at him, slicing off the tip of his finger. A forensic-expert rebuttal witness for Heard disputed Neumeister's photo-editing comments, reiterating Heard's attorneys' point that Apple devices create new versions of photos as part of the synchronization process. Psychologist Dawn Hughes returned to the stand to provide more details about Heard's PTSD diagnosis, which Depp's team's psychologist had challenged based on the assertion that people with PTSD don't engage in activities such as dinner parties or hiking. "I often talk about this as walking around with a 50-pound bag of flour on their backs," Hughes explained, saying that Heard scored in a moderate range on a diagnostic PTSD test, suggesting her description of her experience was not in any way extreme. The idea that people struggling with PTSD cannot also have enjoyable experiences, Hughes said, is "a misconception."
Heard then took the stand to describe the humiliation she's suffered as a result of Waldman's comments, which are the subject of her countersuit. "I'm not sitting in this courtroom snickering," she said. "This is humiliating for any human being to go through. Johnny promised that I deserved this and that he'd do this. I don't deserve this."
She was then questioned by Depp's attorney about the 2013 Hicksville fight as well as the day in 2016 when Heard showed up to file a restraining order with a bruise on her face. Vasquez insisted Heard had called the press ahead of time so her appearance in court would be well publicized. "What survivor of domestic abuse wants that?" Heard responded. Vasquez then showed paparazzi photos of Heard taken in the following days, asking her why there was no visible bruise on her face in them, which Heard said was because she was wearing makeup. Vasquez repeatedly asked her to name the date of one of the photos her team submitted as evidence, claiming that Heard's inability to name the date was proof she was lying.
"You didn't expect as many people to show up and testify on Mr. Depp's behalf, did you?" Vasquez asked Heard, citing testimony from Depp's house manager and a friend, Isaac Baruch. Heard responded, "I knew how many people would come out in support of him. That's his power. That's why I wrote the op-ed. He is a very powerful man." Under cross-examination from her lawyer, Heard again denied faking her injuries or any of the images shown at the trial. "Johnny promised he would ruin me," she said. "That was the only way out. He promised me global humiliation. The threats he's made are being lived out in real time for the past six weeks for the whole world."
Closing arguments were presented on May 27, and then the jury began deliberations. On May 31, they came back to ask if they should consider the op-ed's headline along with the essay itself. Meanwhile, Depp was spotted in the U.K. over the weekend: He made surprise appearances as Jeff Beck's guitarist during concerts at Sheffield City Hall and the Royal Albert Hall, where he reportedly received multiple standing ovations.
The jury decided mostly in favor of Depp.
On June 1, the jury returned its verdict: Heard had defamed Depp in her op-ed at three separate points, they said. Jurors found that the Washington Post's headline on the essay — "I spoke up against sexual violence — and faced our culture's wrath. That has to change" — referred to Depp, would've been construed that way by a lay reader, and was made deliberately and with malice. They drew the same conclusions for the lines "Then two years ago, I became a public figure representing domestic abuse, and I felt the full force of our culture's wrath for women who speak out" and "I had the rare vantage point of seeing, in real time, how institutions protect men accused of abuse." The jury awarded $10 million in compensatory damages to Depp and $5 million in punitive damages for a total of $15 million. The punitive damages were reduced to $350,000 per Virginia's legal limit.
As for Heard's defamation claim, the jury deemed just one line in Depp's attorney Adam Waldman's 2020 op-ed in the Daily Mail defamatory. "Quite simply, this was an ambush, a hoax," Waldman wrote. "They set Mr. Depp up by calling the cops, but the first attempt did not do the trick. The officers came to the penthouses, thoroughly searched and interviewed, and left after seeing no damage to her face or property. So Amber and her friends spilled a little wine and roughed the place up, got their stories straight under the direction of a lawyer and a publicist, and then placed a second call to 911." Jurors found that Waldman, acting as an "agent for Mr. Depp," made a false statement that met the bar for defamation with malice. Jurors awarded Heard $2 million in compensatory damages but no punitive damages. Heard watched the verdict read live in court. Depp, whose claim rested on an inability to find work after Heard's op-ed was published, had what his team called "previously scheduled work commitments" and did not show up. He watched the verdict from the U.K., where he had been playing concerts with Jeff Beck for the previous three nights.
Heard's then- lawyer, Elaine Bredhoft, told The Today Show that Heard would not be able to pay the $8.35 million she owed Depp in damages and that they planned to appeal the verdict.
Amber Heard filed a new motion, claiming a juror who wasn't summoned sat on the panel.
A month after the verdict came down, attorneys for Heard filed a memorandum with the court, asking the judge to either set aside the verdict, dismiss the complaint, or order a new trial. As reported by Courthouse News, these new documents, filed with the court on July 1, claim that the jury's verdict, including the over $10 million damages awarded to Depp, were not supported by evidence. Specifically, the new filings stress that Depp's role in the Pirates franchise was not affected by the op-ed.
The claim also alleges an issue with one of the jurors, suggesting the person who received the summons was not the person who ultimately showed up. A week later, Heard's team filed a new motion, asking the judge to declare a mistrial and do the whole thing over again. Redacted court documents obtained by Deadline go into more detail about the alleged juror swap: Heard's attorneys said the jury-panel list included a juror with a 1945 birth date, but that a younger individual (born in 1970) ultimately sat for the trial. Voter registration records reportedly suggest that the summoned juror lives with the person who showed up for jury selection and that they share a last name. Virginia, however, requires courts to verify jurors' identities before they can sit on a panel; the juror questionnaire reportedly asks them to enter their birth date.
Judge Azcarate denied Heard's motion for a new trial, specifically refuting her team's claim that a juror was wrongfully seated. According to the judge's response, the juror in question received a summons that did not include a birth date listed, meaning either he or the other person could have appeared. The judge also asserted that the juror filled out a jury questionnaire with his correct information. The motion also noted that Heard's team could have objected to the juror during voir dire (a process during which a jury is selected). In conclusion, Judge Azcarate wrote, "The only evidence before this Court is that this juror and all jurors followed their oaths, the Court's instructions, and orders. This Court is bound by the competent decision of the jury."
Unsealed court documents revealed a motion from Depp's team claimed the actor was not accusing Heard of causing him "specific physical or mental injury."
After a mass fundraising effort apparently led by Andrea Burkhart, a legal commentator on YouTube and a vocal supporter of Depp, 6,000 pages' worth of documents from the Depp v. Heard trial were released to the public in August.
According to reporting from The Daily Beast, these documents include a motion filed my Depp's team objecting to a request that he sit through an independent medical examination. "Mr. Depp does not allege a specific cause of action for intentional or negligent infliction of emotional distress; does not assert that Mrs. Heard's actions caused him a specific psychiatric injury; and does not claim that Mrs. Heard's actions caused him to experience unusually severe emotional distress," the motion read. The motion also stated that Depp was "not alleging harm based on a specific physical or mental injury."
Other documents filed by Heard's team called into question the authenticity of the now-infamous recordings Depp's team presented, which they said had potentially been edited. Heard's team reportedly requested that the full audio recordings be released, but the request was denied, along with the inclusion of warnings from Disney to Depp, via his agent. Meanwhile, Depp's team also reportedly requested that the judge order the jury to disregard some of the evidence presented at trial — including Ellen Barkin's testimony and the texts between Depp and Bettany. The documents reveal that he attempted to have Heard's nudes admitted as evidence, a legal tactic that arguably verges on revenge porn. These requests appear to have been denied as well.
Both sides filed to appeal the decision.
On July 21, Heard's team filed a notice of appeal, a process that Deadline initially reported would obligate her to post an $8.3 million bond. Five months later, her reconstituted legal team — she kept Rottenborn but not Bredehoft, hiring David L. Axelrod and Jay Ward Brown instead — filed the actual appeal, arguing that allowing the case to go to trial was the first of many errors. The U.K.'s high court heard from Depp, Heard, and two dozen other witnesses, the appeal notes. It reviewed evidence for three weeks, and in a 129-page opinion, its judge ruled that "Heard's abuse allegations were true." With that decision already settled, court docs say, Depp's U.S. complaint should not have moved forward. It certainly should not have been allowed to move forward in Virginia, Heard's lawyers add, because that is not "where Depp claimed to have suffered reputational harm," nor is it where either party lives. Fairfax, the appeal states, was "a wholly inconvenient forum with no connection to Depp or any meaningful connection to his claims." By filing there, the attorneys suggest, Depp may have sought to take advantage of a more favorable legal landscape.
When proceedings began, they argue, Depp's team failed to demonstrate that Heard had acted with actual malice in writing her op-ed. "As the six-week trial unfolded," the appeal continues, "the trial court made numerous evidentiary errors that severely prejudiced Heard," both in what Judge Azcarate kept out and the "irrelevant and prejudicial evidence" (to quote the filing) she let in. On top of all that, Heard's attorneys say, the verdict should be overruled because the jury ultimately found defamation on both sides. "To find in favor of Depp," they write, "the jury must have concluded that Depp did not abuse Heard and that Heard knowingly lied in accusing him of abuse. But, to find in favor of Heard, the jury must have concluded that Heard told the truth about being a victim of domestic abuse by Depp." The filing is long — 57 pages — but in short, it asks either for the decision to be dismissed or reversed in her favor, or for a new trial.
Meanwhile, Depp also filed an appeal, asking the court to reverse the defamation verdict that awarded $2 million to Heard. Depp's attorneys reason that the actor should not be held responsible for statements made by Waldman, the lawyer who represented Depp in 2016, to the press. A panel of judges will now deliberate on both claims, Virginia's Supreme Court being the next and final option for recourse after that.
Heard says she has reached a settlement "on terms [she] can agree to."
On December 19, Heard shared a four-slide Instagram post announcing that the case had finally come to a close. "After a great deal of deliberation I have made a very difficult decision to settle the defamation case brought against me by my ex-husband in Virginia," she wrote. The statement continued:
It's important for me to say that I never chose this. I defended my truth and in doing so my life as I knew it was destroyed. The vilification I have faced on social media is an amplified version of the ways in which women are re-victimised when they come forward. Now I finally have an opportunity to emancipate myself from something I attempted to leave over six years ago and on terms I can agree to. I have made no admission. This is not an act of concession. There are no restrictions or gags with respect to my voice moving forward.
Heard wrote that she had "lost faith in the American legal system" for allowing her testimony to become "entertainment and social media fodder." She wrote that the trial had consumed most of her resources, and allowed "popularity and power" to take precedence over "reason and due process." As it played out, she added, "I was exposed to a type of humiliation that I simply cannot re-live. Even if my U.S. appeal is successful, the best outcome would be a re-trial where a new jury would have to consider the evidence again. I simply cannot go through that for a third time." She went on:
Time is precious and I want to spend my time productively and purposefully. For too many years I have been caged in an arduous and expensive legal process, which has shown itself unable to protect me and my right to free speech. I cannot afford to risk an impossible bill — one that is not just financial, but also psychological, physical, and emotional. Women shouldn't have to face abuse or bankruptcy for speaking her truth, but unfortunately it is not uncommon.
Going forward, Heard said she wants to focus on "the work that helped [her] heal" post-divorce: "Work that exists in realms in which I feel seen, heard and believed, and in which I know I can effect change." She said she would not "be threatened, disheartened or dissuaded by what happened from speaking the truth." Thanking her legal teams and the people who supported her throughout proceedings, she wrote, "My voice forever remains the most valuable asset I have." According to TMZ, the settlement obligates her to pay Depp $1 million, which could be handled by her insurance company. That report has not been confirmed.
This article has been updated.